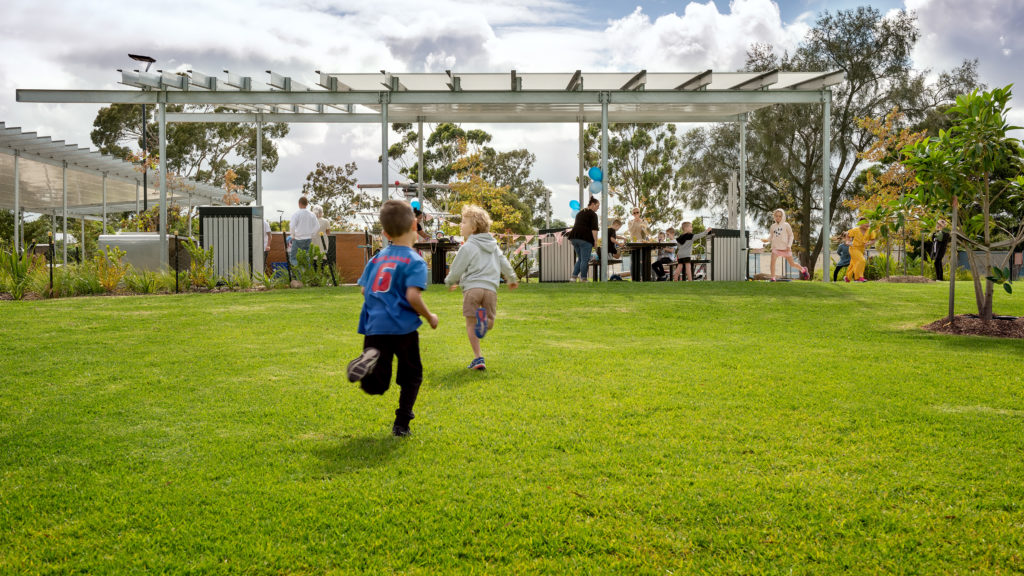 Neighbourhood squared
Andy Fergus considers how the effects of small-scale civic works in two Melbourne suburbs have multiplied to bring about positive urban transformation.
With so much of our cities in private ownership, there is only a limited amount of space available for big new public parks and open spaces. Set against this context, small, seemingly opportunistic projects now number in the dozens across a number of densifying municipalities in inner Melbourne. These spaces take the form of re-purposed carparks, street closures, verge widenings—a general cobbling together of poorly utilised urban spaces for new forms of public use.
While members of the public might see municipal governments as all-powerful urban conductors, an investigation into a collection of these projects reveals a different reality. Facing constrained budgets, local councils have developed a tool kit of methods to help them deliver new public spaces with limited means, from the preparation of long-term strategic plans, down to the guerrilla tactics of opportunistic and incremental renewal of the public environment.
A small pocket park on its own can be a valuable addition to a neighbourhood, but when integrated with wider footpaths, new shade trees and protected bike lanes, the collective impact can be greater than that of a big new park. Stitched together, these many small spaces can have a dramatic effect on the enjoyment and safety of our neighbourhoods.
Two clusters of recently completed projects in the civic centres of Melbourne's Brunswick and Sunshine serve as exemplars of this form of networked public space renewal. Several works within these clusters are the recent recipients of Australian Institute of Landscape Architects (AILA) awards, and while distinct in scale and type, they all work to improve the quality of the public environment and its amenity through collective impact.
My conversations with council officers from each of these municipalities reveal similar beginnings to these seemingly-distinct small projects, underpinned by a clear vision of the ultimate neighbourhood effect. Each project traces its origin to strategic plans its local council prepared in the early 2000s, in response to state government direction. However, the way each council has implemented the projects has been both varied and opportunistic, using a complex cocktail of funding methods.

Sunshine suburb area. Brimbank City Council comprises of the suburbs Sunshine, Deer Park, Sydenham, Keilor and St Albans.
The industrial and working class histories of Sunshine and Brunswick have shaped their social character and appearance. Their urban centres are characterised by narrow footpaths and limited open space or plantings. After periods of industrial boom in the early 20th century, both centres entered a period of prolonged decline in the post-war period, before gentrifying around the turn of the century.
While Sunshine is perhaps 20 years behind Brunswick in terms of private investment, it is now firmly in the sights of the state government as a National Employment and Innovation Cluster, anchored by good transport connections, a regional hospital and civic services. Where Brunswick's gentrification has occurred incrementally from the bottom up since the 1980s, Sunshine's early 21st century growth is being driven firmly from the top down.
The urban centre of Sunshine is unusually formed on the site of the former Sunshine Harvester Works, a sprawling manufacturing complex that was demolished in 1992 to give way to a pair of shopping centres either side of Hampshire Road. Surface carparks dominate the vast spaces between buildings, which makes for a bewildering environment. The new landscape works by the Brimbank City Council attempt to make sense of this urban fabric by carving a network of high-quality pedestrian routes between the civic and commercial centre and the residential areas beyond.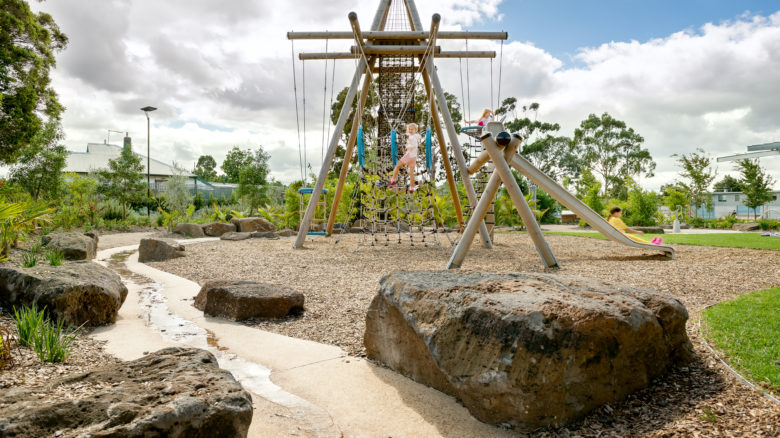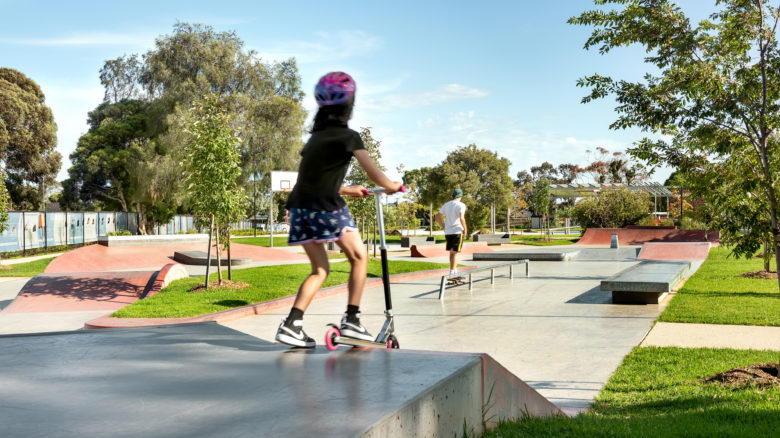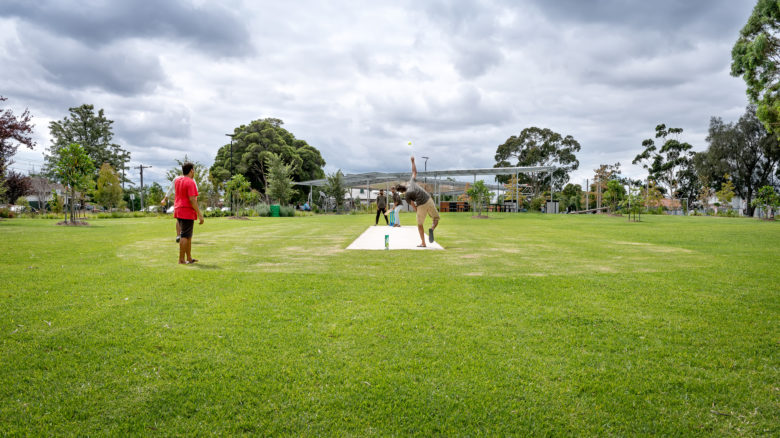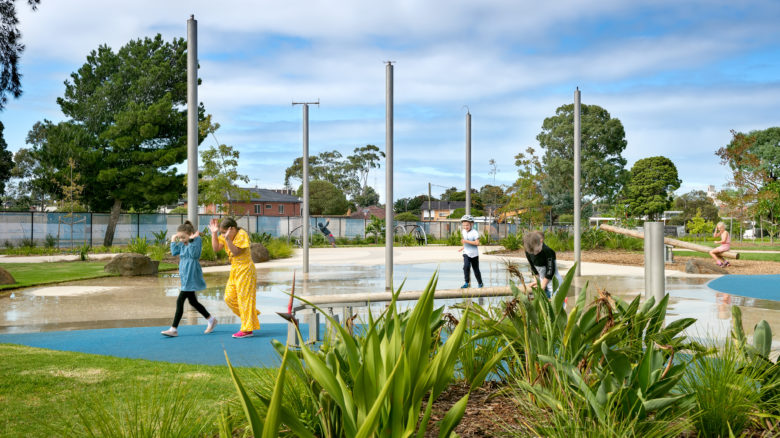 The first major investment occurred some 10 years ago along Hampshire Road at the site of a bus interchange, with new seating terraces, paving and shade tree plantings between the two shopping centres. Following on from this initial tentative project has been a series of increasingly ambitious streetscape, water sensitive urban design (WSUD) and pocket park spaces, topped off by the substantial Sunvale Community Park. These works continue today in the form of the wholesale reconstruction of Hampstead Road's southern end, re-allocating a significant proportion of former road space to pedestrian use.
In contrast to Brunswick, where the public realm improvements come well after the apartments, the landscape works in Sunshine precede the development boom, with limited evidence of new privately funded projects within the town centre.
The emerging public realm network in Sunshine is extensive but selective, focused along key pedestrian connections to and from community facilities as well as the train station. The spaces hinge off larger investments, including the Brimbank Community and Civic Centre (Lyons) and a clever 'demountable' steel multi-deck parking structure (MGS Architects), which decants wasteful surface parking to enable future redevelopment.
A 'blue street', named for the fact it is designed principally to manage urban flooding and stormwater, follows the alignment of the buried Stony Creek, and evokes a sense of the former watercourse. Fitzgerald Frisby Landscape Architecture designed the new space, which won a AILA Victoria Civic Landscape Award in 2018. It accommodates small bridging decks and playful stepping stones which cross a deep, densely vegetated bio-retention swale. It is both a space for pedestrian movement but also a play space and somewhere to read a book or eat lunch. The space is designed to connect with an approved 11-storey development, to provide activation at its eastern edge.
Sunvale Community Park is positioned 150 metres further to the east of the civic centre, located where the residential hinterland meets the Sunshine town centre. The 1.2-hectare site was formerly a government school that was sold and then more recently bought back in part by Brimbank with state government support. The balance of the former school site is being developed for residential townhouses, with Brimbank co-ordinating with the developer to ensure the park's residential edge integrates with it.
The new park is a delight to visit, interweaving a series of different characters and uses onto the site without feeling like a collage, and the diverse users sharing the space are testament to its success. The simple, industrial shade structures are especially noteworthy, showing a 'builderly' level of restraint rare to landscape structures in Melbourne. I was there on a weekend and shared the space with seasoned skaters and young children on scooters, a group of elderly men sharing jokes, teenagers playing soccer and hipster parents with cargo bikes and fashionably dressed toddlers. During my weekend visit, at least fifty-to-sixty people were comfortably spaced across the park.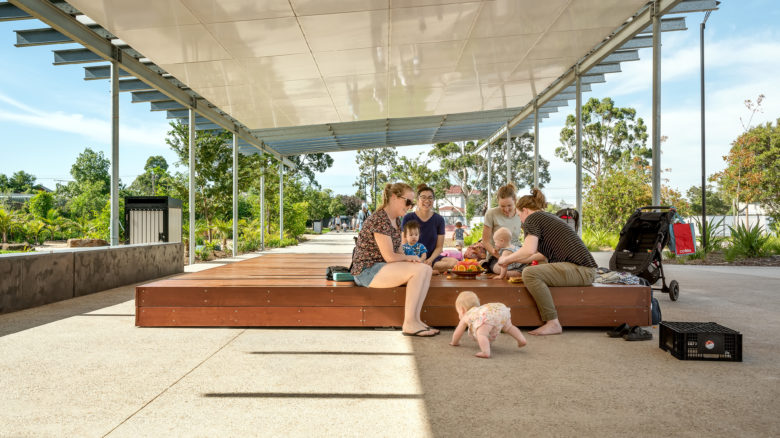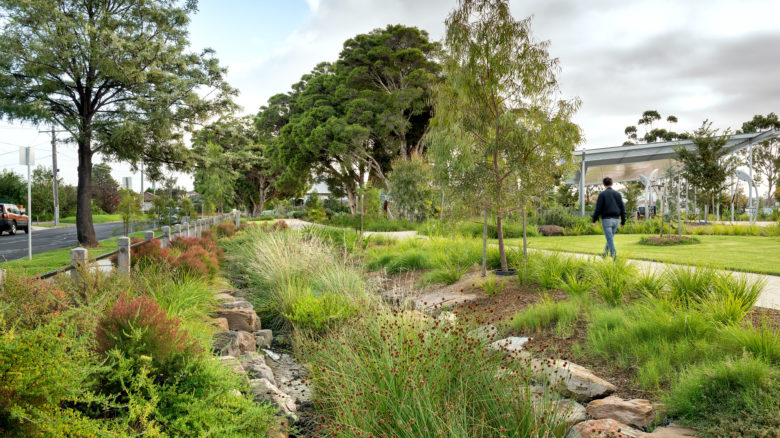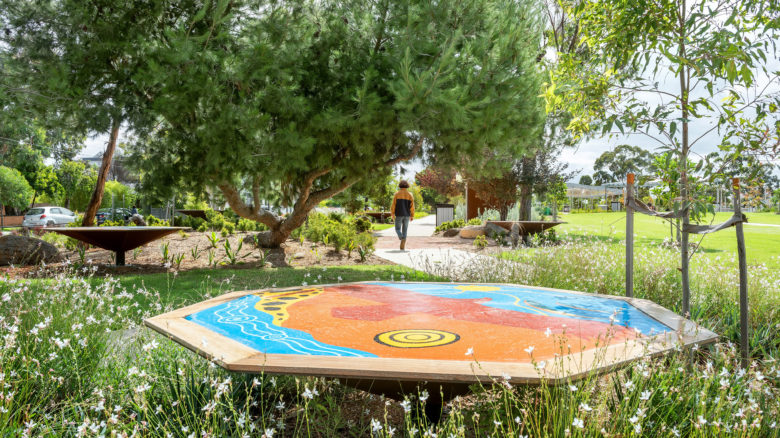 Brunswick doesn't yet have the centrepiece of a Sunvale Community Park, but its growing network of connective small urban spaces offers equally valuable lessons. Set within a context of tough back streets between the treeless Sydney Road spine and the gauntlet of the Upfield bike and train corridor, the Brunswick interventions are all the more delightful for their contrast and detail.

Brunswick suburb area. Moreland City Council comprises of Brunswick, Brunswick East, Brunswick West, Coburg, Coburg North, Fawkner, Glenroy, Gowanbrae, Hadfield, Oak Park, Pascoe Vale, and Pascoe Vale South as well as small amounts of Fitzroy North and Tullamarine.
The Mechanics Institute Forecourt on Sydney Road is the largest and most centrally located space within the network. It offers a generous civic space that is protected enough from the busy intersection to offer retreat, while still feeling open and safe. A long timber bench defines a sheltered space between the heritage hall and the wall of a neighbouring pub, given new life with a topography mural by local artist Buff Diss, while gently ramped bluestone provides universal access to the entry of the cultural facility. Limited planting holds and defines the edges of the space, with an indigenous groundcover 'lawn' and feature trees with reclaimed bluestone pitchers placed to direct movement.
Eschewing a tendency to over-design, the space remains loose-fit to allow for temporary installations and events, appropriate given the Institute's role as centre stage for the Next Wave emerging artists festival.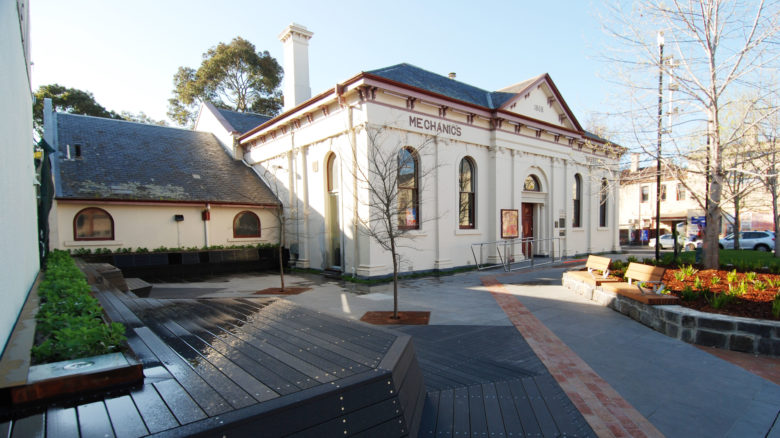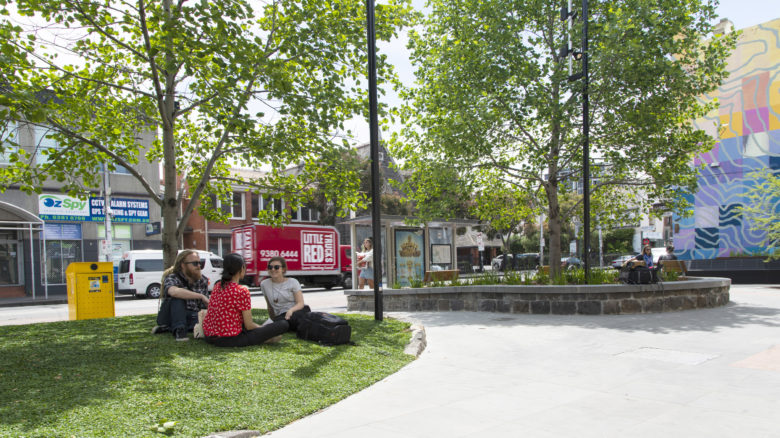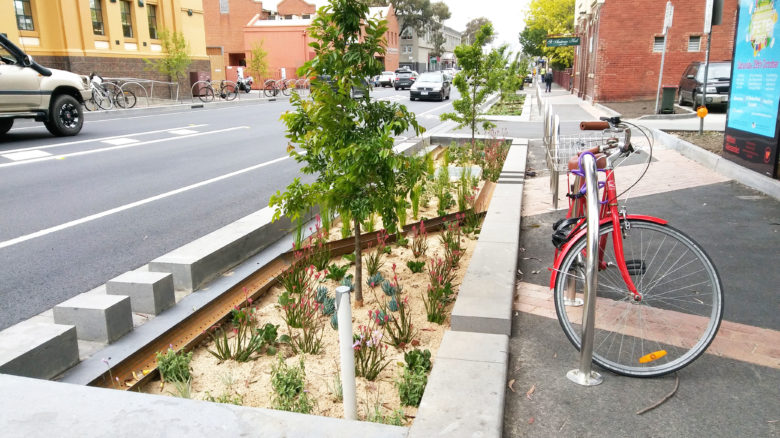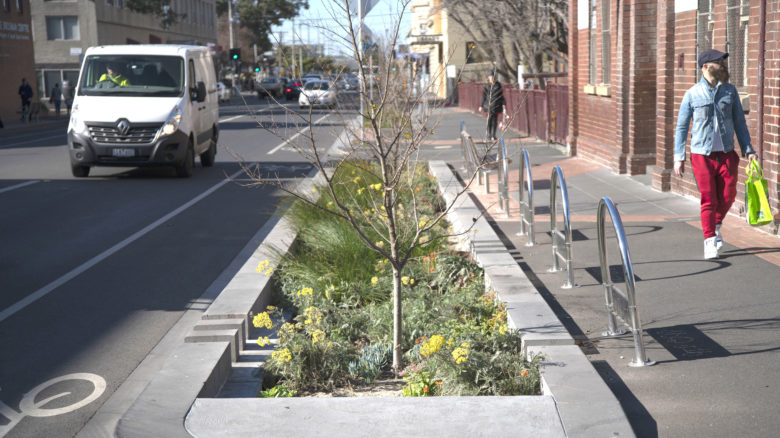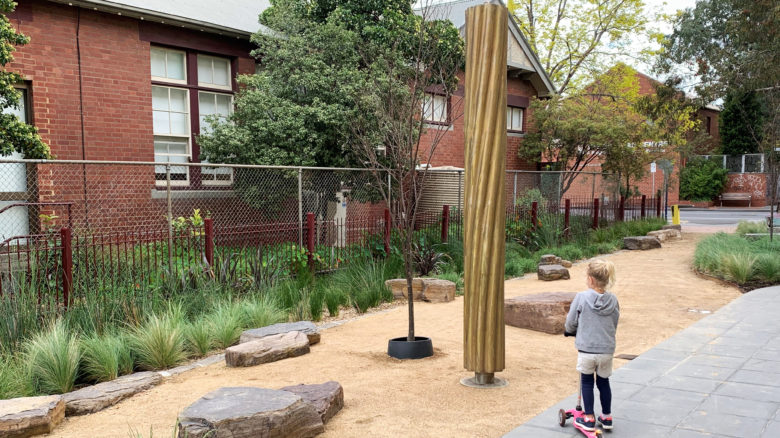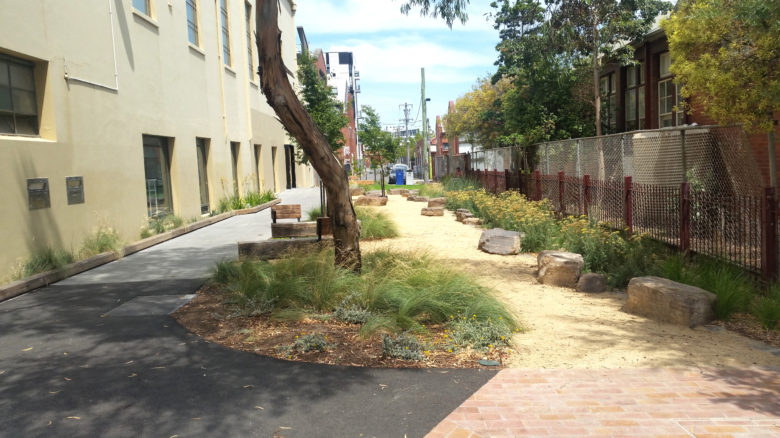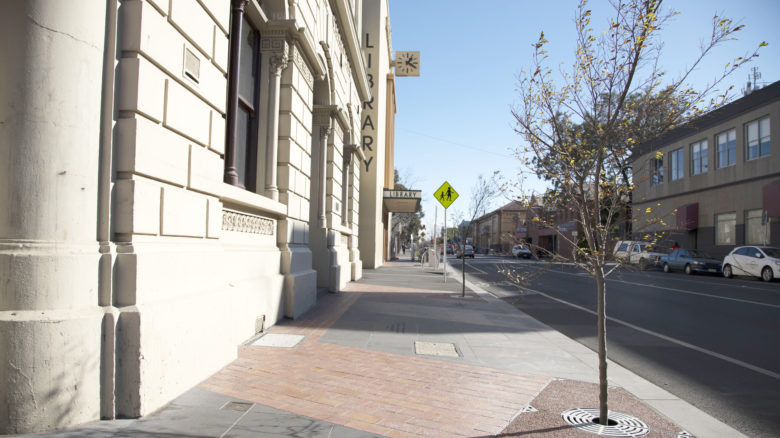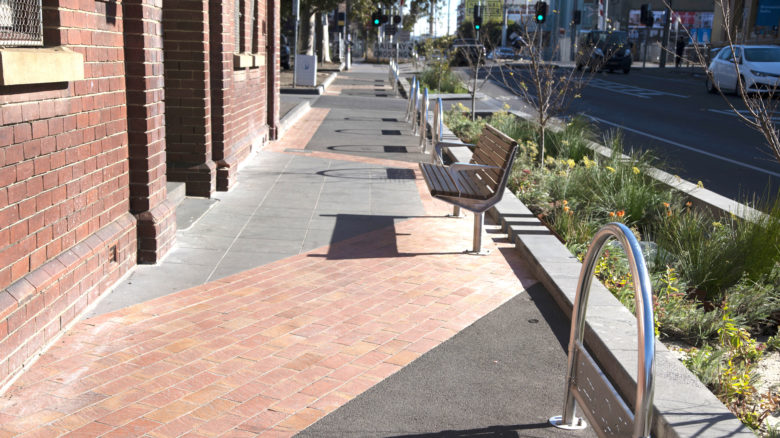 The Dawson Street streetscape works are located 100 metres or so to the west of the Mechanics Institute Forecourt, connecting the Brunswick Baths, Town Hall, Upfield Corridor and Sydney Road. The new works improve pedestrian amenity and safety with a subtle widening of the footpath flanked by a stormwater filtering WSUD pit with sculptural rusted steel agricultural drain, new tree planting and on-road bike lane (albeit regrettably leaving the bikes in direct contact with cars).
At the rear of the Town Hall, the Dawson Street streetscape improvements connect directly to the perpendicular Saxon Street, which has been closed to through traffic. A small linear space of some six by 40 metres brings universal access to a new rear entry into the Town Hall. The simple move of concentrating the footpath to the east side against the Town Hall liberates a narrow strip for a pocket park. Here, seating and planting areas help form a permeable, soft landscape, with a sculpture as a focal point. The under construction Nightingale 3.0 to the immediate south (Austin Maynard Architects) will contribute to the upgrade of this lane through the removal of any rear parking access, and active ground floor uses.
The single AILA award for this collection of spaces stretched along Dawson Street acknowledges how they function as a network, however if we consider them alongside the broader body of work including the Wilson Avenue pocket parking (both existing and current proposal), the Jewell Station forecourt redevelopment, Sparta Place and the 'Park Close to Home Program', we can understand the more transformative long-term effects on the neighbourhood. While the momentum in Brunswick has been slower to date than in Sunshine, the raft of new projects the council has currently committed to will change this tough urban environment substantially in the coming two-to-three years, in an effort to keep pace with the ballooning residential population.
My conversations with council officers at Brimbank and Moreland highlighted the importance of the Melbourne 2030 Strategy released in 2002. This Plan compelled local councils to prepare local frameworks known as Structure Plans for designated urban areas referred to as Activity Centres (Sunshine in 2008/2014, Brunswick in 2010/2012). These frameworks were to guide the rezoning of land from industrial to mixed use to enable higher density residential development, with some supporting initiatives around public infrastructure and urban realm improvements. While the rezonings, with resultant impact on private land values, were implemented quickly, the methods to deliver the public investment lagged behind.
The implementation of Structure Plans did, however, successfully focus more co-ordinated council effort in a number of ways that influenced the creation of new public space.
Another influencing factor was the implementation of strategies for municipal wide open space investment, including the 2008 Brimbank strategy Creating Better Parks and Moreland's 2012 Open Space Strategy, which highlighted specific gaps in open space access in areas undergoing renewal. These municipal-wide strategies lay the foundations for the distribution and quantity of open space investment, drawing upon council rates, as well as open space contributions obtained from private developers.
Both councils noted the importance of elected councillor approval of these strategies in securing long term commitment to both staff and resources, in locations which had experienced almost half-a-century of limited public investment beyond roads, rates and rubbish.
Tracing these completed projects from strategy through to delivery demonstrates the importance of capacity building internal to council, with urban design, landscape and place making teams growing in size in order to deliver them. In some instances, these strategies led to councils employing urban designers in-house for the very first time, which is startling given how recent this period was.
Both Moreland Brimbank now have built specialised teams with skill in strategy, design and delivery, with this momentum derived in no small part from the confidence built between councillors and the community as projects come to fruition. However, reflecting on the outcomes of these strategies from 2002 to 2020 gives rise to an important question. Why has it taken so long to realise these initiatives, particularly in the Brunswick case where, thanks to the structure plan, thousands of new homes have been built, and hundreds of millions of dollars in private money has been invested?
This question points to the broader challenge of providing public infrastructure of a quality and quantity that keeps pace with the development the structure plan process facilitates. In Victoria, much funding for public space flows from developer contributions that council receives only after a development is completed. This ensures that the detailed planning and design of public works can only commence well after the new residents have moved in. What's more, state government restrictions dating to the late 1980s preclude councils from raising funds for public space through other, more creative means.
In this context, the achievements of Moreland and Brimbank are all the more impressive. They have scraped together funding for their projects from limited rates revenue, some open space contributions from developers, sporadic Victorian Government Grant investment, and funding for water management projects through Melbourne Water.
Learning from the Brunswick and Sunshine experience, it is clear effective forward planning with a precinct-scale vision drove the creation of this body of small public works and their cumulative transformative effect. They offer a blueprint for how we can conceive of new high quality public spaces, even in urban environments where swathes of public land are not available for flagship park projects.
However, the current Covid-19 downturn gives us cause to reflect on the apparent Victorian condition of private investment first, and public later. We now have a once in a generation opportunity to reset the tools that support the provision of public space by local government. Any long-term solution has to guarantee direct, systematic investment through local funds, raised and administered autonomously by local government.
We must establish a clear link between private development and community needs for open space, with high levels of citizen participation and political buy-in, before the next development boom commences.
---
Andy Fergus is an urban designer, design advocate and co-director of Melbourne Architours.