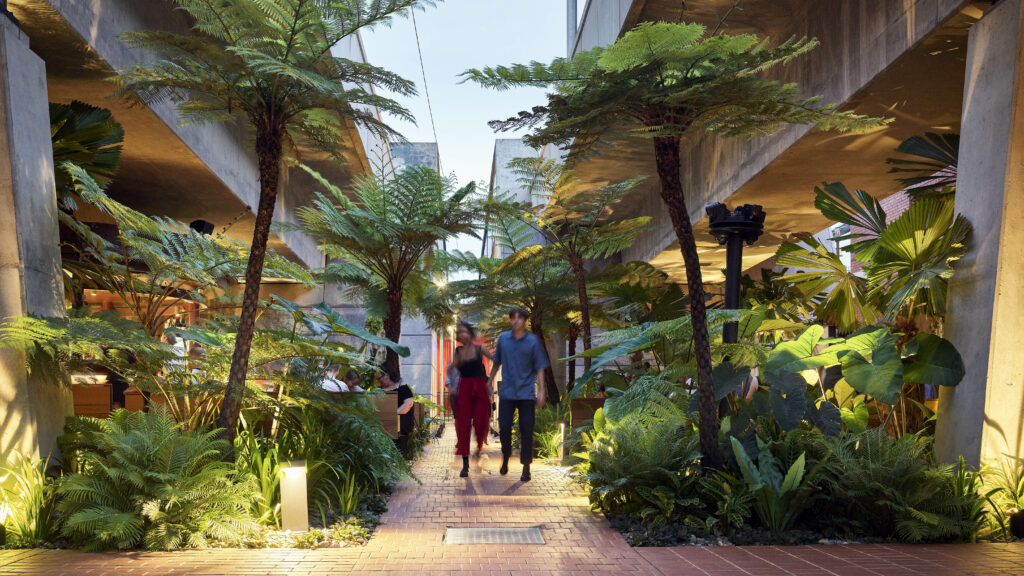 Room to grow: Green urban spaces in a subtropical city
In concrete places that were once unwelcoming to Brisbanites, green public oases have started to take root.
South East Queensland's climate runs the gamut from hot humid tropical summers to cold temperate winters with bright sunny days. Exotic subtropical foliage trees like jacaranda and poinciana are as much at home as native flowering silky oak, pan-tropical ficus, rainforest palms and shrubs, climbers and tropical fruit trees. Plants and trees thrive in a climate with plentiful rain and sunshine. All they need is somewhere to grow.
Cool spaces between buildings for shady plants to grow, and for people to go, are imperative in Brisbane: a humid subtropical city. Brisbane is rapidly densifying and it can seem like any available outdoor space is given to traffic and infrastructure rather than cooling foliage and people-friendly places. However, an exceptional outdoor space has recently emerged beneath one of the busiest rail overpasses in the city, literally a stone's throw from the popular Queensland cultural precinct.
Fish Lane Town Square is a new green urban space enlivening South Brisbane, built by Aria Property Group and Brisbane City Council on land leased from Queensland Rail. What was once under-utilised, inaccessible but publicly owned land has been repurposed into a publicly accessible subtropical haven on a private lease. Designed by Richards & Spence with landscape design by RPS Group, the project recently won the Award of Excellence in the Civic Landscape category of the 2021 AILA QLD Landscape Architecture Awards.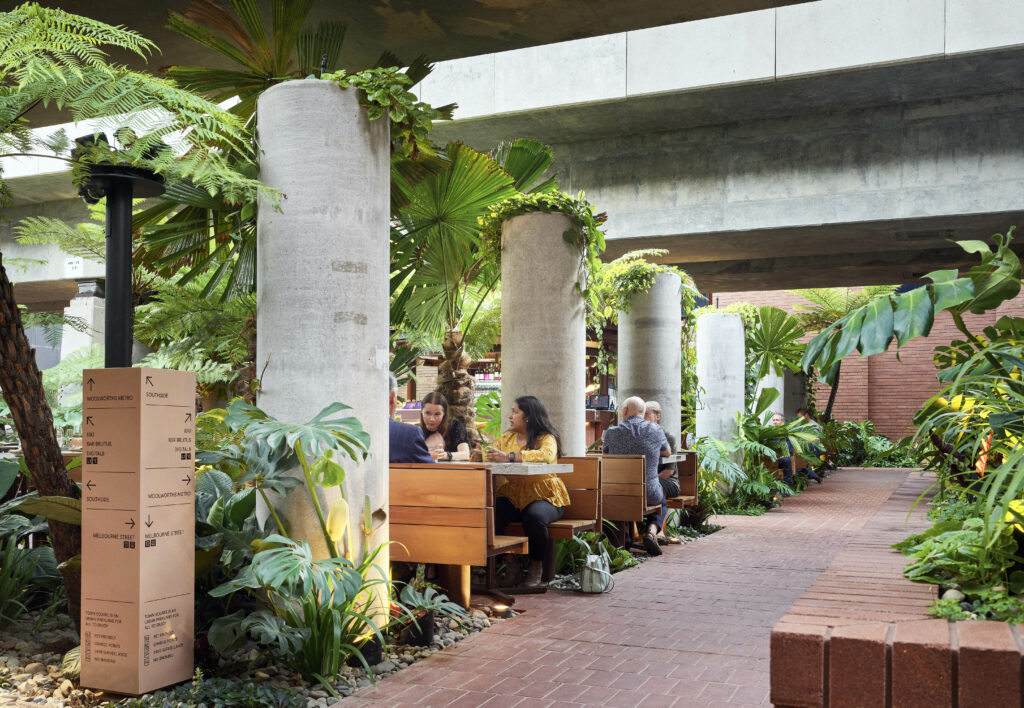 Aria Property Group's vision, supported by Brisbane City Council who was willing to experiment and a state-owned authority whose requirements for access to the bridges could be met with practical design solutions, found a way to unlock the space. The site has a look of permanence and feels like it has always been here, but ingeniously, Fish Lane Town Square can be entirely dismantled in a few hours if necessary. When routine maintenance is needed, scissor-lifts can negotiate the paved pathways to reach hatches in the bridges. Here, the interaction between garden and architecture seems organic – yet the layout is highly functional.
There is an emphasis on walkways and courtyards, and plenty of places to sit. Overhead, large-leafed tropical plants are interwoven with the massive concrete pylons of the bridge carrying passenger trains above. The bridges form a shady canopy layer for the delicate filigree of tree ferns and fan palms, themselves casting dappled shade over aspleniums, gingers and swathes of subtropical understorey plants. Climbers spill from a colonnade of concrete pillars that seem to grow out of the understorey like rainforest trees.
In a sophisticated design where nothing is left to chance – except the encounters between people, space and plants – everyone is welcome. Fish Lane Town Square is animated throughout the day, aligning with inner-city dwellers' rhythms: coffee bars in the morning and small bars opening late afternoon into the evening. It is the kind of space that people deliberately choose to detour through because it feels good to be in.
Fish Lane Town Square can trace its design genealogy back to other award-winning laneways like Eden Lane in Woolloongabba, also designed by RPS Group, the Nineteen James Street project in Fortitude Valley and Aalto Lane at SW1 in South Brisbane. Essentially these are open passages and niches created on private land given over to people to occupy or pass through between residential and commercial buildings.
These small-scale urban places share a common design language of plentiful shade-giving vegetation working together with well-designed buildings to frame vibrant public space. They make room for plants to grow and for people to enjoy outdoor life in a climate where it's pleasant to be outside.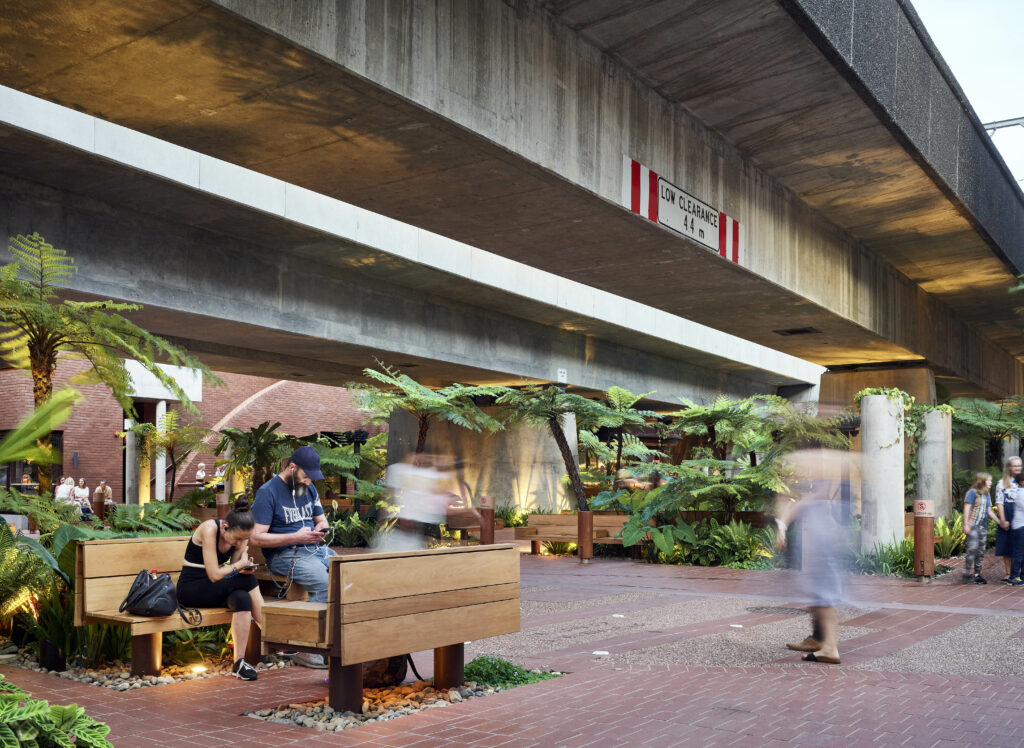 They have all come about through collaborative partnerships between urban authorities and property developers, landscape architects and architects. Fish Lane Town Square seemed to flourish overnight, but it took at least five years of negotiation with the landowners. Meanwhile, South Bank Corporation provided the creative impetus for Aalto Lane, which runs the length of a city block anchored at each end by commercial buildings. Here, the lane is overhung with gardens that grow in a continuum with densely planted recesses of the unobtrusive residential buildings without compromising the inhabitants' privacy. You can buy a coffee to enjoy at your leisure, or just pause and enjoy the peace and quiet. Eden Lane, at the base of a multi-residential development with two street frontages provides a mid-block pedestrian link that climbs a small rise connecting the two streets. Meanwhile, the semi-covered open passageway at Nineteen James Street meanders past retail tenancies, giving glimpses into their inner workings.
The care taken in the design of these projects, the investment in workmanship and employing high-quality plants and materials, and the implementation of careful maintenance regimes translate into well-cared for, safe and welcoming places that people can use on an everyday basis. They provide exemplars for ways to design subtropical urban places in a city undergoing a high-rise, high-density transformation. They are models of subtropical urbanism.
Subtropical urbanism is a concept that has been growing deep roots in Queensland for two decades and one that's at last beginning to bear fruit.  Carving out attractive outdoor space close to where people live in some of Brisbane's growing high-rise inner-city neighbourhoods requires a deliberate and design-led action plan. It takes its cue from the climate and relies on a landscape-led approach to urban design and architecture to make green pedestrian-friendly spaces between buildings that actively contribute to the life of the city. Some good ideas can happen overnight – others take much longer to mature. They just need space and time to flourish.
_
Dr Rosemary Kennedy F.R.A.I.A is Director of the Subtropical Cities Consultancy. She is Adjunct Associate Professor of Architecture at QUT where she was Director of the former Centre for Subtropical Design and Research Leader in the School of Design.