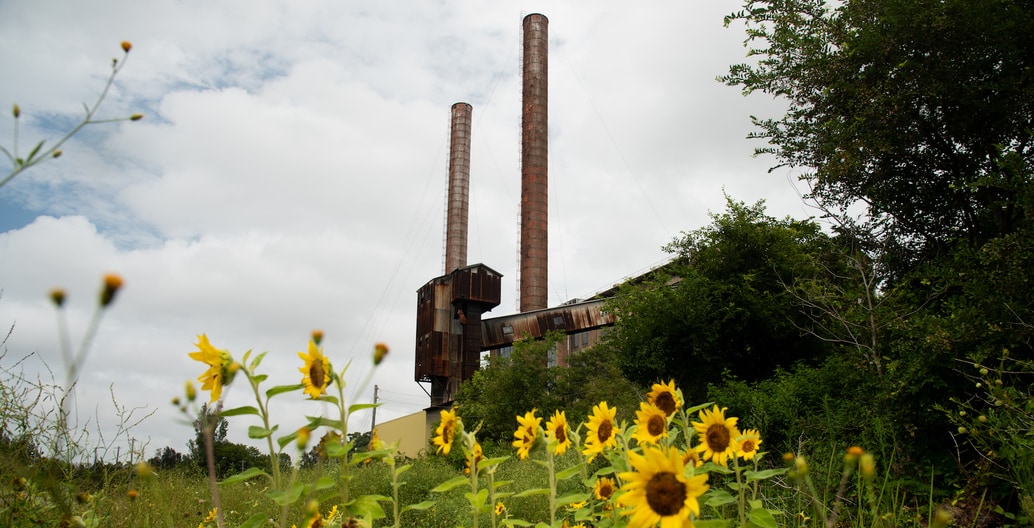 Power Plants: Turning Brownfields Green
A design-led research experiment in Sydney is using plants to clean a toxic post-industrial site for future redevelopment.
Despite astronomical land values and an ongoing wave of construction that seems to have crashed across the city like a tsunami, high-rise apartments springing up in its wake, even Sydney has odd pockets of what looks like desirable land where, strangely, nothing much seems to be happening. Urban planners and environmental scientists call these metropolitan areas 'brownfields.'
Largely a post-industrial phenomenon, many cities around the world have these sites, although the definition of what constitutes a brownfield varies slightly from nation to nation. The 2016 Australian State of the Environment report – commissioned by the Federal Government every five years, but conducted by independent experts – offers the following definition, "Brownfield describes land previously used for industrial or commercial purposes. Such land may have been contaminated with hazardous waste or pollution."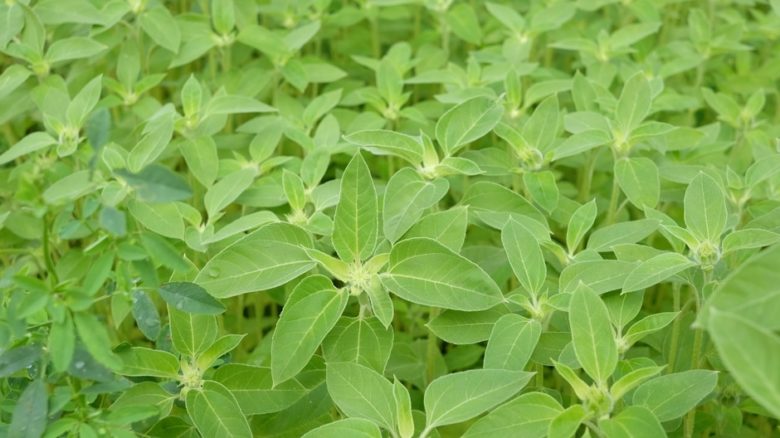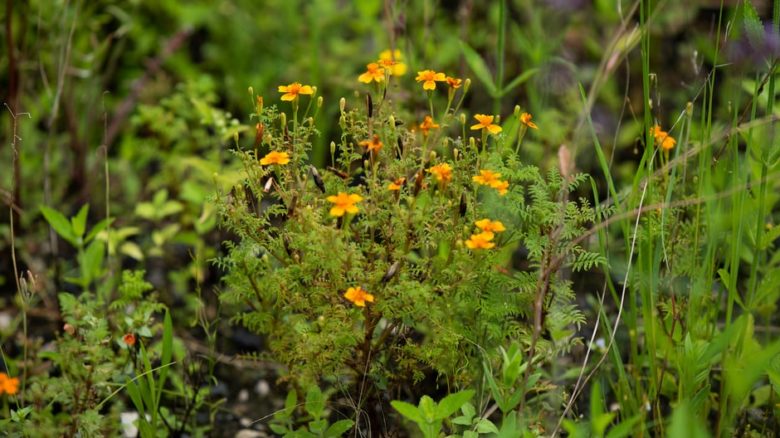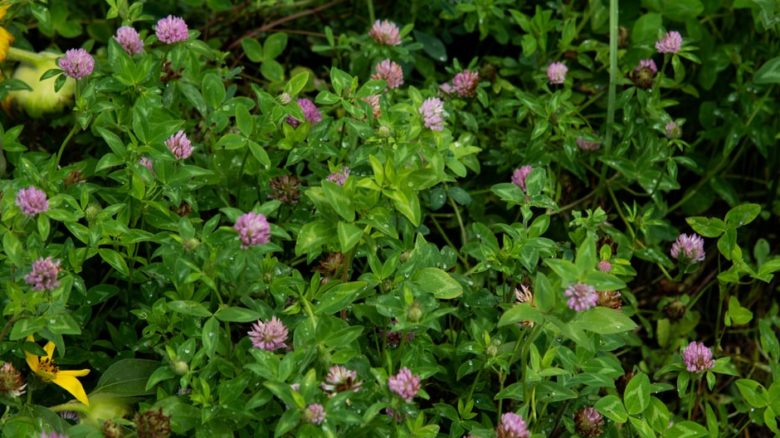 While brownfield sites may be under utilised in a commercial sense, they are not usually barren wastelands. Often they become mini urban meadows and forests, filled with a wide variety of plants that seem to survive and even thrive, despite toxic conditions. This fact was not lost on a range of scientists, including the late New Zealand biologist Professor Robert Richard Brooks who was one of the early pioneers of what became known as phytoremediation, a term which roughly translates to 'restoring balance through plants.' Brooks identified several species which he called 'hyperaccumulators,' plants that have the ability to remove large quantities of metals from soils. Since the mid-1980s, and increasingly in the past 20 years, phytoremediation has been used as a technique to decontaminate previously toxic sites.
Using the power of plants, phytoremediation turns brownfields green, and this is exactly what Professor SueAnne Ware and her team are doing at one of Sydney's most visible derelict industrial sites, the White Bay Power Station.
Decommissioned in 1983, the massive heritage-listed complex with its two giant chimneys is a distinctive Sydney landmark and it is the centrepiece of what the NSW State Government has dubbed The Bays Precinct. Naturally there are plans to develop this harbourside site, but the timeframe is long (20-30 years according to the UrbanGrowth NSW website, one of three State Government bodies with jurisdiction over The Bays Precinct) and final outcomes are yet to be determined.
Nevertheless, Ware, who is Head of the School of Architecture and Built Environment at Newcastle University (UON), has been working on the Power Plants phytoremediation project since 2015. As Chief Investigator she is keen to point out that the project is multidisciplinary and collaborative. Landscape architects, biologists, designers and artists from UON, University of Technology Sydney (UTS) and University of New South Wales are also involved, as well as a number of students from UON and UTS. "It may have been my idea," Ware explains, "but I was most interested in how it left my hands."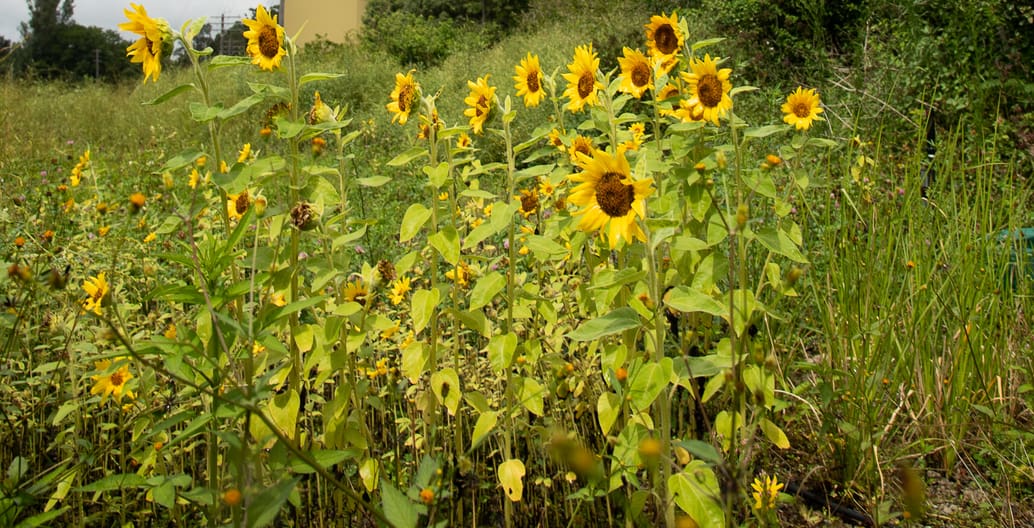 Experimental sunflower planting at the White Bay Power Station phytoremediation project, Sydney. Garden 01, 2018.
In August 2018, the team planted the first Power Plants garden, a 1000-square-metre plot on the eastern side of the White Bay Power Station. They sowed seeds of more than two dozen annual plant species, all proven phytoremediators selected for their capacity to deal with the types of toxins on the site: heavy metals, BTEX (Benzene, Toluene, Ethylbenzene) and pesticides. Some six months later, the carefully planned Garden 01 has turned into a wild meadow in which marigolds, carrots, clover, lupins, mustard and sunflowers, in particular, are flourishing.
"We had amazing sunflowers," Ware reports. "And some of them turned black." These normally bright yellow blooms are known for their ability to extract heavy metals such as arsenic, cadmium, zinc, and nickel, elements which, Ware says "they hold in their bodies. It's almost like litmus paper." The fact that they turned black proves that the process is working, but it also points to one of the key challenges in phytoremediation: the plants themselves become toxic and need to be disposed of accordingly.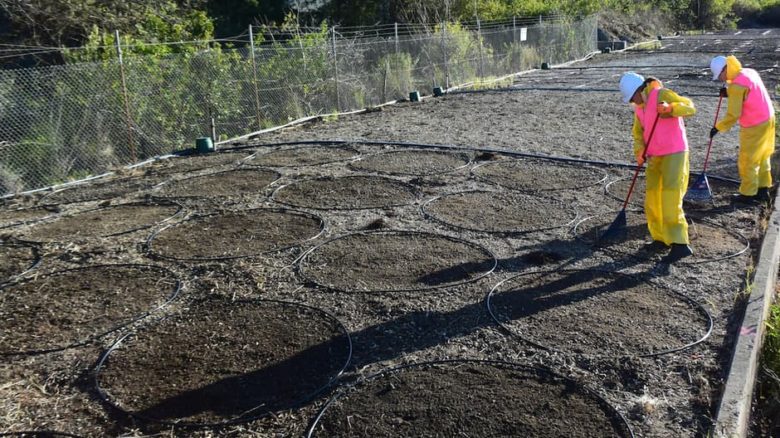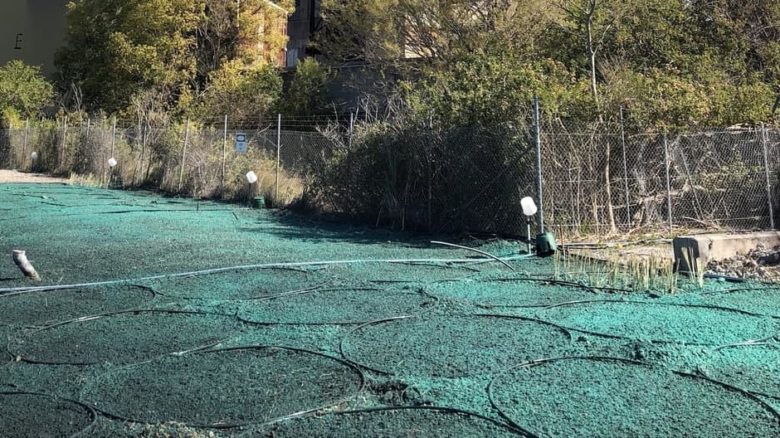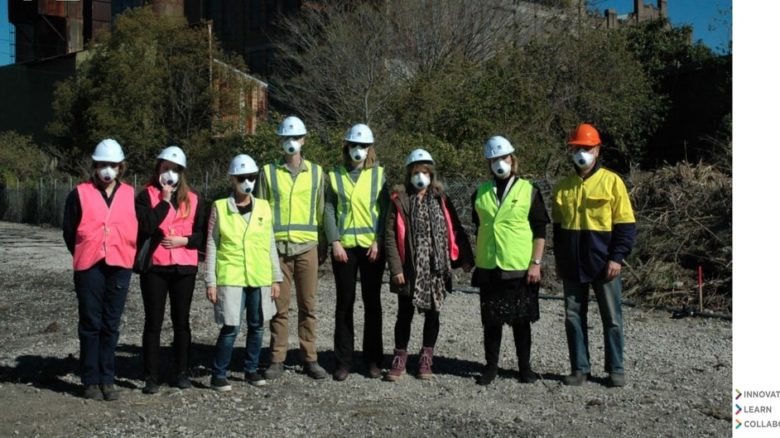 In order to avoid just moving the problem around, Ware hopes to deal with this waste, once the first garden is harvested in August 2019, by processing the contaminated plants on site. "A number of land management techniques are being looked at," Ware explains. "One is a hyper accelerated form of composting that takes place in a sealed environment and radically reduces the bulk of the contaminated material. For example 1000 square metres of garden waste might become one square metre or less. And then this would continue to reduce over time."
In fact, time is one of the key ingredients needed in a phytoremediation project. Decontaminating a site can take 12 years, but it is extremely cost effective. Especially as it is being done at White Bay, where (unlike many of the projects undertaken elsewhere in Australia and overseas) no concrete or clay has been trucked in to 'cap' the contaminated site, nor has any additional soil been added. By planting seeds on available soil and composting on site, the project saves dollars and reduces the potential carbon burden.
Although the Power Plants project is not the first of its kind, it is, Ware says, one of only a few being done anywhere that has been conceived of "through the lens of design" with education as one of its primary aims, alongside scientific discovery and contamination reduction. Power Plants seeks to harness the power of imagery as an educational tool. And with this in mind, a yet to be launched website and a suite of films are an integral part of the project. Both primary and secondary school children also visit the site to see phytoremediation in action as part of programs facilitated by UrbanGrowth NSW.
Through Power Plants, Ware hopes to inspire others as much as she hopes to remove toxins from the soil on a specific site. "I don't do research for it to sit on a dusty shelf," she explains." I do research that hopefully has widespread implications that others can take to another level."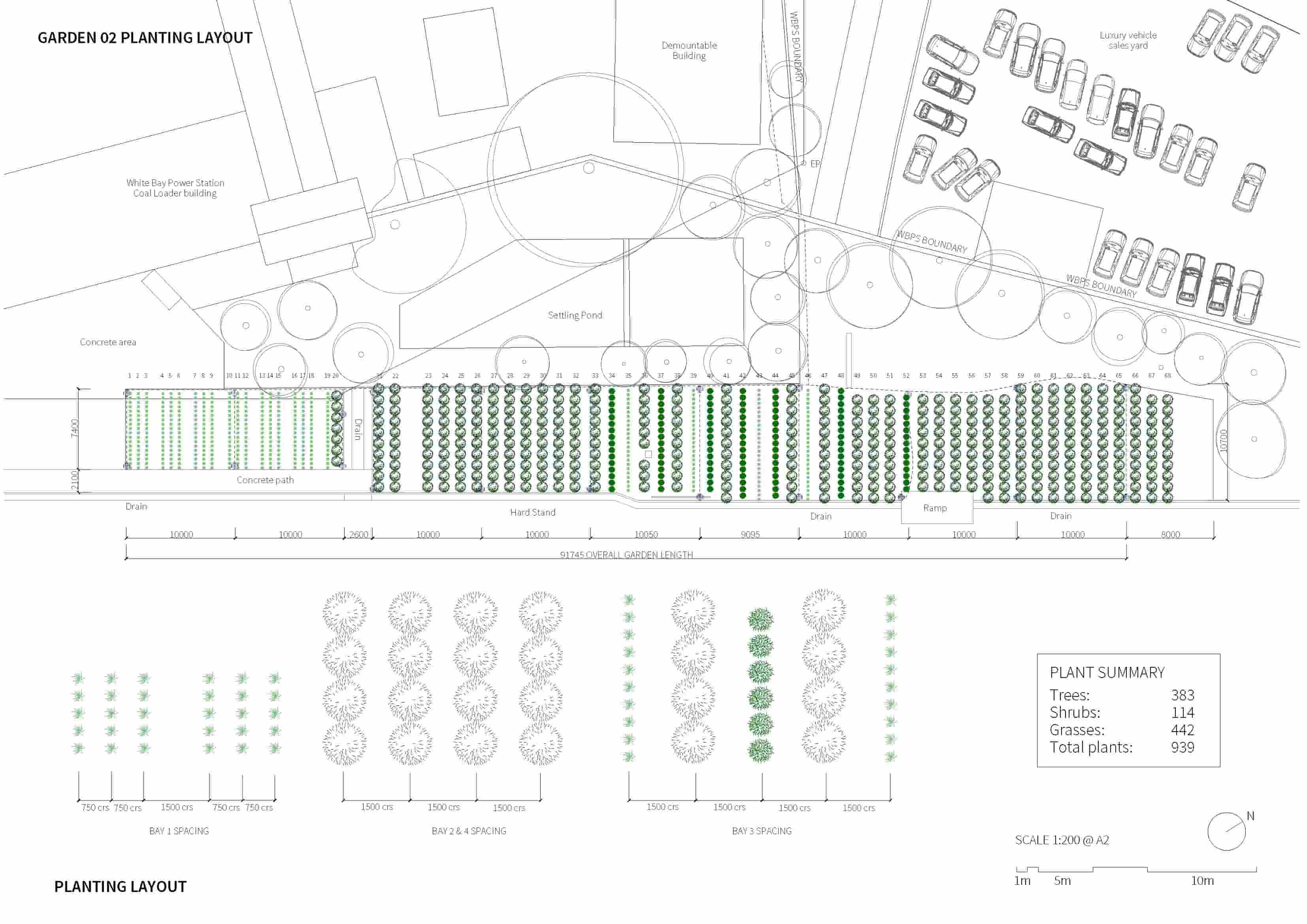 The phytoremediation planting plan for Garden 02 at White Bay Power Station, Sydney. Developed by an Interdisciplinary team led by Professor SueAnne Ware, University of Newcastle, it is conceived of "through the lens of design" with education as one of its primary aims, alongside scientific discovery and contamination reduction.
The Power Plants Garden 02, which will feature perennial native trees and shrubs, is due to be planted in August 2019 and the plants may be left in situ to act as a potential nursery for future landscaping and phytoremediation. As for what will happen on the White Bay Power Station site after her project wraps up in mid 2020, Ware says, "Designers tend to be optimistic. It's an interesting watch and wait situation."
–
Further detail on Garden 01 of this ongoing project can be found in the stage one report available here.
Tracey Clement is an artist and writer based in Sydney, Australia.