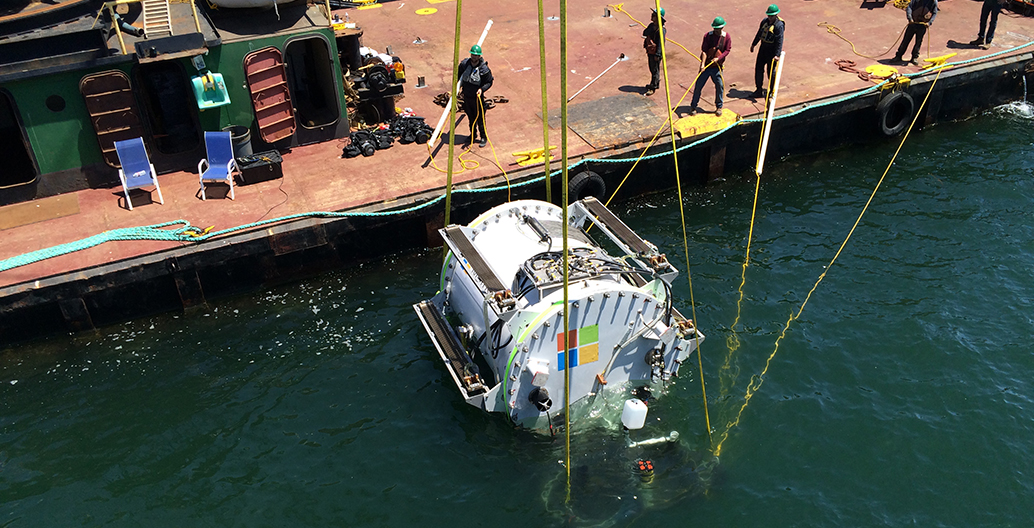 Far from view: A deep dive into the spaces that house cloud data
Ugly, energy-hungry bunkers, data centres can make for unpleasant urban infrastructure. An underwater experiment by Microsoft, however, could change all of that.
They are critical to a city's social and economic infrastructure needs, yet largely remain hidden from the public eye.
Data centres or data farms, responsible for storing large amounts of internet users' information 'in the cloud', are typically giant, noisy, energy-sucking centres found in heavily-guarded urban buildings in cities around the world.
High-powered computers are needed en-masse to meet cloud computing storage requirements and demand a great deal of energy to function, including keeping them cool.
Keeping data centres cool, saving energy and costs, was one of the reasons behind Microsoft's decision to submerge a 10ft by 7ft data farm in the Pacific Ocean last year.
Another reason for the underwater project, Microsoft researchers said, was to do with avoiding common problems when adapting urban spaces into data centres.
On land, data farms need to be tailored to different environments and their construction, which often require permits, is time-consuming.
One of the project's architects, Microsoft Research NExT's Norm Whitaker, said at the time the technology, while speculative, had the potential to 'instantly change the economics of this business' and give data centre partners an option in 'a difficult situation'.
In Australia, data centres are key to an emerging economy with the country's data centre services market forecast to grow by 12.4 per cent a year to 2022.
Western Sydney University academics Brett Neilson, Ned Rossiter and Tanya Notley recently argued such centres are worthy of attention because of their increasing importance to urban infrastructure, with what happens in the physical spaces housing 'virtual' cloud data remaining far from the minds of the public.
The academics argue while it might be necessary to keep the location of data centres private for security reasons, a lack of understanding about how data is stored and exists in its bricks and mortar form prevents conversations about how such infrastructure is 'governed, supported and protected'.
A tour the researchers took of a data centre in the inner Sydney suburb of Alexandria highlighted some interesting facts about the space one data centre inhabits.
US corporation Equinix, which provides data storage for cloud service providers such as Amazon Web Services and Microsoft Azure, has four data centres in the Alexandria area.
Equinix's recently opened SY4 facility, which is contained in a warehouse designed by renowned Sydney architect Harry Seidler in the 1960s, will reportedly double the company's capacity in Australia.
Alexandria, itself the focus of urban renewal project Green Square which involves the conversion of a former industrial area into urban spaces – has among the fastest connectivity in the country.
That is because Alexandria is close to where the Southern Cross Cable Head – the physical undersea cable network transporting transoceanic data traffic to Australia from the rest of the world – is located.
Alexandria's proximity to the undersea cable and the coast would potentially make it a prime candidate for underwater data storage.