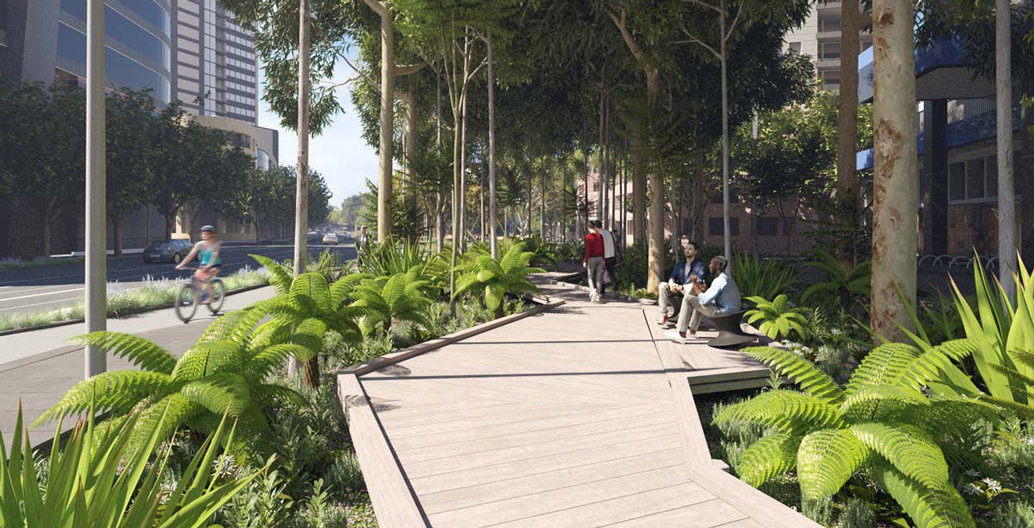 Space savers: the local councils turning roads for rubber, to parks for people
With surging populations and increased densities, Australian communities are demanding improved amenity, with new parks in high demand. But where to find the space? Local councils are getting tactical – replacing quiet roads and under-utilised parking, with new, slim-line urban parks.
Just north of Perth's CBD, the City of Vincent has seen over 20 percent population growth in less than a decade, with a further 35 percent growth projected over the next two decades. Like other Australian cities, Vincent is worried about what this means for the quality of life of its residents. To help mitigate the impact of increased densities, it's investing in new public spaces, but with land prices skyrocketing, that's easier said than done. One group of retailers along Beaufort Street in Vincent, however, had a novel suggestion: reclaim the street.
The city wasted no time in heeding their call, undertaking a quick, simple urban experiment between July and August of 2014. In consultation with the Beaufort Street Network, the city selected a small, fig-lined residential street, on the corner of Beaufort Street and Mary Street, and replaced nine parking spots with a pop-up piazza. Over two months, the bijou public space hosted a program of formal and informal events to an unambiguously positive reception from locals. A call for public comment resulted in 300 submissions from the community, with a massive 87 percent of those in favour of making the piazza permanent.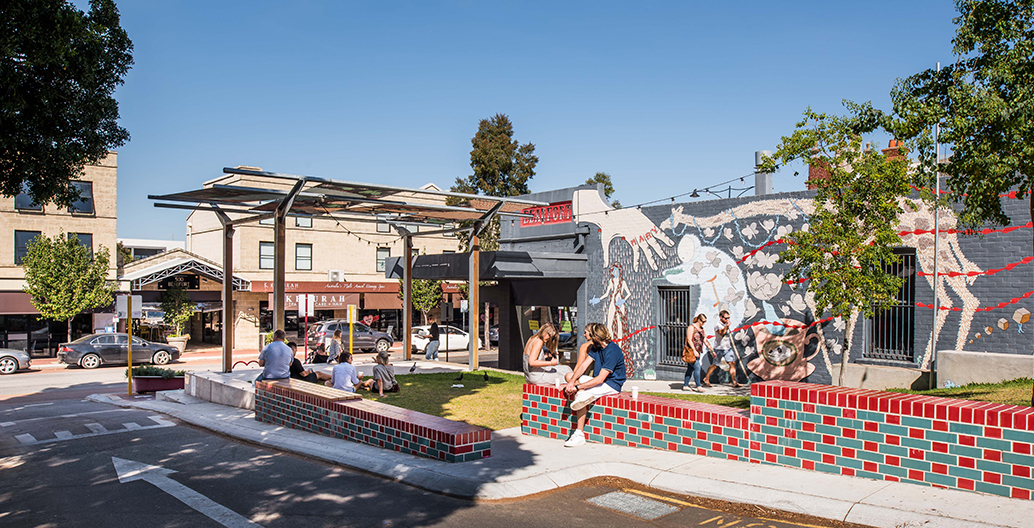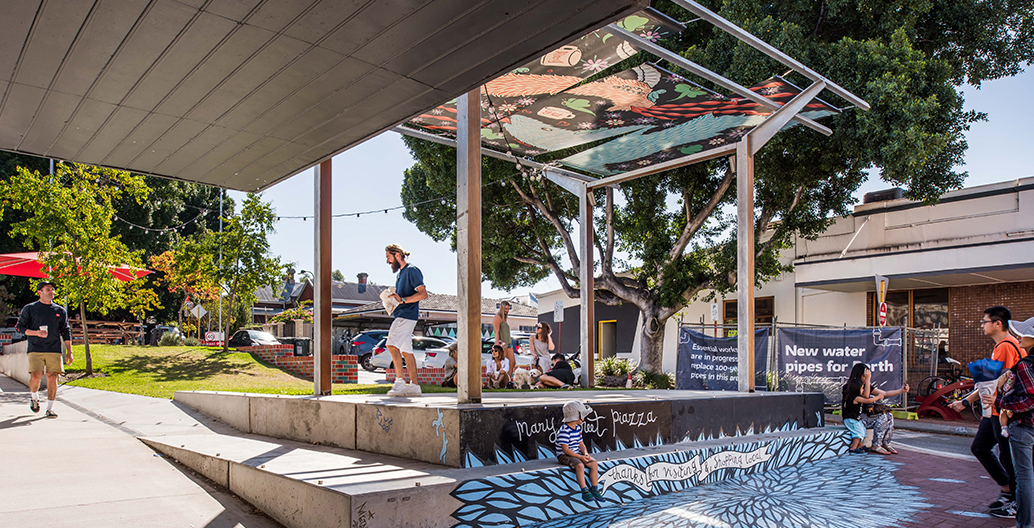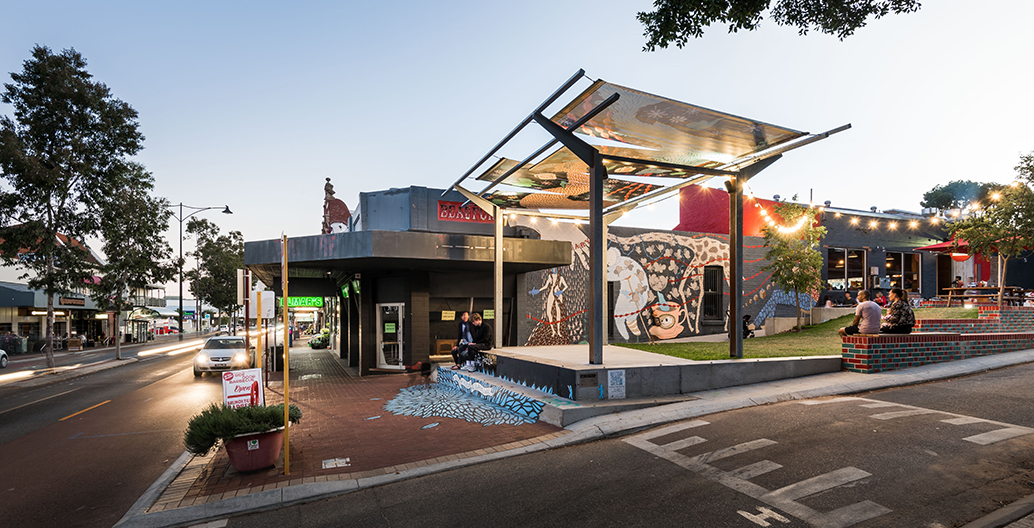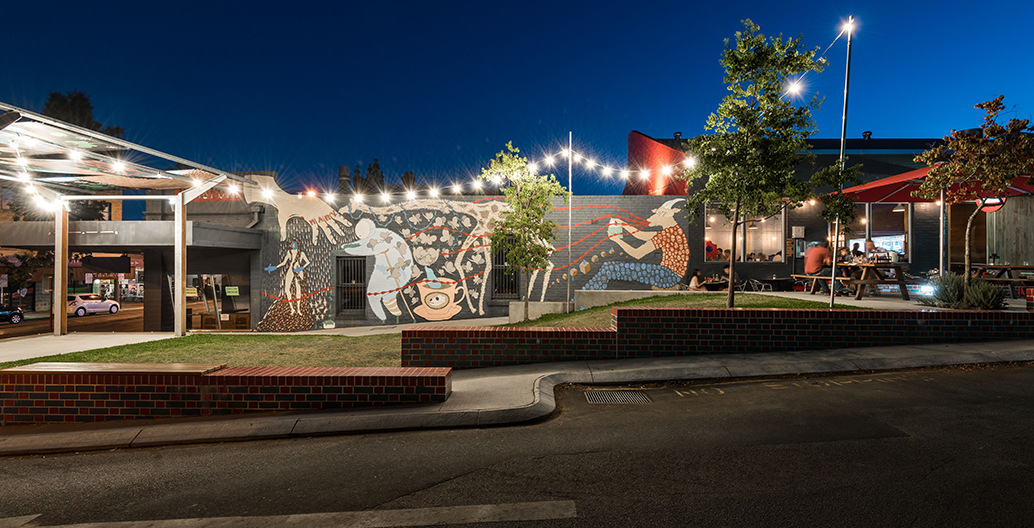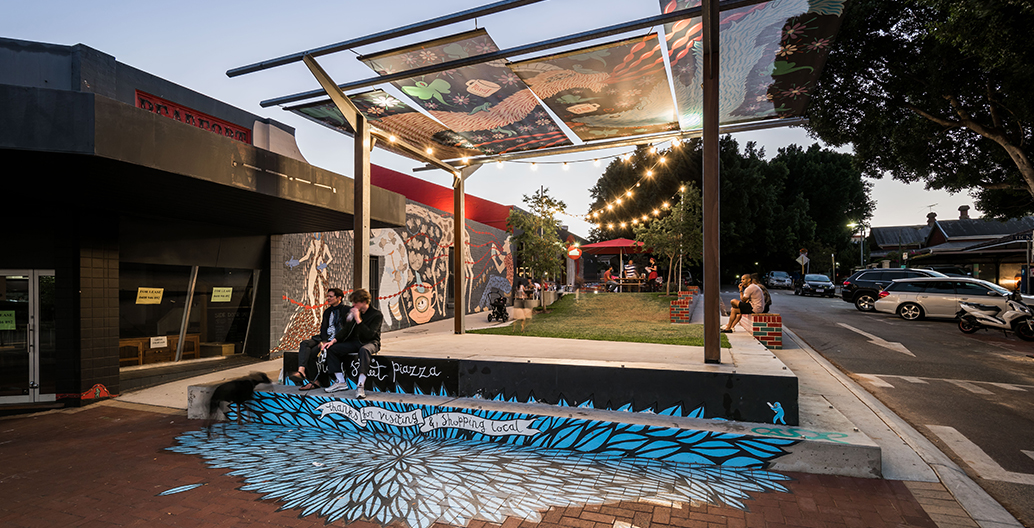 The Place Laboratory and Le Grove Landscaping won the contract to deliver the permanent piazza. As a landscape architecture practice with a strong reputation for engaging communities in collaborative design processes, the Place Laboratory's design proposal was met with an overwhelmingly positive response from local residents. But it wasn't all plain sailing.
"During the design of the square, the adjoining tenants complained to council about the loss of parking," recalls Place Laboratory director Anna Chauvel. "However, since completion they've embraced the park and see the benefits it provides to their businesses."
Completed in 2016, the project has won awards from both the Australian Institute of Landscape Architects and the Planning Institute of Australia (PIA). As the PIA jury citation notes: "The Mary Street Piazza is the physical culmination of a balanced 'bottom up', 'top down' approach between the local Beaufort Street community and the City of Vincent." It has gone on to become a model for delivering small urban interventions with high impact for relatively low cost (the total construction budget was $320,000).
Following the success of Mary Street, the City of Vincent closed an access way and removed 21 car bays for a similar open public space in Leederville, called the Oxford Street Reserve. Designed by Blackwell and Associates, the Oxford Street Reserve replaced a section of road and parking with a nature play area, outdoor workspace and dining area.
Up and down the country, from Adelaide's city centre to the rural town of Taree, similar stories are emerging, of cities nibbling back bits of road for open public space. Sydney's Waverley, Glebe and Randwick councils have all seen rising populations and have also turned their attention to quiet streets and light-use service roads, looking for similar tactical public space opportunities. Some are large multi-functional spaces, but most are modest parklets.
In Victoria too, inner city councils like Richmond have undertaken several temporary road closures to test the local community's appetite for change. Jonas Street was one example, where road was turned into a public plaza for five months in 2016, with the stated intention of monitoring "public reaction to the transformation of a road into a green pedestrian orientated space, the public's use of the plaza and the effect of the plaza on traffic flows in and around the immediate area."
This trialing of an idea, typically through the low-cost installation of synthetic turf, pot plants, raised garden beds and gazeboes, reflects a shift in mood within local council, away from top-down executively decided masterplans towards an urban design approach that is 'deliberatively' planned, in conjunction with local stakeholders. One design practice that has taken a strategic role in brokering such design thinking is the Melbourne-based CoDesign Studio. Co-founded by CEO Lucinda Hartley 10 years ago, it has grown substantially in recent years, working mostly for local councils that want to explore approaches to urban development that are less hierarchical, and less combative.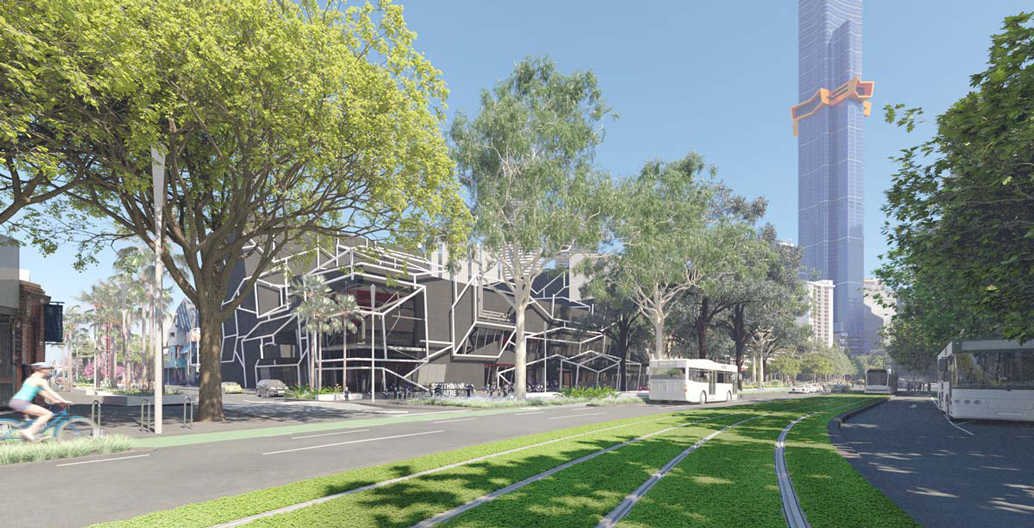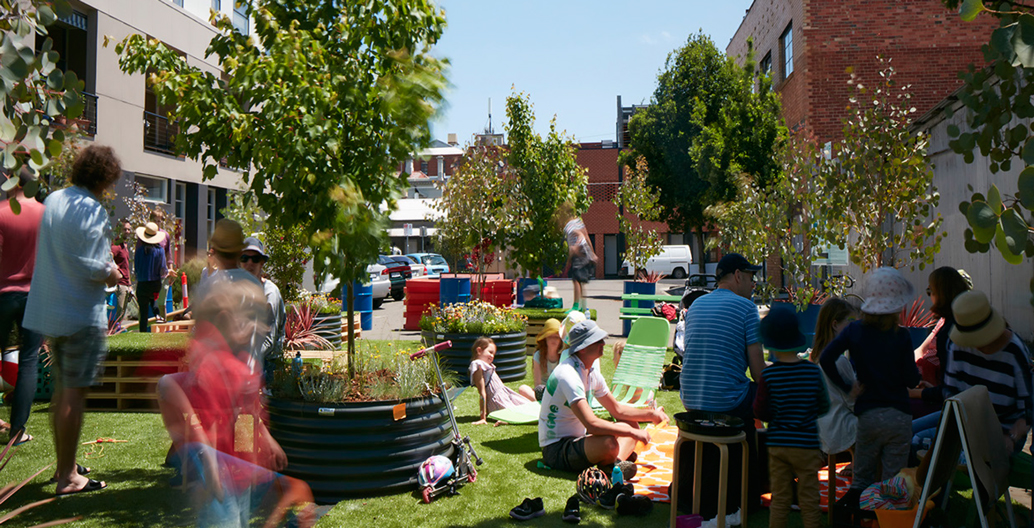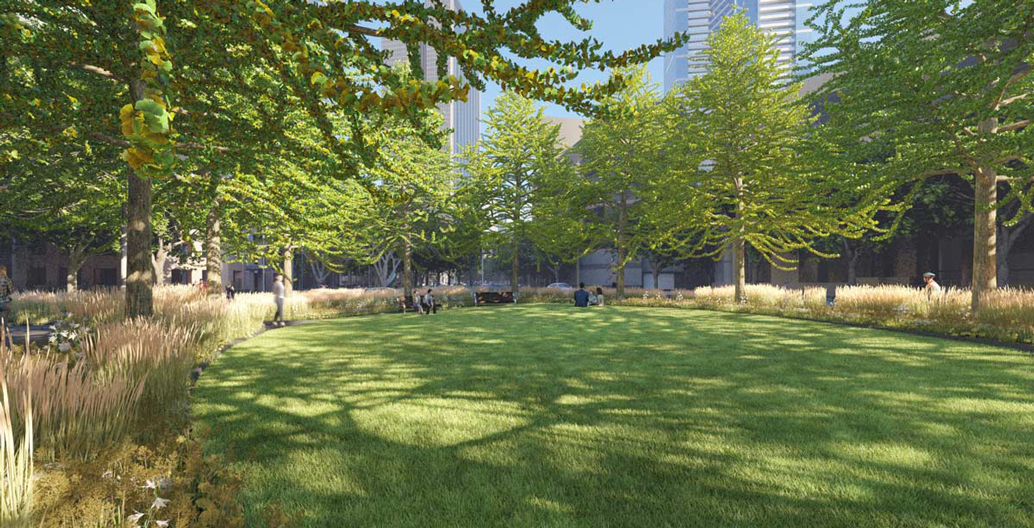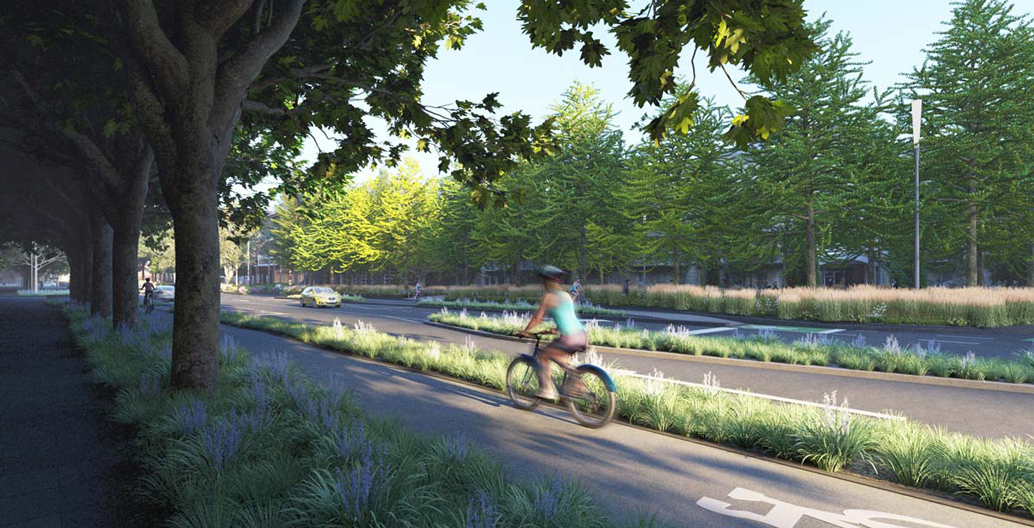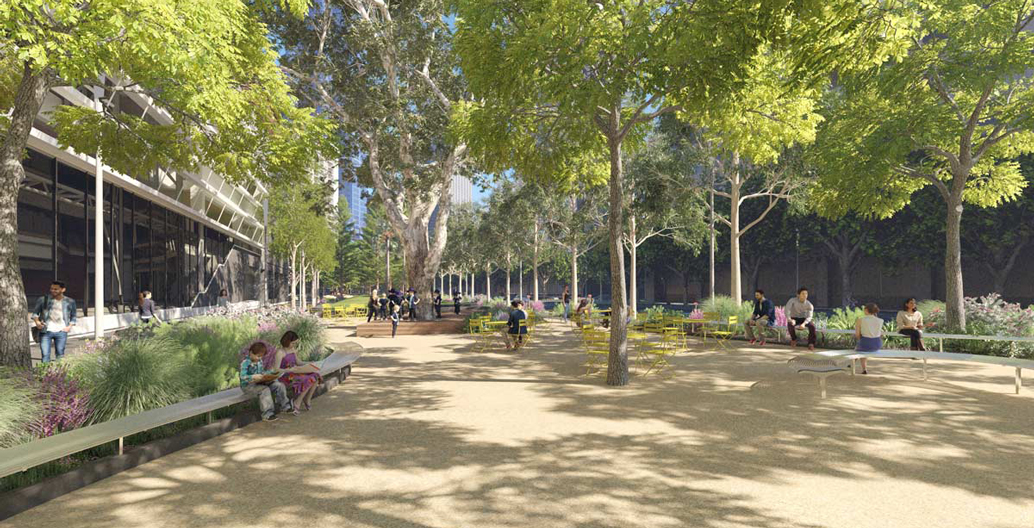 CoDesign led the design engagement process with Richmond residents during Jonas Street's temporary closure. As Hartley explains, "there were a few disgruntled residents who lived immediately adjacent to the pop-up park, but most people immediately loved the idea and were really hanging out for some place to gather and build a sense of community."
While Jonas Street represents the typical scale of these small side road closures, CoDesign also worked with City of Melbourne on the early stages of plans to deliver two-and-a-half hectares of new public open space on Melbourne's Southbank Boulevard and Dodds Street.
CoDesign set up the Dodds Street 'Design Lab' to engage communities in a conversation about how to bring more life to the Southbank streetscape. The project commenced with a one-day street closure, timed to coincide with the annual Park(ing) Day: an activist driven annual global event, where metered car parking spaces are temporarily taken over for other public uses. This one-day event informed a four-day 'Dodds Street Reboot' in November 2013.
Following these events, the City of Melbourne decided to proceed with a permanent conversion of a length of Dodds Street into a $35 million new public open space. Part of the city's plan to respond to an unprecedented level of growth that will see residential populations in Southbank rising by a staggering 175 percent over the next 15 years.
The design will be delivered by the City of Melbourne design team, and is part of what is undoubtedly Australia's largest project to convert roads into new public parks. One section alone, in front of the ABC's Victorian headquarters, will be roughly the same size as Melbourne's City Square. Over the next 30 years, the city plans to convert over 80 hectares of under-utilised asphalt and other infrastructure into public open space.
It would be a mistake, however, to think of this major new project as limited to being a community park. It also includes over a kilometre of bike lanes, as well as upgraded tram stops, and the planting of a diverse mix of new trees that will bring year-round seasonal change to the street.
Embedded into its design will be measures to reduce stormwater volumes, as green areas help the landscape absorb runoff in a way that concrete and asphalt cannot. As a fresh flooding disaster devastates a new city somewhere in the world almost every month, such 'resilient city' strategies will become ever more vital for the future health of our cities.