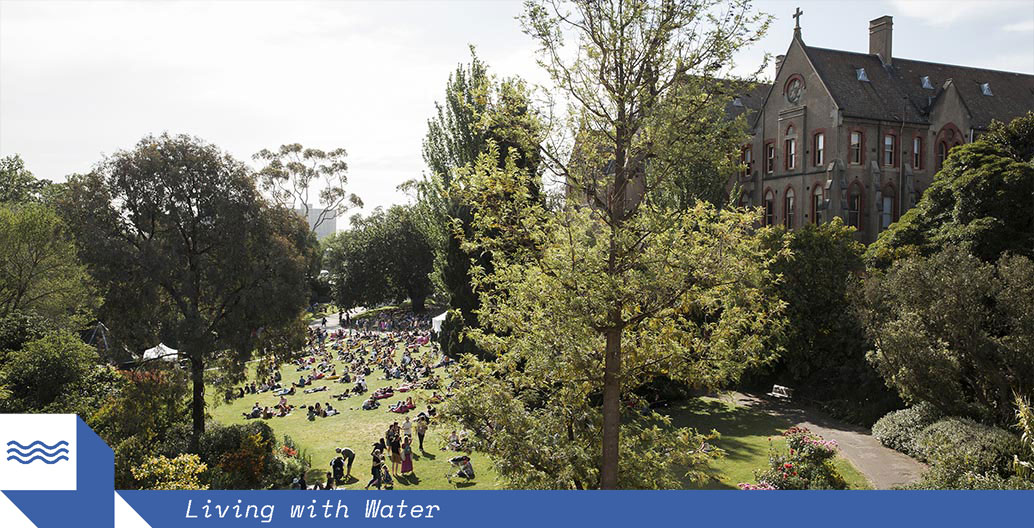 Heritage at risk: Can Australia's heritage gardens survive climate change?
As the driest inhabited continent on earth gets drier still, its landmark parks and gardens are suffering.
Droughts, floods, bushfires, storms, heatwaves – in recent years we've experienced them all with increasing regularity (and severity). What does this mean for those gardens we most readily associate with heritage status, those exotically planted, post-settlement places that impose styles imported from the other side of the globe? These gardens have always demanded special efforts to preserve them in a hostile climate. How are they being adapted, and what opportunities are emerging for new forms of living, site-responsive places to emerge?
The Millennium drought that afflicted Australia from 2001 to 2009 necessitated extensive water restrictions in cities across the country. In Melbourne, many gardens (public and private) had to go without mains water for irrigation. It was a presage of what conditions might be like in a radically warmer climate, and made the need to secure sustainable water sources for inner Melbourne's leafy parks imperative. Not least among these was Fitzroy Gardens, home to treasured avenues of English and Dutch Elm trees whose preciousness was especially pronounced in a global context: populations in Europe and America have been decimated by Dutch Elm disease. "We have a collection of trees that belong to a different part of the world, but it is the biggest stand of mature elms remaining anywhere on the planet," says Angela Hill, Senior Open Space Planner at the City of Melbourne.
Hill oversaw the Fitzroy Gardens Masterplan review, which resulted in a recently completed AU$13.9 million redevelopment project that serves as a showcase for how cities can adapt precious greenspace to changing environments – not just to preserve whatever heritage values they might have, but also their critical role in countering the heat island effect found in highly urbanised environments.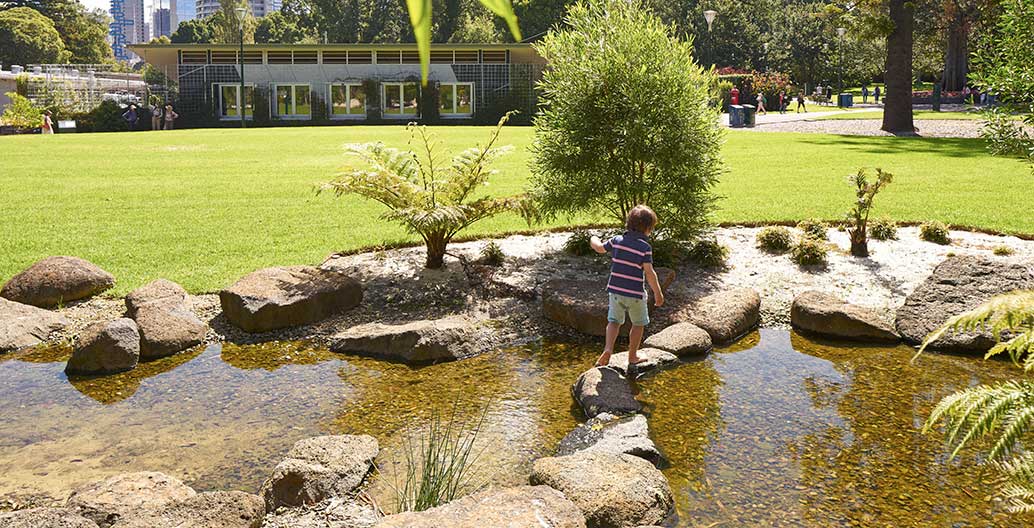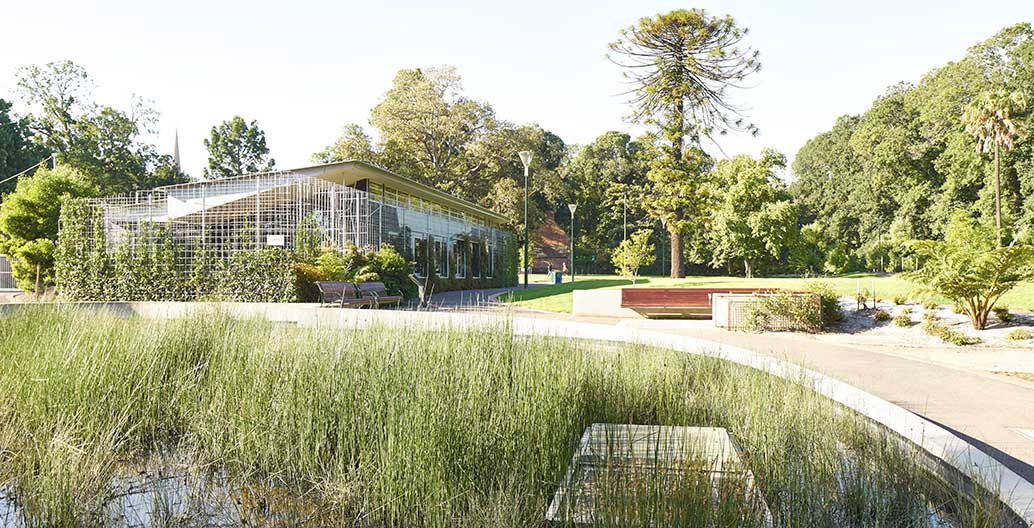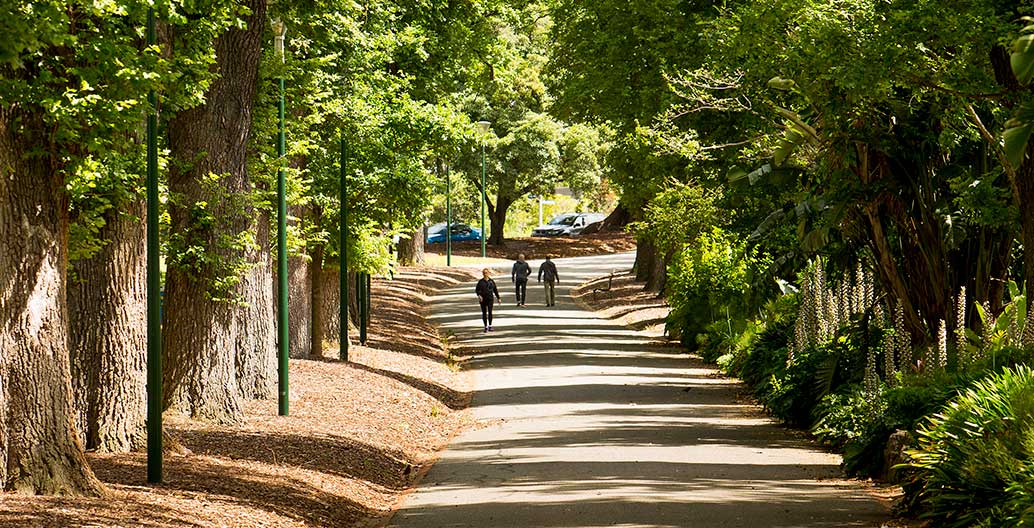 Without water to keep plants alive, "the function that that space may play in terms of cooling the city is absolutely negated," says Hill. To that end, the redevelopment includes a massive stormwater harvesting project. This captures and filters run-off from both the gardens and surrounding streets, which feeds into an underground holding tank for irrigation. It's an expensive, highly engineered solution, yet on the ground the design neatly intersects with the heritage gardens so that the new interventions read as a continuation of the garden's famously layered histories. Water is everywhere in the new spaces: a creek-bed follows the natural topography of the land, the bioretention basin, heavily planted with reeds, flanks the refurbished depot and new visitor centre. New features enable children to safely interact with water, while a steel grille set into the pavement gives a highly audible cue to the process in play when water runs through the garden's extensive underground pipe system.
This secure water source, which hopes to reduce mains water use by up to 60 percent, should help the gardens survive dry periods. But difficult decisions remain, given that, like the rest of Melbourne, the gardens are populated with trees that were largely planted around the same time, and are likely to decline en-masse.
"A healthy urban forest has a mix of ages and species and heritage collides with that, because a lot of the older trees are seen as significant and therefore should be retained," says Hill. But, as she points out, "you can't stand still and wait for every tree to fall over."
The quest to understand what trees might, or might not, be best-suited to survival in Australia's likely hotter, drier future is an integral part of the remit for an enormous reforesting project in Canberra. In 2003, vast wildfires in the Australian Capital Territory razed pine plantations and bushland, destroyed homes, and devastated the heritage-listed Mount Stromlo Observatory. Four people died, many more were injured. In the aftermath, the ACT Government launched an international design competition for the creation of an arboretum on a 250-hectare site above Lake Burley Griffin. It was a gesture to Walter Burley Griffin's original plan for Canberra, which featured an arboretum in roughly the same area – 'preservation', if you like, of a heritage legacy that might have been, prior to the fire.
The winning entry, 100 Forests, was won by landscape architecture and urban design practice Taylor Cullity Lethlean (TCL) and Tonkin Zulaikha Greer Architects. Where Griffin's plan, circa 1913, spoke to the prevailing conventions of the time – plants arranged aesthetically according to the continent they came from, this arboretum promises to be a living collection of "100 of the world's rare, endangered and culturally significant tree species," says Perry Lethlean, Director at TCL. ­­The concept responds to contemporary issues of "sustainability, diversity and public environmental concern…it's an ongoing strategy and program," he continues. Here is a new kind of living heritage, that both offers an immersive experience for visitors, as well as functioning as seed bank, research hub and testing ground.
The Arboretum is a throwback to history in more ways than one. As Lethlean describes, "botanic gardens and arboretums had a critical role [in the past] because they were an experiment about what could be. They tested, with scientific rigour, what is appropriate for a new place." Botanic gardens have since become more ornamental, as spaces for passive enjoyment, but climate change may yet give these places renewed purpose. Knowing which trees will survive in the future is critical, but remains a long-term prospect, given we don't yet know exactly what the future looks like.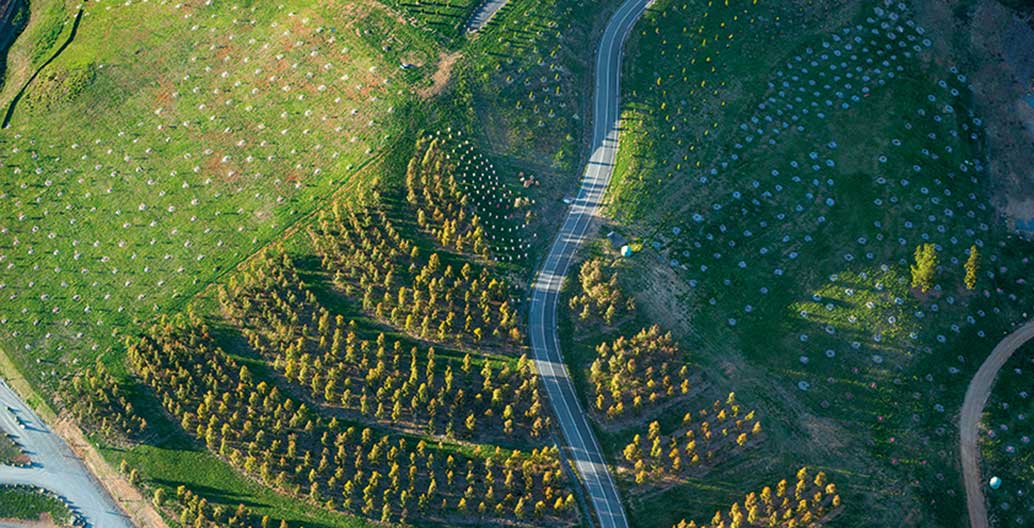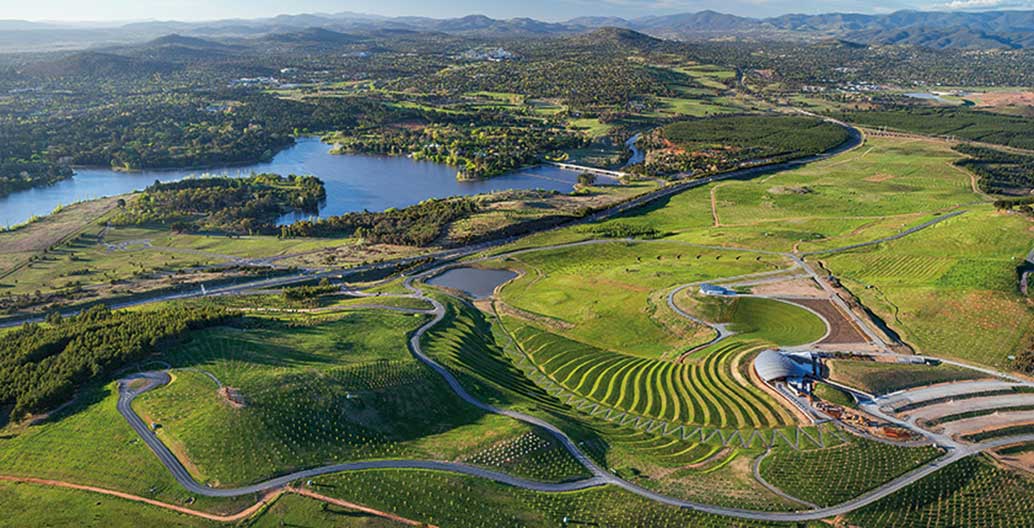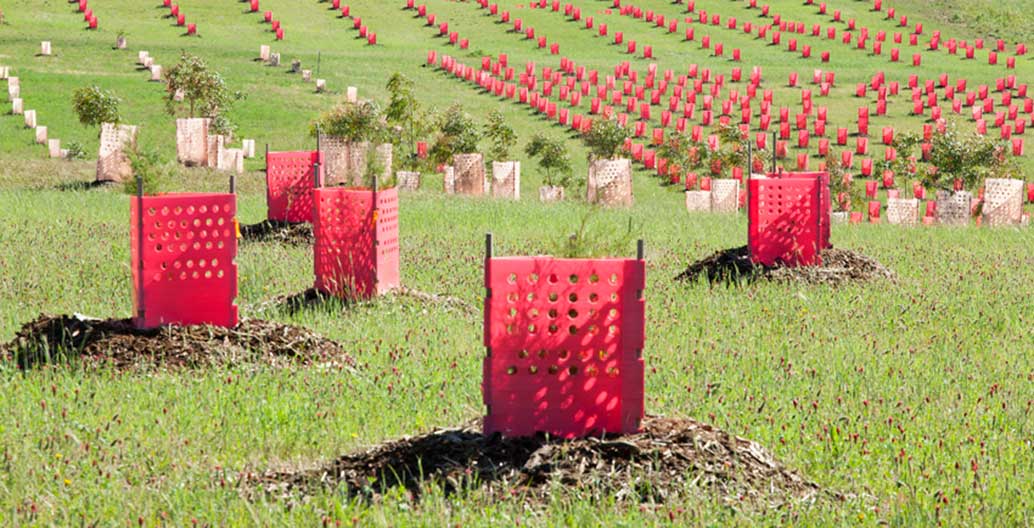 "These places could again be a centre piece of experimental horticulture to determine the future for plants in this place, because of climate change," says Lethlean. "Some of the local tree nuts in Canberra say 'Oh well, that one's going to fail.' That's okay, maybe it won't – we'll find out!"
Lethlean's comment points to the fact that not necessarily all introduced tree species are poorly adapted to survival in Australia. In fact, there is evidence to suggest that some trees within Australia of a heritage calibre offer promising qualities for the future.

The Abbotsford Convent building's quadrangle.
Four kilometres north of Melbourne's CBD is Abbotsford Convent – sixteen-acres of heritage-listed gardens and buildings on the banks of the Yarra River. According to landscape architect Simon Taylor, the head gardener at Abbotsford Convent, a 170-year old English Oak (Quercus robur) within the gardens could produce offspring that are better able adapt to climate change.
"There is increased evidence coming out of Europe, especially with oaks, that the older the tree, the more viable the acorns are in coping with climate fluctuations. There is a kind of DNA memory going on," says Taylor. "So we're propagating from those acorns, because if there is an oak in Melbourne that might deal with climate change better than most, there's a good chance it's that one."
In stark contrast to Fitzroy Gardens, the Convent "is a park of a foundation that runs off the sniff of an oily rag," says Taylor. On the day I visit, though, the place is abuzz; toddlers and their families picnic in the formal gardens alongside groups of dreadlocked twenty-somethings practicing their juggling skills. There's a group of men sitting in the rotunda, smoking cigarettes and talking quietly. The cafes are full and a quiet buzz emerges from the artist studios in the main convent building. The gardens feature remnant River Red Gums, a number of century-old European trees, and gardens planted during the Convent of the Good Shepherd's tenure. Regardless of the age and seeming resilience of the garden's plantings, though, when there is no money to pay for mains water irrigation, keeping them all alive in such a heavily trafficked and increasingly hotter, drier environment presents its challenges.
Thankfully, the gardens' popularity also proved to be an asset – a crowd-funding campaign helped fund 340,000 litres worth of rainwater tanks, which collect water from most of the main convent building's roof. "We refer to it as holy water", Taylor grins, riffing off the setting, "it doesn't contain fluoride or chlorine, it's not part-manufactured by the de-sal plant, and it's free."
His quick calculation of the total roof-area from all 12 buildings amounts to around "10 million litres of water a year going straight into the Yarra River, which we can't afford to buy back in."
The approach to water use in the gardens has effectively doubled its rainfall, and enables the heritage gardens around the main buildings to survive. The tactics include changed irrigation practices, such as pulse irrigation, careful planting design and keeping enough capacity in the tanks to receive any predicted rainfall (rather than sending overflow to stormwater). "I often get enquiries it's raining, why are the sprinklers on? and this is why," says Taylor:
"Good quality topsoil has a water holding capacity of 40 percent, it's a sponge. We've got two metres of topsoil here, so while we've got an impressive array of rainwater storage tanks, what we've got out there is about half a dozen Olympic-sized swimming pools."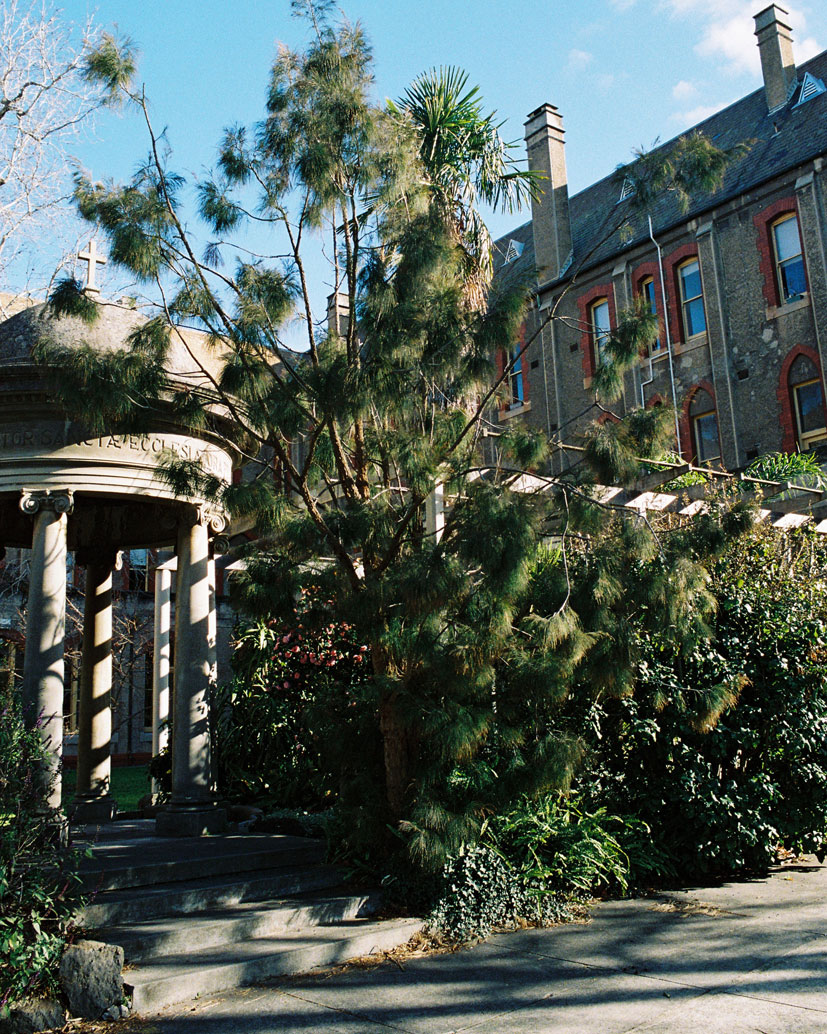 Water saving initiatives undertaken by Melbourne's Abbotsford Convent will help their heritage
gardens survive climate change.
Listed-gardens can throw up interesting dilemmas, and here Taylor points to some odd, protected relics: a broken galvanized street lamp, and a Mirror Bush (Coprosma repens) hedge, which is recognised as an invasive species.
"People ask 'why are you growing that?' There are these layers in plant history, which I find intriguing. I'm acutely aware of plant snobbery," he muses, recalling that as a garden design teacher he would ask students to list their least favourite plants and then make them produce planting designs using those species. "Somewhere in the world those plants are possibly rare, endangered or extinct." As for the dreaded hedge, it's pruned heavily twice a year and sent to the zoo to feed the animals.
While use of WSUD has drought-proofed the heritage gardens, Taylor points to neglected corners. "That's partly about lack of money for crew, but without water it's difficult to go any further," he says, noting that across the twelve buildings there's a potential water catchment to quadruple the site's rainfall.
Access to that water might enable the gardens to explore some of the convent's more difficult histories, such as around the Magdelen Asylum, currently under restoration, which ran a commercial laundry using its inmates as unpaid labourers. "There are photos of the sheets from the shipping lines, hundreds of them, with all the girls pinning them out, I've often thought that would be an interesting place for a hanging garden; subtle suggestions of what it's been" Traces of the asylum's cemetery also remain. "How do we acknowledge that in the future, with the water and money to do it? There needs to be some recognition. Design-wise it's an interesting opportunity, to have a thread of history going back, rather than planting a lot of eucalypts for the hell of it," says Taylor.
In September 2017, the Birrarung murron (Yarra River Protection) Bill was passed into Victorian legislature. Among other things, the Bill grants Wurundjeri people co-ownership of the Yarra (Birrarung) River. The Wurundjeri Land Council offices are at Abbotsford convent, and Taylor says they have already begun to discuss potential projects to be incorporated in the grounds, such as a bush tucker farm that could eventually sell produce to restaurants. "It's a bit early yet," he says, "but we're discussing where we could trial that here."
Curiously, such a project could circle back to the garden's pre-1905 use as a physics garden. "This whole garden was gridded up like a veggie plot on a massive scale. The nuns grew 135 varieties of herbs. A lot of that was about testing what would do well here…[a bush tucker farm] could bring that back, but in a Wurundjeri context."
Collaborations such as these are powerful opportunities to reframe what we mean when we talk about heritage––the things we want to keep. Could a changing literacy of what constitutes heritage, along with the urgency to address climate change, offer up new opportunities to build richer, more resilient cultural places?
On this point I am reminded of the concept "two-way learning," described by Samantha Muller, and further articulated by Tony Birch (among others), a prize-winning author and intellectual provocateur. "Prior to the arrival of the British in Australia approximately 300 Indigenous nations co-existed for at least 50,000 years," Birch writes, noting that gradually the potential of this knowledge is being recognised, and offering new ways of seeing this country, and new, innovative ways of engaging with and adapting to climate change, through "partnerships between indigenous people [and] the scientific and broader intellectual community…in a process of genuine exchange."
What will those heritage gardens look like?
––
Lucy Salt is a writer and landscape architect. Her writing has been published in Meanjin, The Big Issue and Landscape Architecture Australia among other publications.