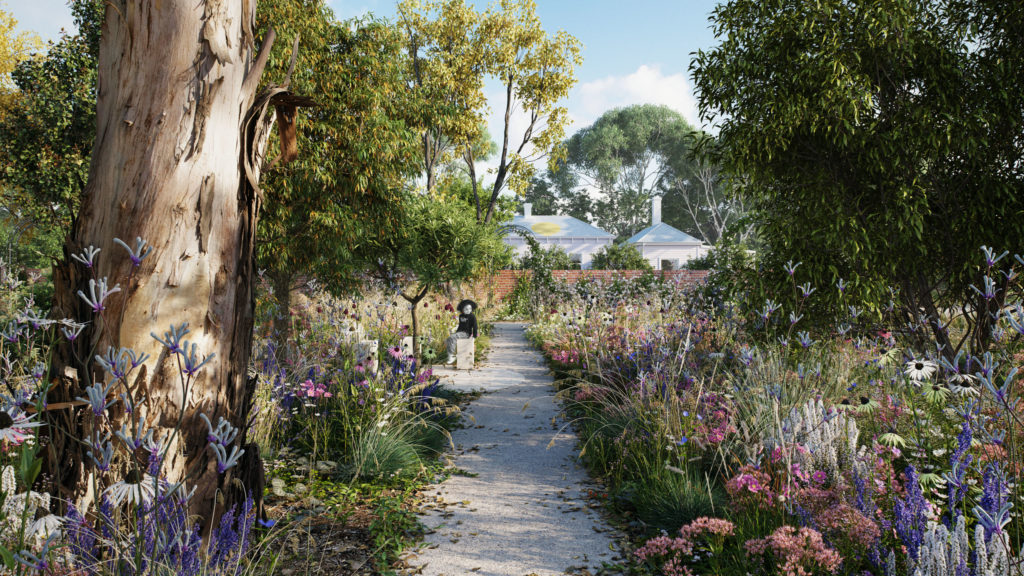 A new garden at Melbourne's Heide Museum turns 'social distance' to healing ends
Openwork's design for Heide's healing garden uses the study of 'proxemics' to define spaces that might help people reconnect with the world, post-pandemic.
Prior to the COVID-19 pandemic, many of us would have seen the idea of tightly regulated, society-wide controls over 'social distance' as nightmarish, the stuff of dystopian science fiction. Even now, with evidence mounting that social distancing controls have helped rein in the pandemic's spread and saved many lives, there are some who remain stridently opposed to them as an assault on personal and political freedoms.
Social distancing controls, though, were already a routine part of life for all of us before the pandemic — albeit in subtler forms than government regulations. There is in fact an entire field of study devoted to them called proxemics.
Developed by anthropologist Edward T Hall in the 1960s, proxemics worked to reveal the cultural norms that control the way we maintain and define our personal space. Proxemics has been widely influential, with impacts across diverse fields including anthropology, intercultural communication, geography and architecture. Now, in what could be one of its more novel applications, proxemics also underpins much of the planning for a new "healing garden" designed by landscape architecture practice Openwork for Melbourne's Heide Museum of Modern Art.
"Hall assigns a series of distances from the body with descriptors of social proximity – 'intimate', 'personal', 'social' and 'public'," says Openwork director Mark Jacques. "It's a way of spatialising social distance – the size of a whisper, a shout, the amount of space it takes to read facial expressions, to reach and be touched, the distance before you can't make out a face or the whites of the eyes."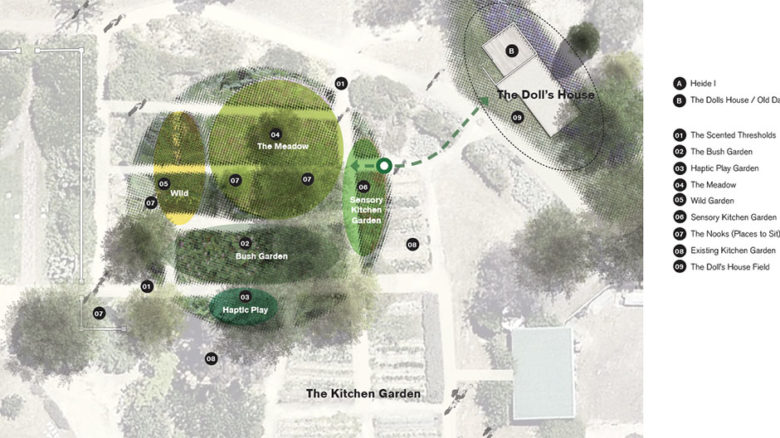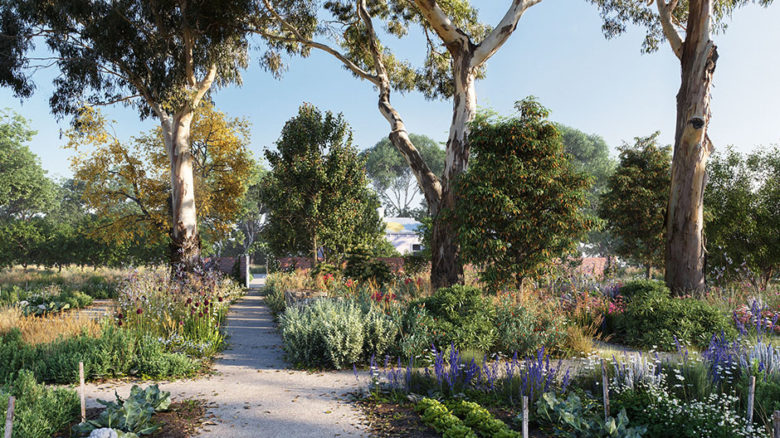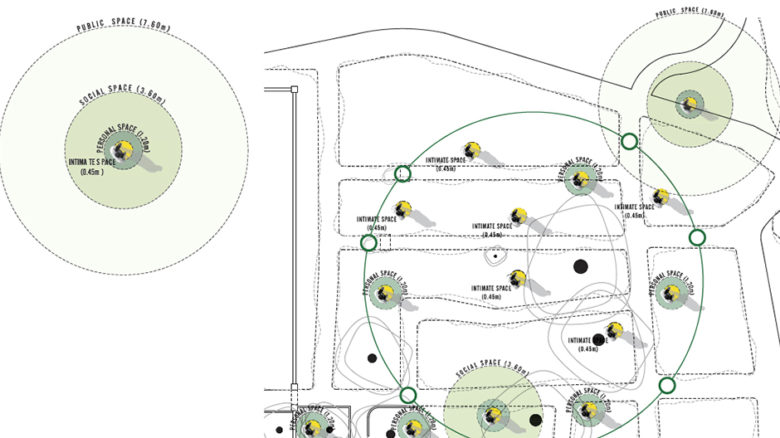 As Hall demonstrated, these measures are constantly at play as we negotiate our world and the other people in it, determining how close we might stand to a stranger in the queue at a supermarket, or an acquaintance we bump into in the street. Mostly they go unnoticed as a set of subconscious 'rules' we are barely aware of – until someone breaks them, by being 'standoffish', for example, or its opposite on the spectrum of spatial faux pas, 'close talking'.
Hall's brilliance was to bring a kind of loose definition to this system we otherwise can't see. Openwork, in turn, has used Hall's insights to help design a series of spaces within the healing garden that Heide hopes will help put people at ease, but also create opportunities for connection with others and the world around them – two qualities in short supply during the COVID-19 pandemic.
The Heide Museum of Modern Art sits on a 16-acre former dairy farm that was once the home of art patrons John and Sunday Reed. The museum has appointed Openwork to rejuvenate an overgrown series of garden beds that sit between Sunday Reed's original heritage-listed kitchen garden and the brick wall of the Heide cottage, where the Reeds once hosted many of Australia's most significant 20th century artists.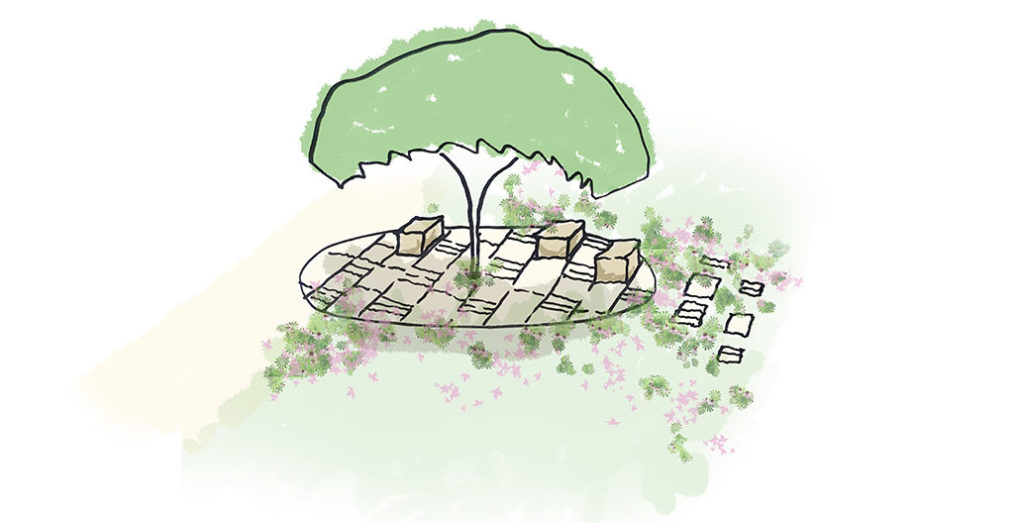 "For Sunday Reed, who founded Heide with her husband John, gardening went hand-in-hand with art, poetry, cooking, love and life. Her garden was a creative outlet and a place of respite and rejuvenation," Heide artistic director Lesley Harding says. "Like Sunday, the Heide team today recognise that gardens and nature can help improve people's wellbeing and restore a sense of equilibrium, something that will be particularly important in the coming months."
Due to open in late 2020, the design will retain Sunday Reed's original set-out, including her paths and surviving trees, but within this add six distinct clusters of different planting styles that each facilitate a variety of sensory activities. Clusters include a "bush tucker" area, where visitors can collect and sample different edible indigenous plants, and a meadow-style area inspired by the New Perennial movement and the cottage gardens of Gertrude Jekyll. Species planting will be fuzzier and more scattered than that of the work of New Perennialism's most famous exemplar Piet Oudolf, though, says Openwork senior landscape architect Liz Herbert.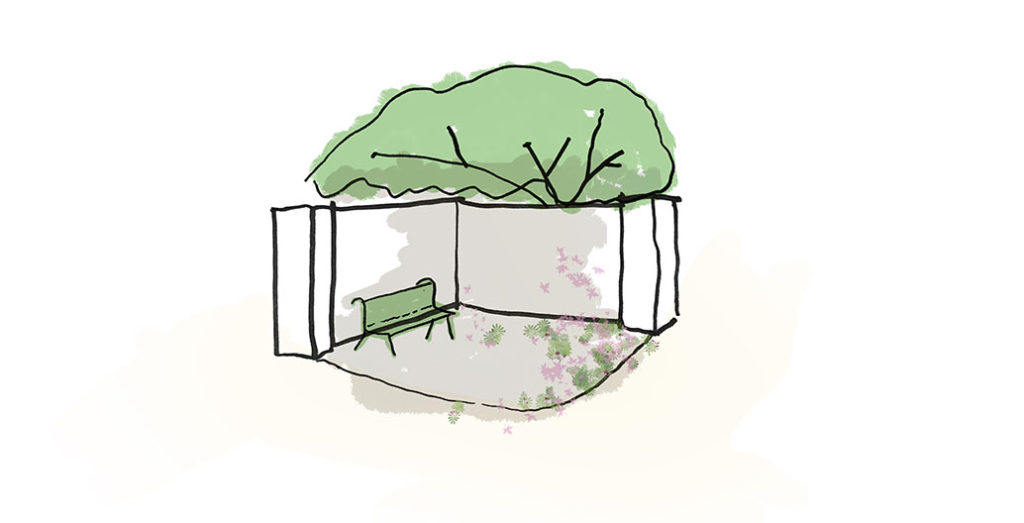 "The planting scheme considers the structure of plants through seasons and, like our work for the NGV's Doubleground, planting arrangement is about a white-noise field, rather than clumps and clusters."
Openwork's proposed palette of plants are generally mid-height or groundcovers, so as not to detract from the existing tree canopies and hawthorn hedge on the garden's north west side. Many of the plants in the selection are exotic and pay homage to Sunday Reed's curiosity about plants with nutritional and healing qualities, or distinctive scents and colours. She especially loved the colour blue, so it features throughout in various hues.
Proxemics informs the set-out and dimensions of a series of nooks set among the garden beds and baths. These will be social areas, and include seating and other furniture made from leftover limestone from Heide Modern's construction.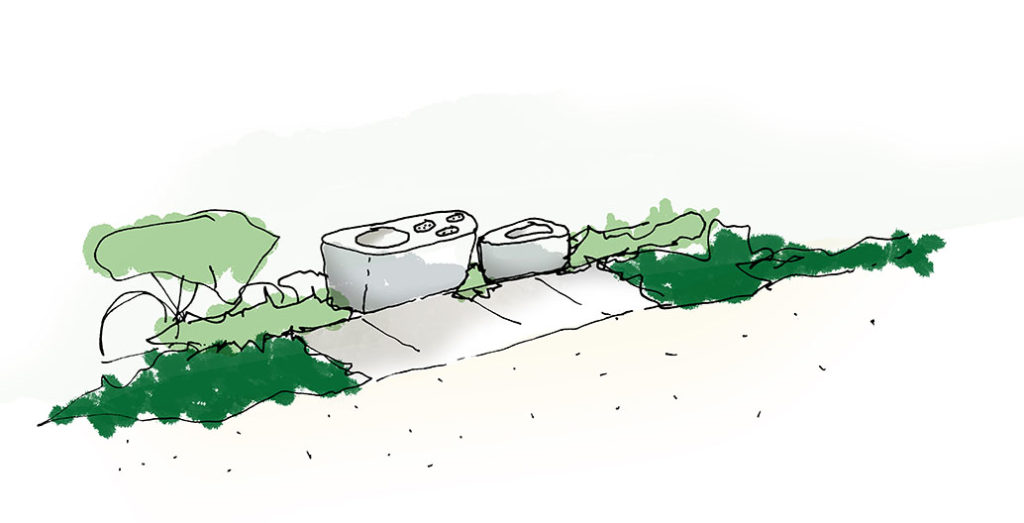 "Using existing structures and plants the design looks to heighten the experience of nature and create a protective space within the wider Heide garden," says Herbert. "By creating small moments through different planting styles, strategic seating placement and sensory activities, the garden's design invites visitors to pause, occupy the space around them and ultimately own their experience."
The team at Heide originally briefed Openwork for a healing garden in the hope it would serve vulnerable sectors of the community, especially the various aged care services in the vicinity (the garden is the most wheelchair accessible location on site).
As people around Australia and the world begin to emerge from weeks of potentially psychologically damaging social isolation, though, it might well find ready patronage from a much wider demographic.