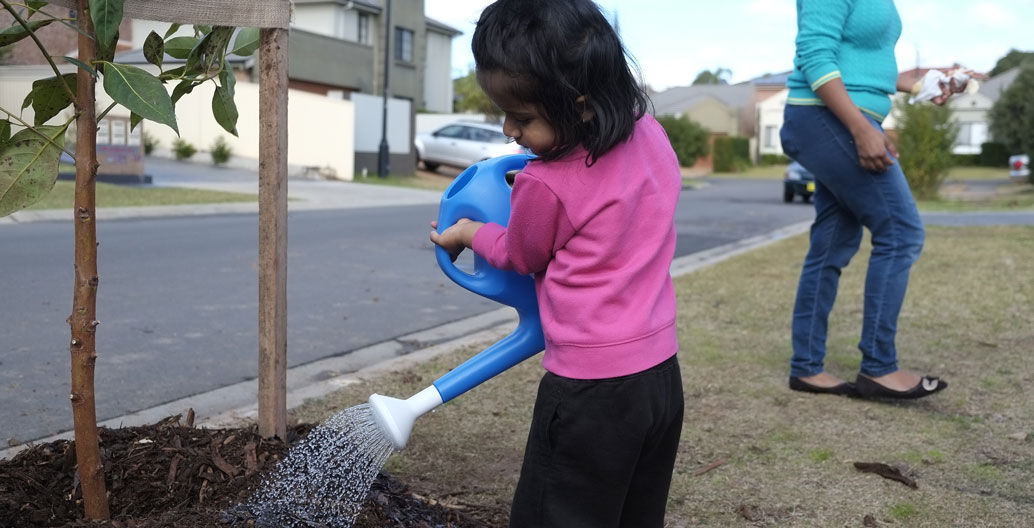 Cool it: Getting green into both our suburbs and our cities
Greener streets could be key to keeping cool in a warming world – but not all councils are equally equipped to deliver them. A recent initiative in Western Sydney, though, shows that leafier living doesn't have to be the preserve of the wealthy.
Interest in "urban forests" is gaining momentum, with city councils in Melbourne, Sydney, Brisbane and now Perth busy implementing their own urban forest strategies. Given their obvious environmental and social benefits, not to mention the fact that increased property values follow increased tree canopies, this might not come as much of a surprise.
But of course, not all councils are made equal. Much as some healthy diets are out of reach for low-income populations, "greening" a municipality to benchmark standards can also be out of reach for outer-suburban councils working with thinner budgets.  
"It's really hard for these councils because they're facing very vast challenges with limited resources," says Dr Libby Gallagher, landscape architect and creator of the Cool Streets Initiative together with community planners Cred Consulting. "The city councils have a lot more money and resources to be able to think deeply about the problem, with populations more inclined to agree with subsequent findings."
The Cool Streets Initiative – recent winner of the 2017 NSW Australian Institute of Landscape Architects Community Contribution Award of Excellence Award – was born out of Gallagher's research into effective street tree planting at the University of Sydney. Contrary to top-down masterplans, Gallagher's research sought to "tweak council controls" to provide nuanced options for various communities.
Video: Cool Streets: Cool the planet, one street at a time.
Courtesy of Gallagher Studio. 
Gallagher trialled her first Cool Streets pilot project on Boonderoo Avenue in Blacktown. Sitting about 40 kilometres from central Sydney, Blacktown forms a key hub in the development of Sydney's "third city". It has both environmental pressures and a demographic that hasn't traditionally championed a sizeable street-tree canopy.
A cursory Google Streetview comparison between Blacktown and an inner-Sydney suburb such as Elizabeth Bay shows a marked difference in tree coverage. And, in contrast to Elizabeth Bay, Blacktown suffers more acutely from heat.
"Western Sydney has four times as many hot days as Sydney," says Gallagher. "It doesn't get the prevailing winds from Sydney Harbour."
Research has shown that urban heat affects the disadvantaged more than most, and Blacktown and its surrounds are home to sizeable amounts of financial stress. Gallagher also wanted to understand how to communicate her research in areas where the "message of sustainability may not hit the mark".
"In Australia, tree-planting is core business for us," she says. "So the question then is: How do we assist councils get better outcomes when implementing this community infrastructure?"
Here's how it worked: Gallagher Studios used software that modelled a choice of three canopy options for Boonderoo Avenue: evergreens, natives, or a mix of both (each accompanied by data telling residents how much carbon dioxide was to be reduced alongside power bills). In collaboration with the council and CRED Consulting, Cool Streets workshopped case studies which were presented to residents, and by early 2016 they had agreed a plan.
For Gallagher, what made this work was the direct engagement of those inheriting the street trees, indicating to a nominally risk-averse council there was broad consent.
"These councils have very high [tree] attrition rates – the City of Blacktown lost 40 percent of some trees in the first year of planting, in some instances," says Gallagher. "But if you can get the person living next door to a street tree to look after it, for them to want it to survive – especially in heatwaves – you save yourself the time and money from canopy loss down the track."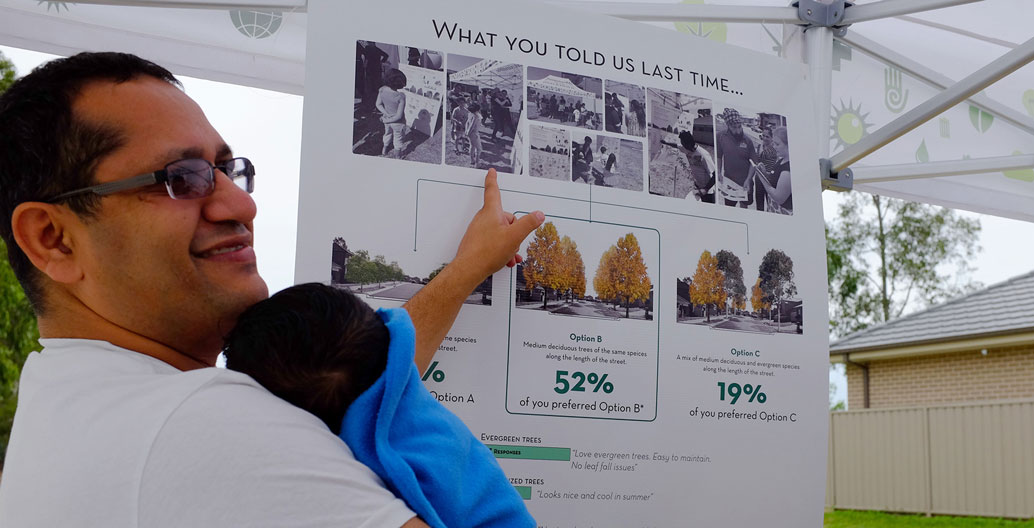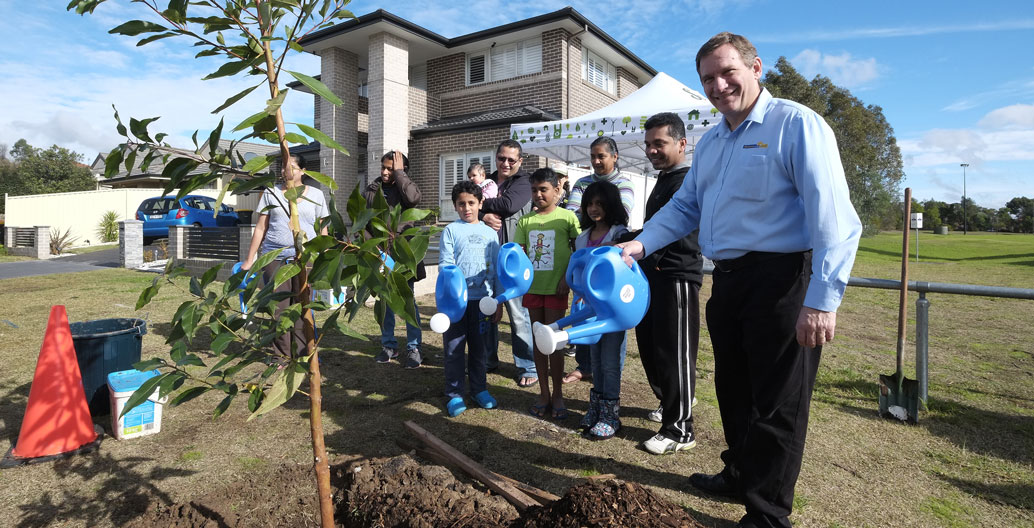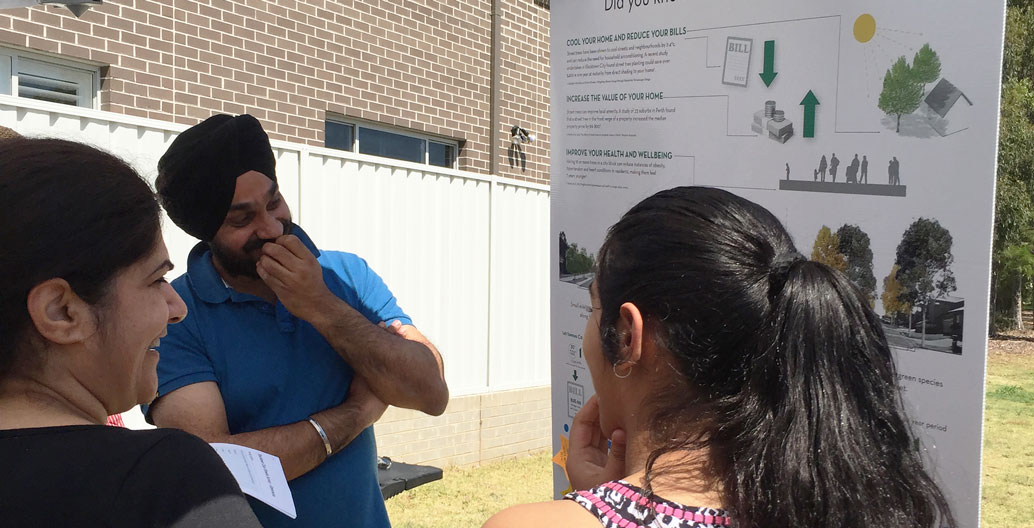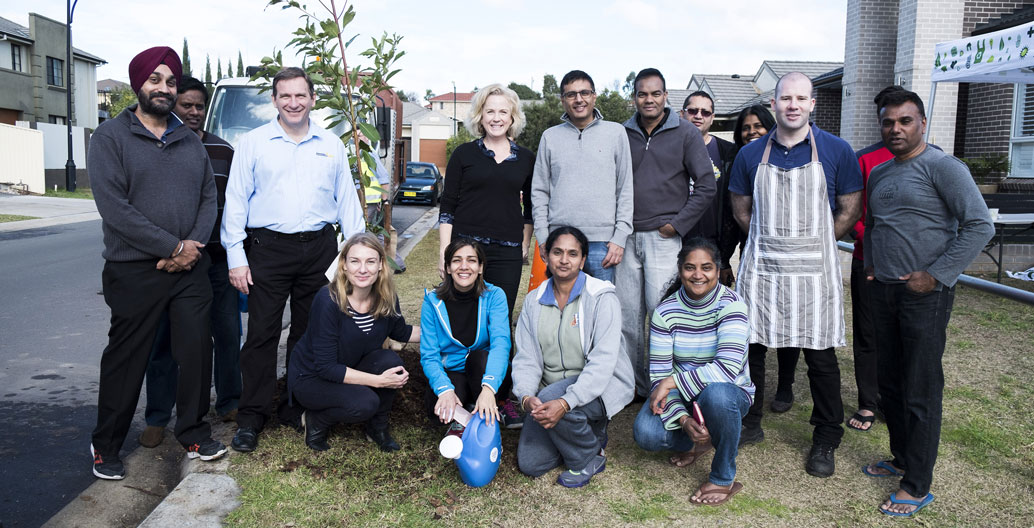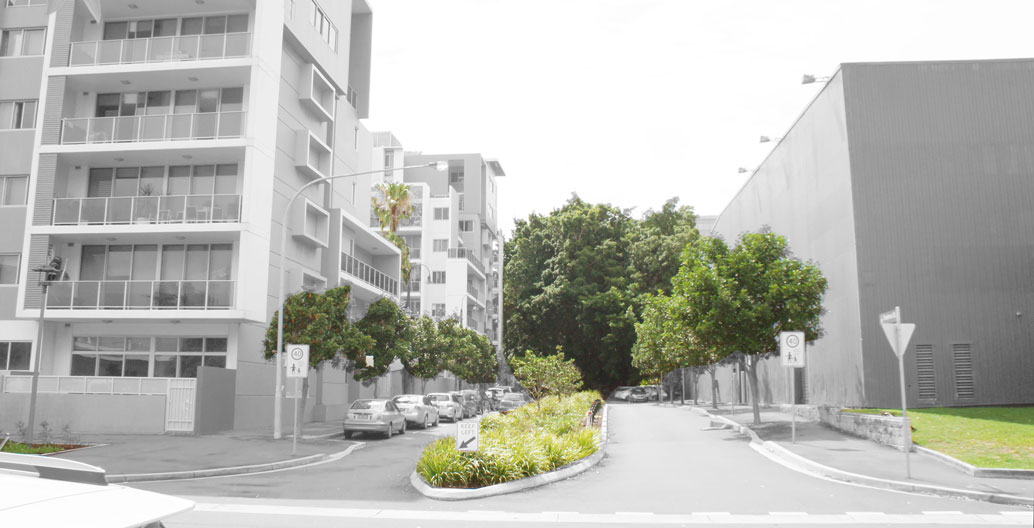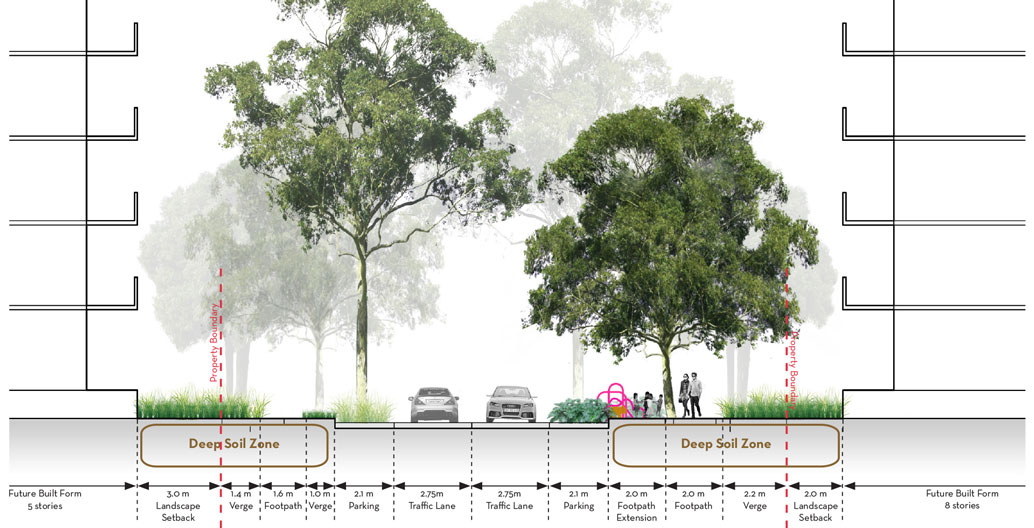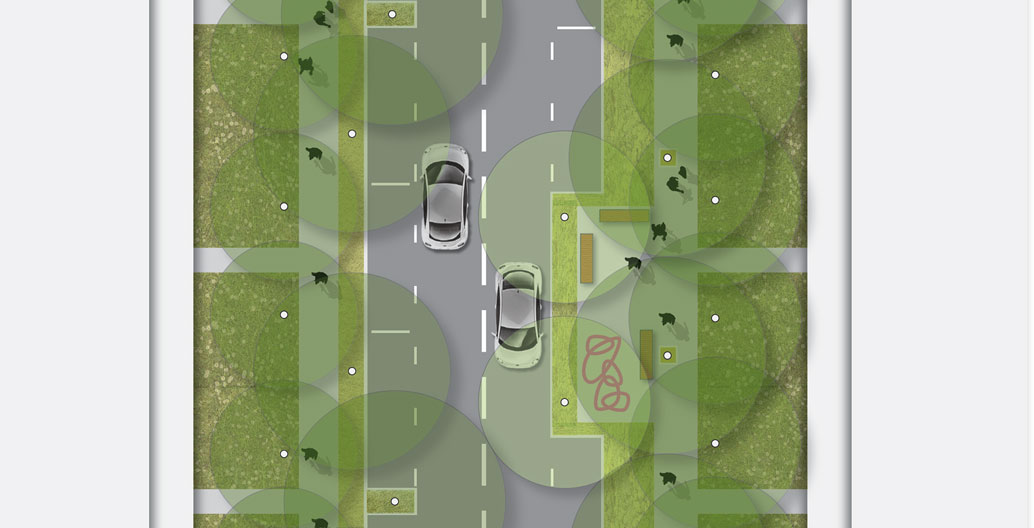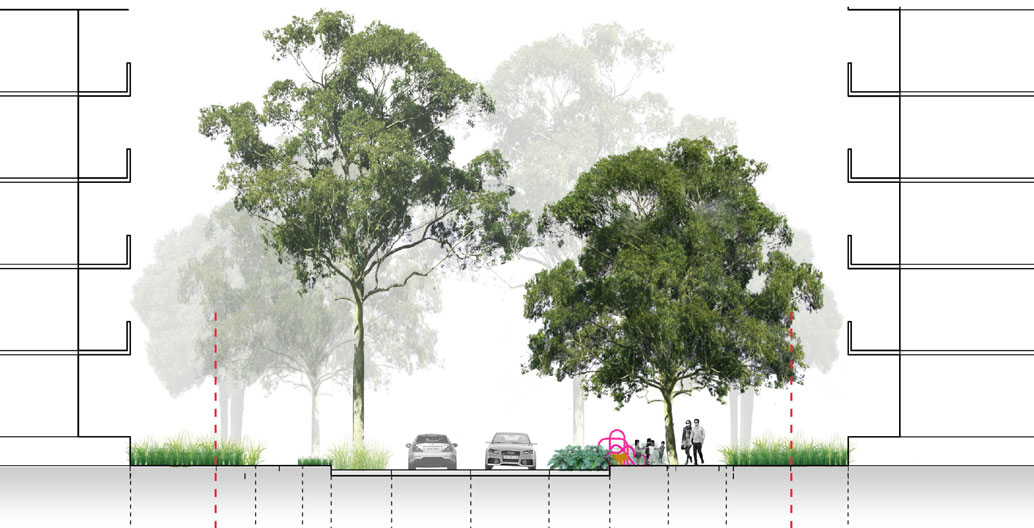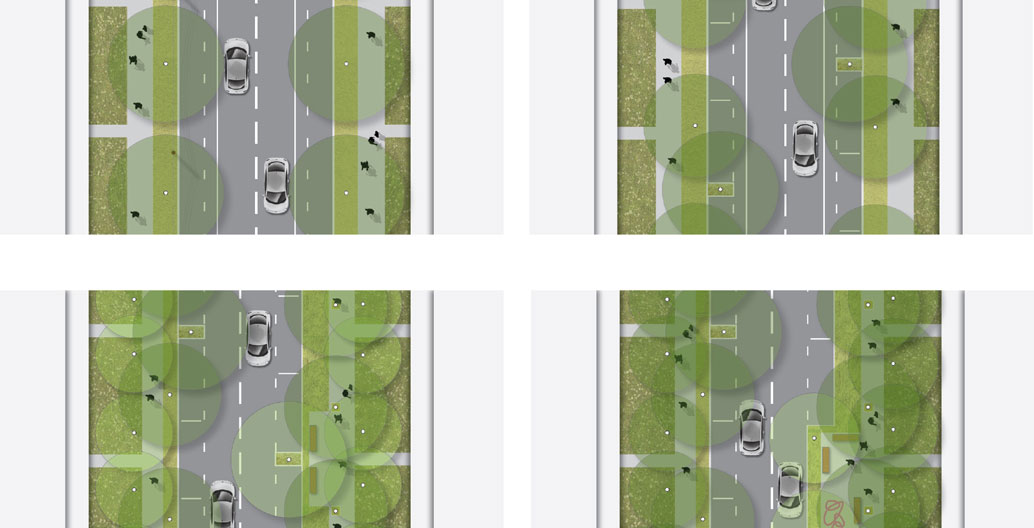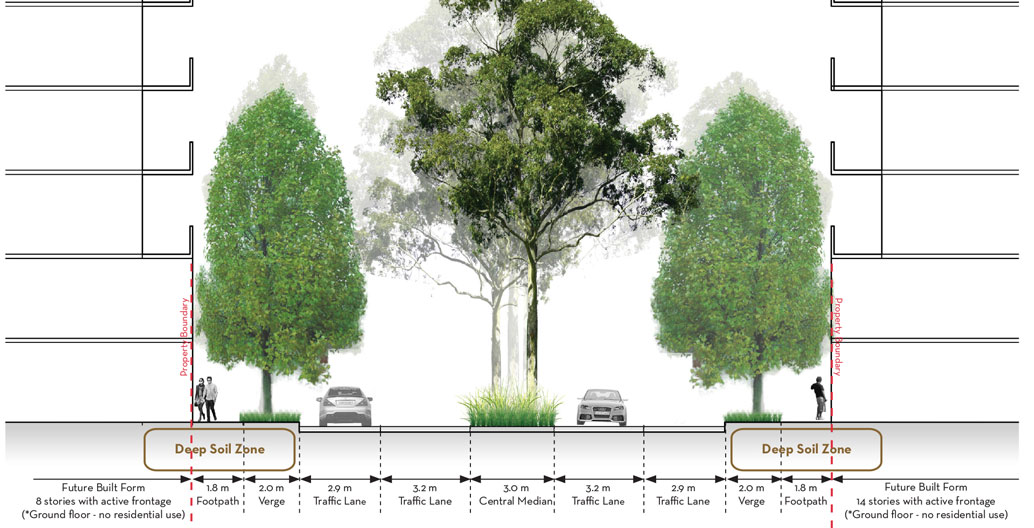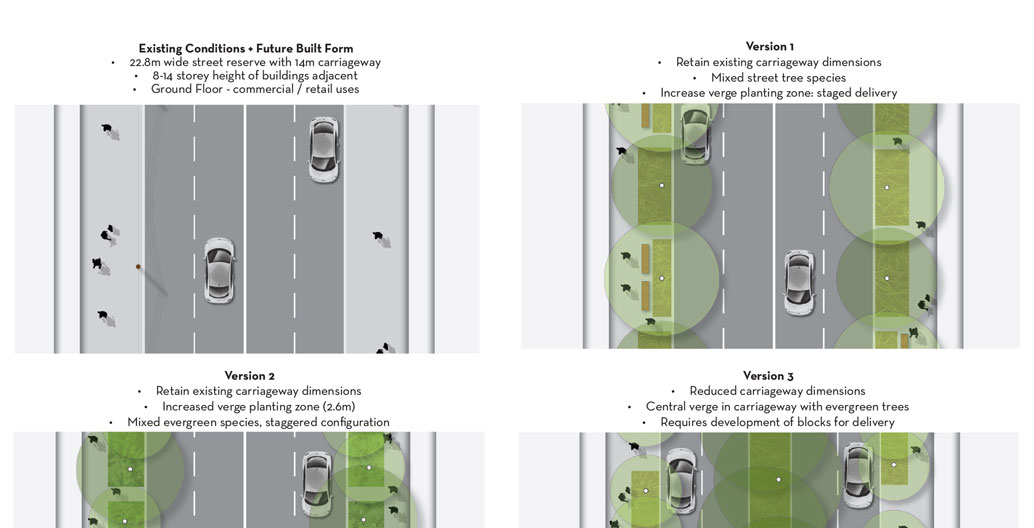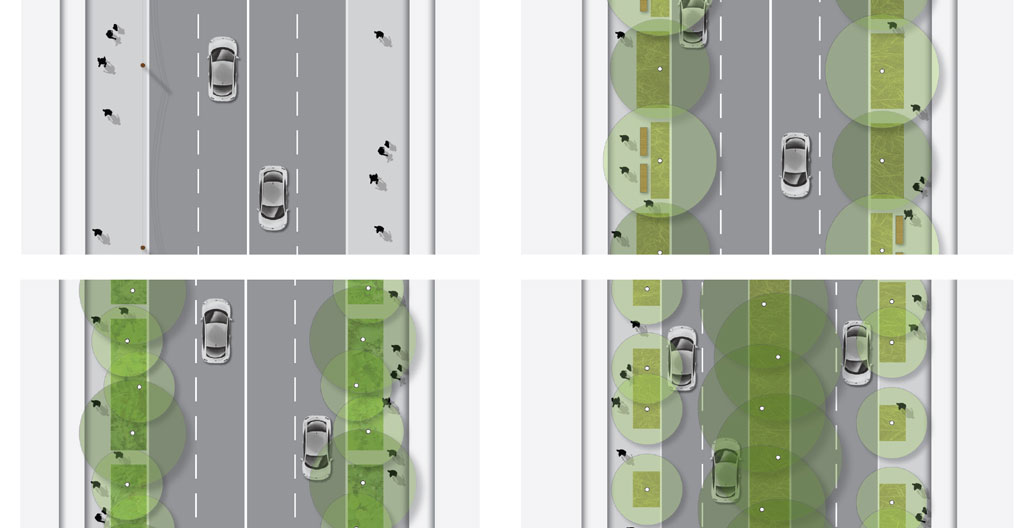 Guaranteeing green for the inner-city, too.
Just as outer-suburban councils have their own unique sets of issues to deal with in the provision of green space, so too do inner city councils.
The City of Sydney is currently working to develop an inner suburb called Green Square into a home for some 22,000 people per square kilometre, with a total of about 61,000 people set to move in by 2030. So how exactly do you maximise green open space in a suburb that will soon be one of Australia's densest?
"We chose not to do this as a 'plan view only' study – essentially dots on a map – instead choosing to look at the three dimensions of the space based on Green Square's future built form," says Gallagher, author of Green Square's quality of landscape study, which has also won a 2017 AILA NSW Landscape Planning Award of Excellence
"What's happening in a lot of urban renewal projects is that cities aren't giving residents the types of open space we used to historically provide," says Gallagher. "We're getting smaller street pockets, rather than consolidated space – mainly because it's incredibly hard to deliver".
"What we found is that there was going to be an undersupply of open space in Green Square, and there were limited opportunities for land acquisition because of land values. So the challenge was how you could leverage better outcomes from landscapes. For us, that meant looking at both streets and open space."  
One of the recommendations to the City of Sydney was to create "specific opportunities" to reclaim redundant carriageways for more street parks – but that alone won't solve the impending need for more public amenity in this part of Sydney. The council has responded by providing Gunyama Park Aquatic and Recreation Centre – Sydney's largest pool complex since the Olympics.
"The City recognises the importance of landscape – green in the city – and that's what creates liveable places," says Gallagher. "While not every single one of our recommendations will be followed through, our study embraces pragmatic responses, making it as simple as possible for council staff to follow – all with the hope of ensuring we get the best landscape outcomes."
—
Gallagher Studio are multiple winners of the 2017 NSW Australian Institute of Landscape Architects' Landscape Architecture Awards.
AILA NSW Landscape Architecture Awards winners 2017: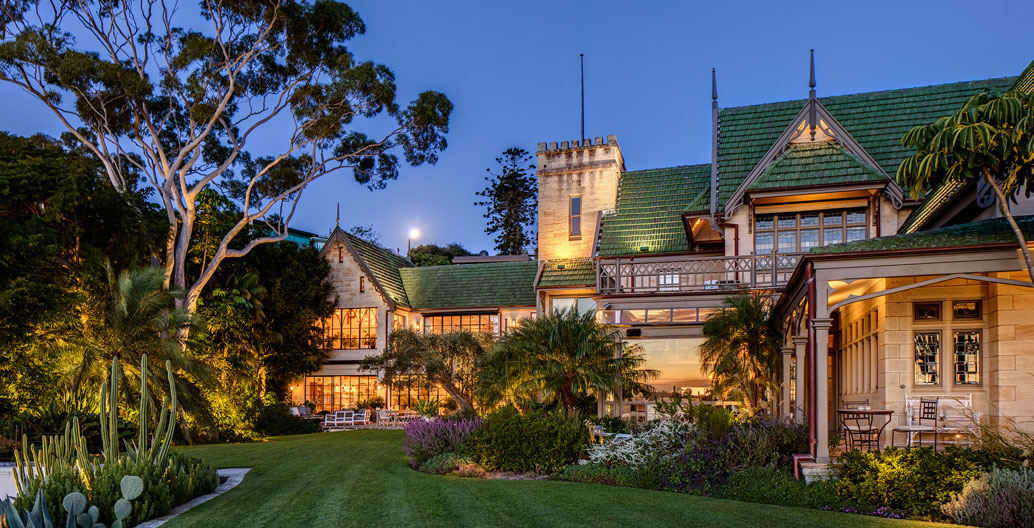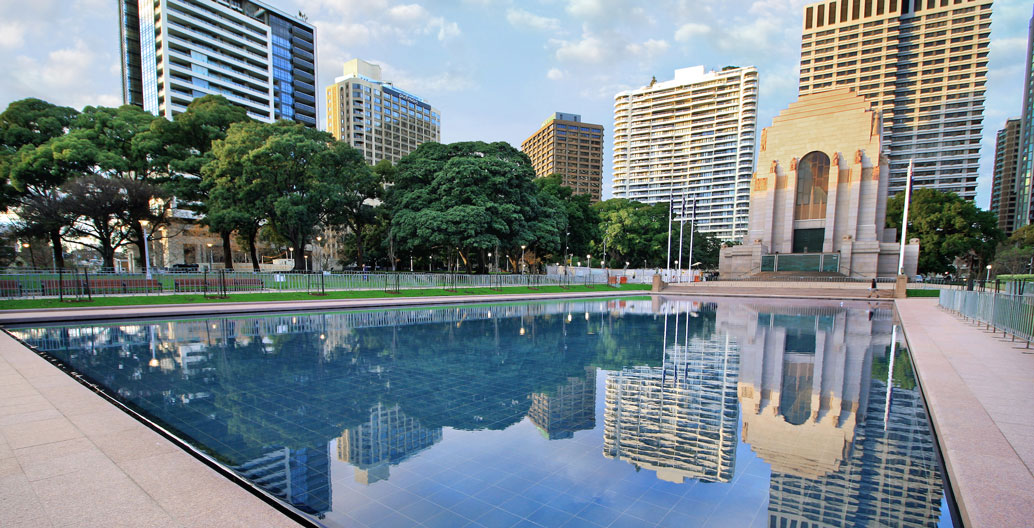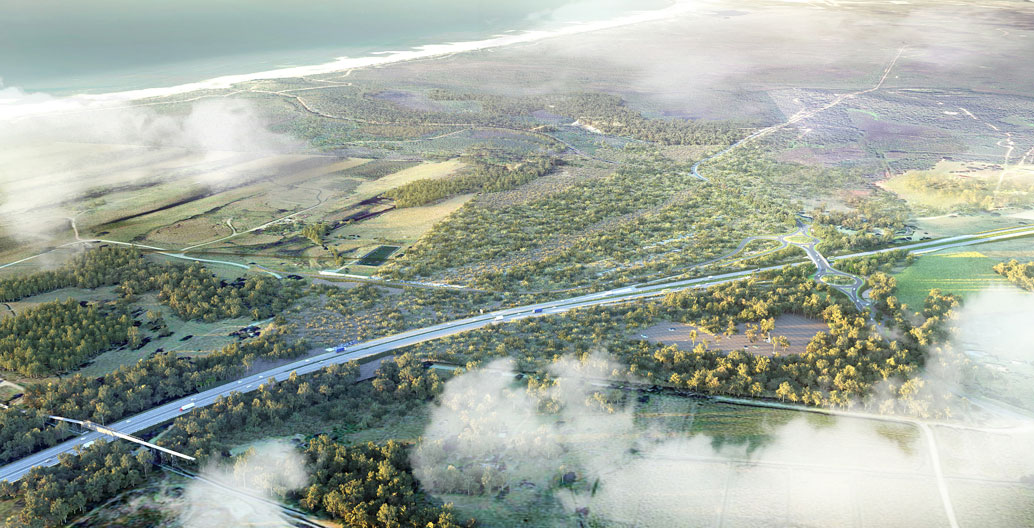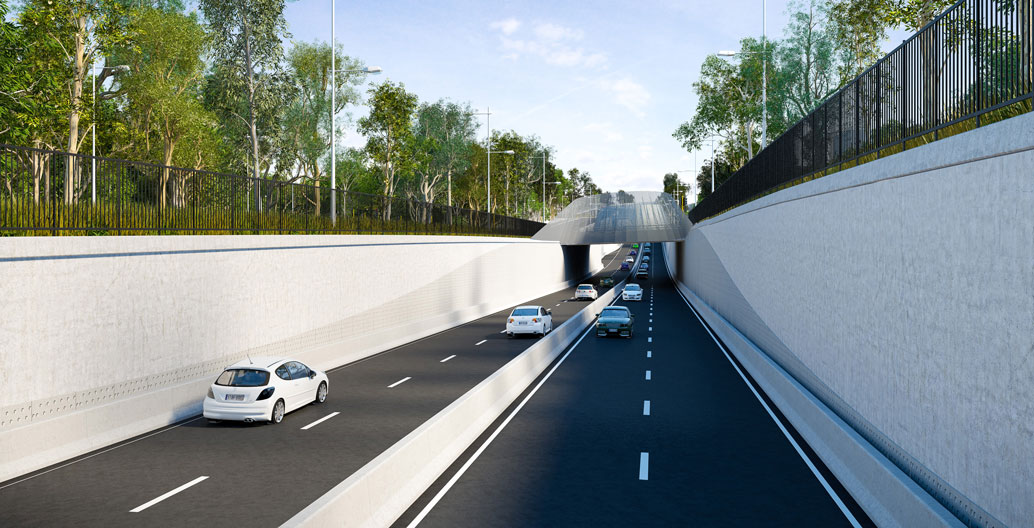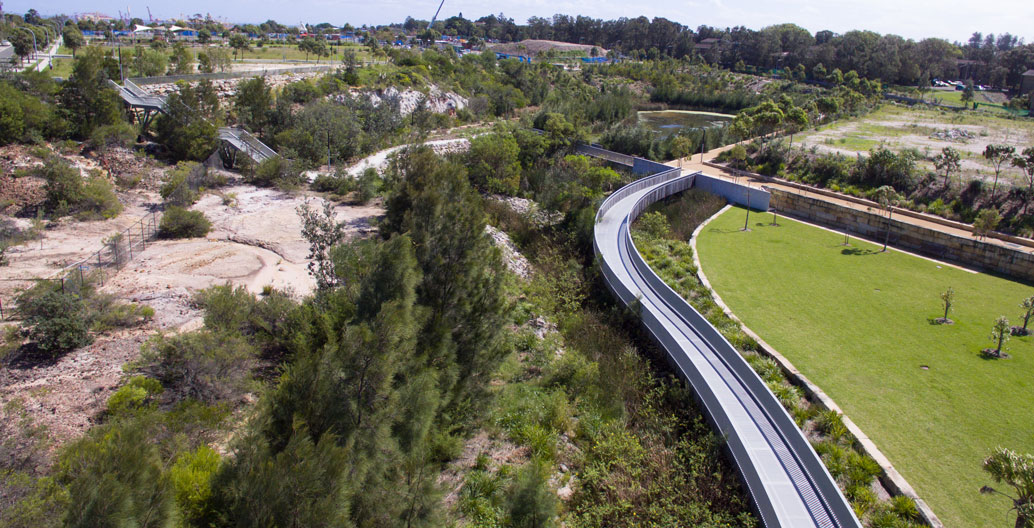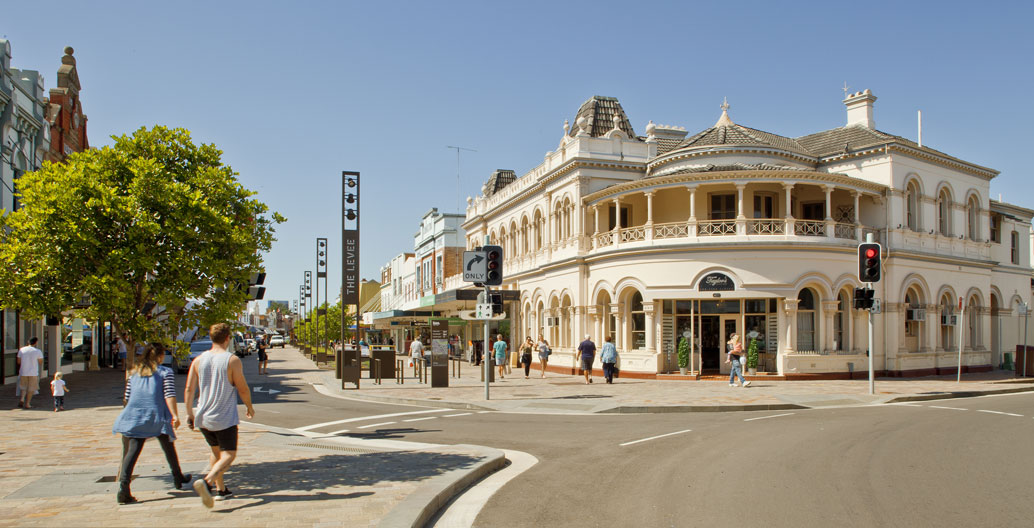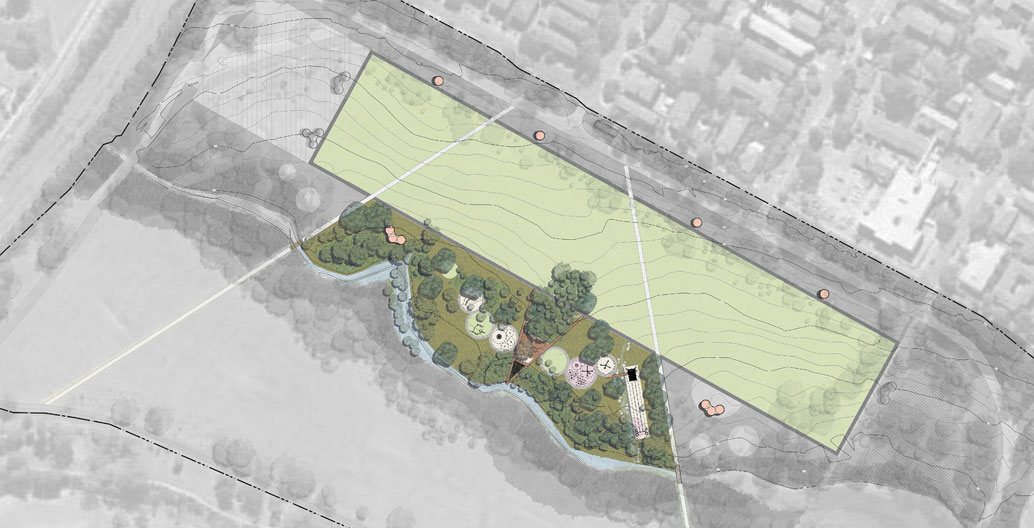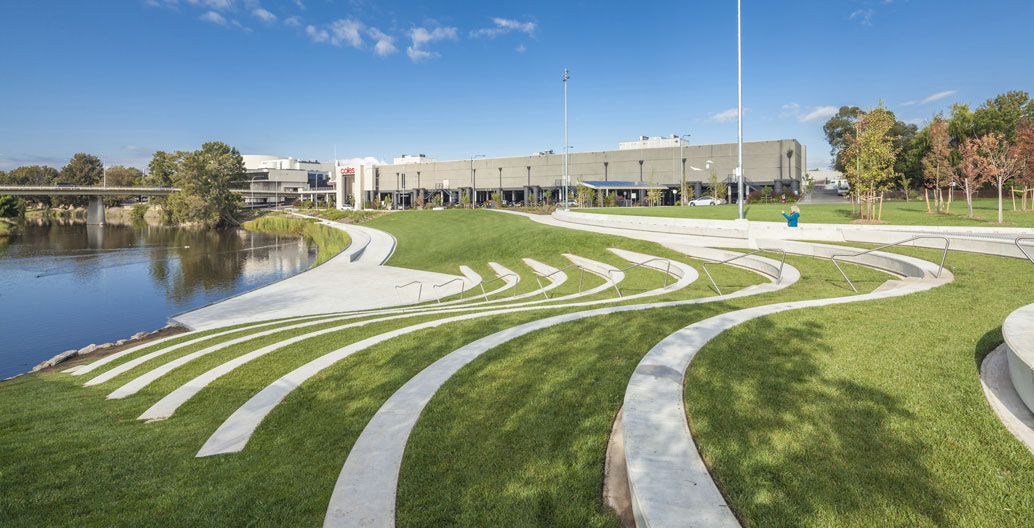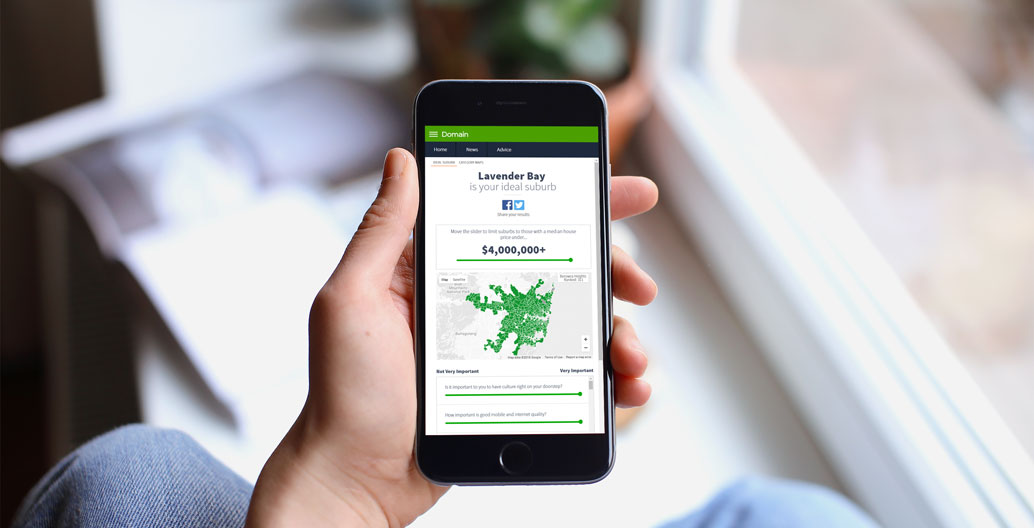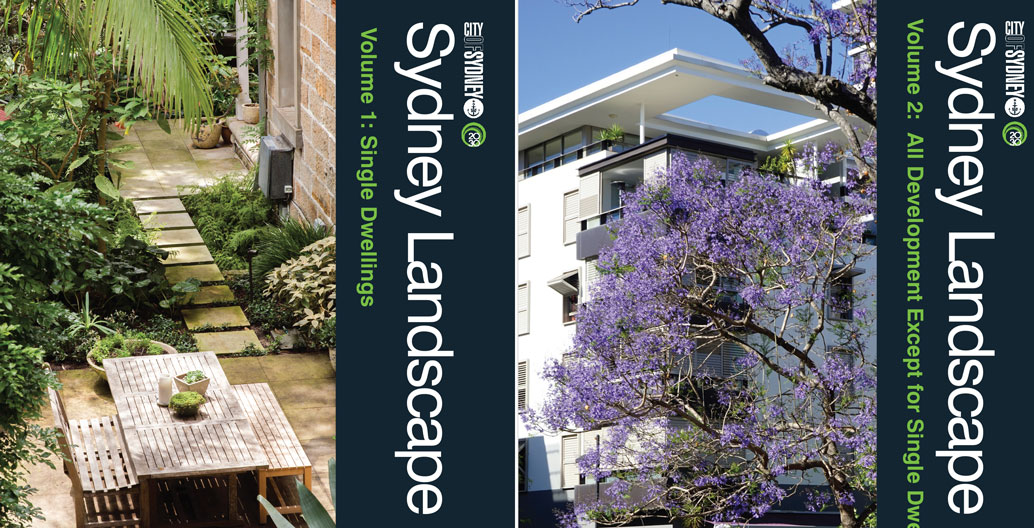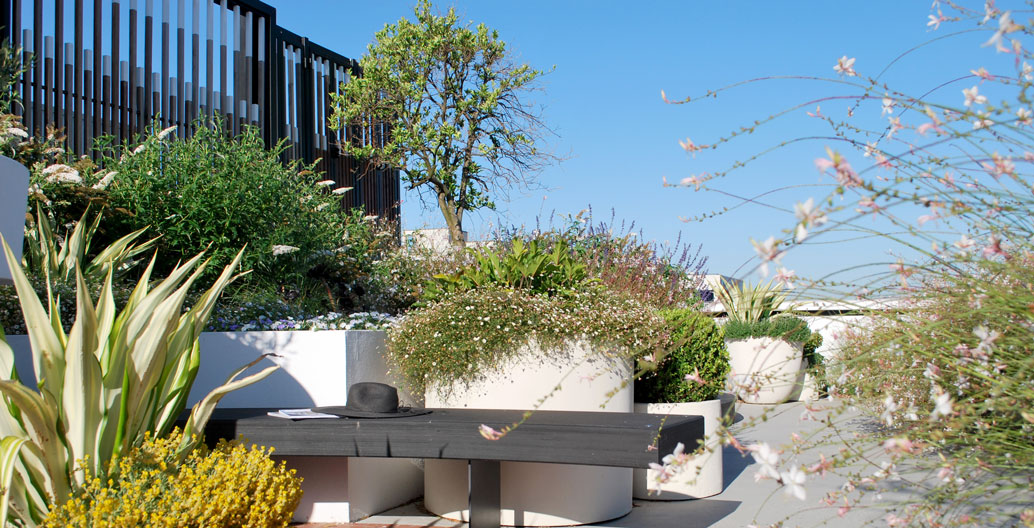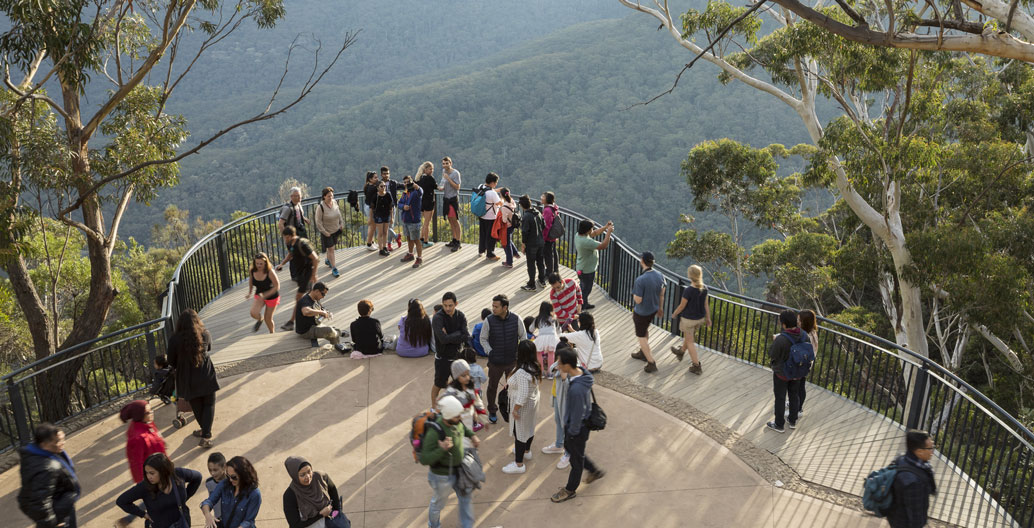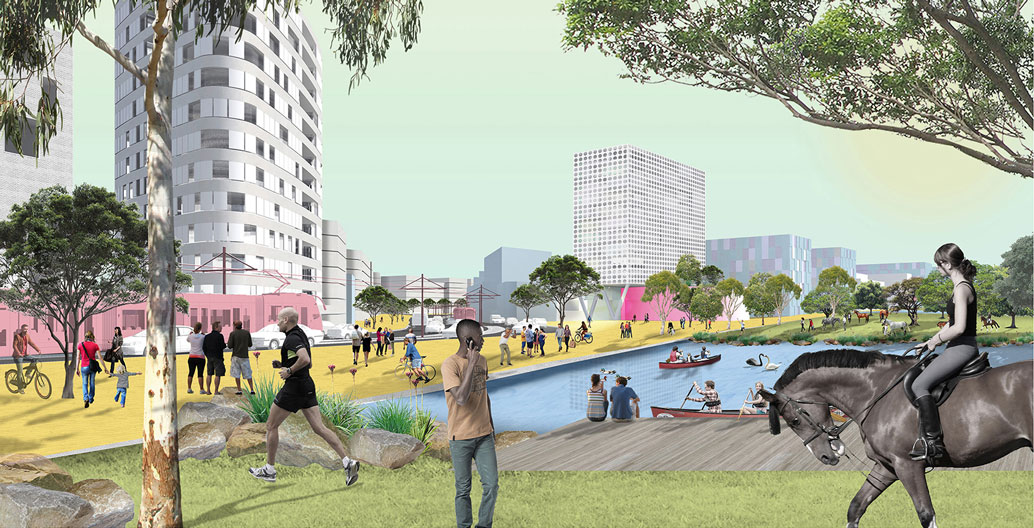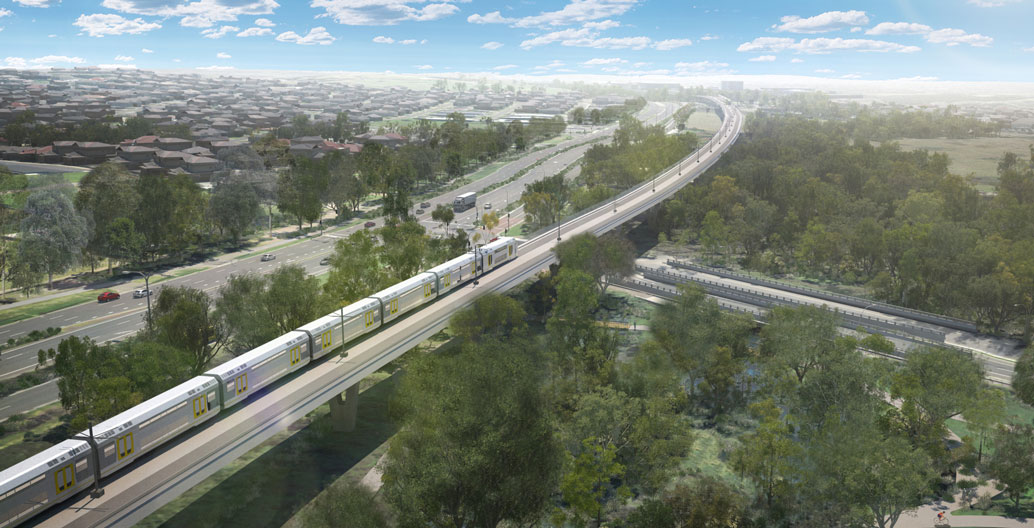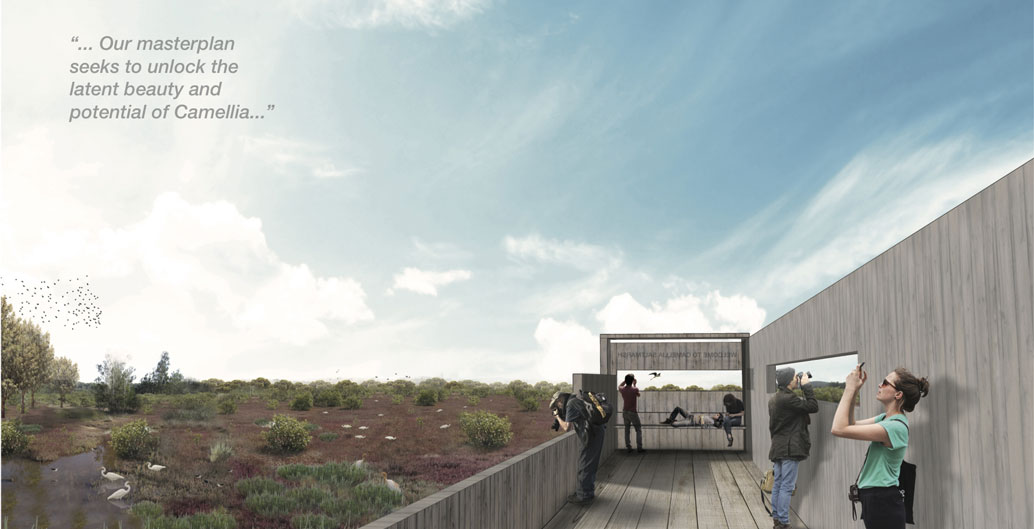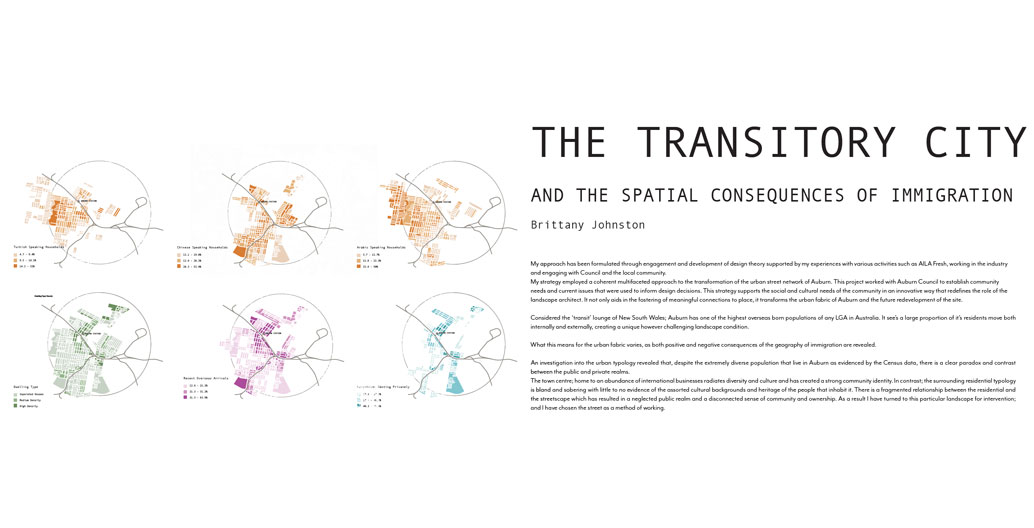 The Cool Streets Initiative is one of several exceptional landscape architecture projects to win an at this year's NSW Landscape Architecture Awards. View the full list of winning projects from NSW's 2017 entries above.
Foreground has brought you a state-by-state round-up of the AILA's 2017 Landscape Architecture awards. View other state winners here.