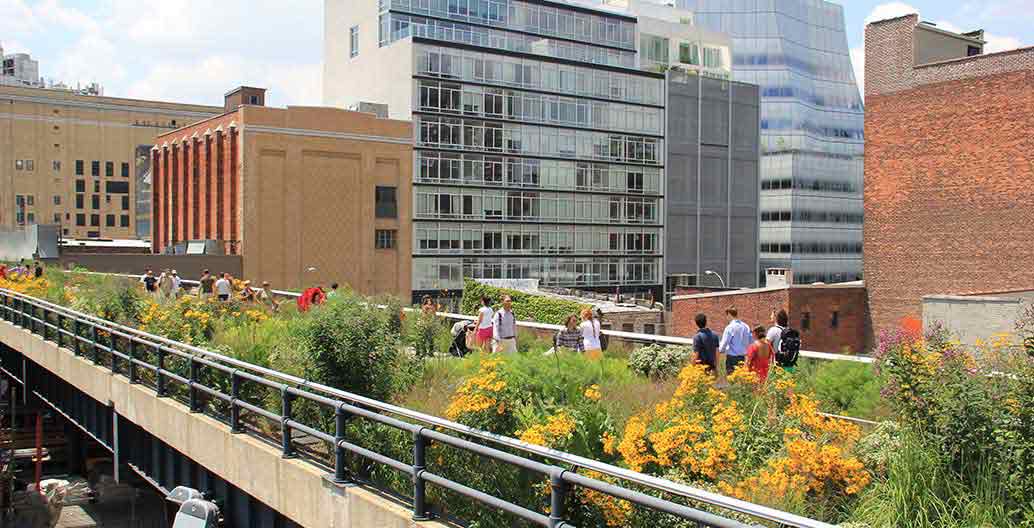 Green gentrification and how to avoid it
Parks improve our neighbourhoods, boost our health, strengthen our communities and combat the effects of climate change. In short, greening our cities make them more liveable. But who really benefits?
Much of the push for greener and more sustainable cities originates in grass-root environmental activism. Recent years have, however, seen a shift in momentum as large global cities have appropriated the green-city movement as a marketing strategy, particularly in relation to large-scale developments driven by investors and elected officials.
Hand-in-hand with many of these developments is a process of privatising green spaces, and the emergence of high-profile 'feature' landscape architecture that results in green spaces with high aesthetics but little community value. Some of the most noticeable examples are the New York High Line or the new Les Halles park in Paris.
This is problematic, not only because of the lack of response to local community needs, but also because these type of large-scale green projects are usually associated with the urban regeneration of surrounding neighbourhoods. The result is often the physical and/or cultural displacement of vulnerable parts of the local community in the area.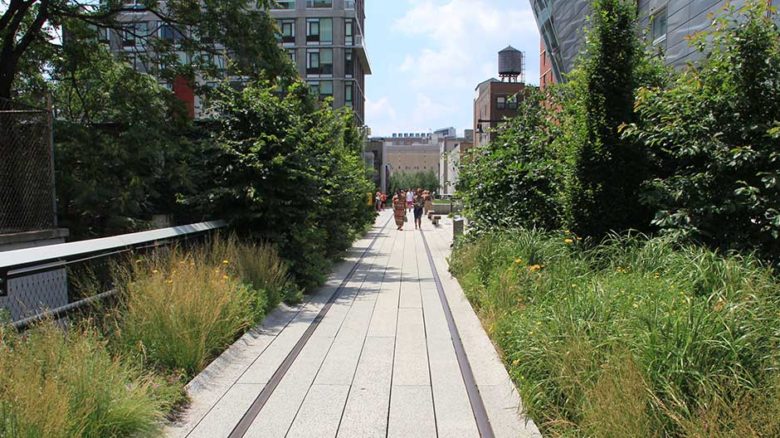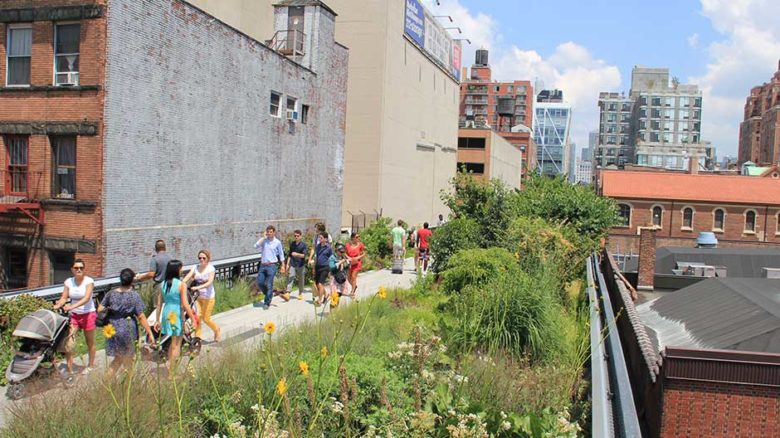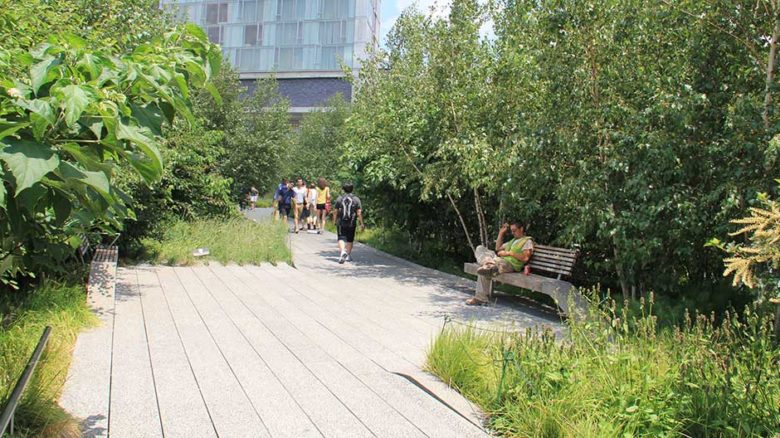 Public space as urban branding
The Olympic games in Barcelona marked a shift in the city's urban design strategy. The appropriation of planning processes through a public-private  partnership, prior to and after the games, led to large parts of the city's industrial heritage being erased to build the Olympic Village. Public spaces and parks were designed for visitors, city branding and to attract investment, rather than for residents.
This became known as the Barcelona Model. The Parc del Diagonal Mar by Enric Miralles and Benedetta Tagliabue (with Robert AM Stern Architects and EDAW), and the Parc del Centre de Poble Nou by Jean Nouvel are examples of the high profile green spaces that formed part of the city's urban renewal strategy post-Olympics.
The Barcelona Lab for Urban Environmental Justice and Sustainability (BCNUEJ) has been researching this process of gentrification, and calculates that signs of gentrification, such as the displacement of vulnerable communities, were present in around 60 percent of neighbourhoods with green spaces built between 1990 and 2008. Those places associated with large-scale developments on the waterfront were especially affected.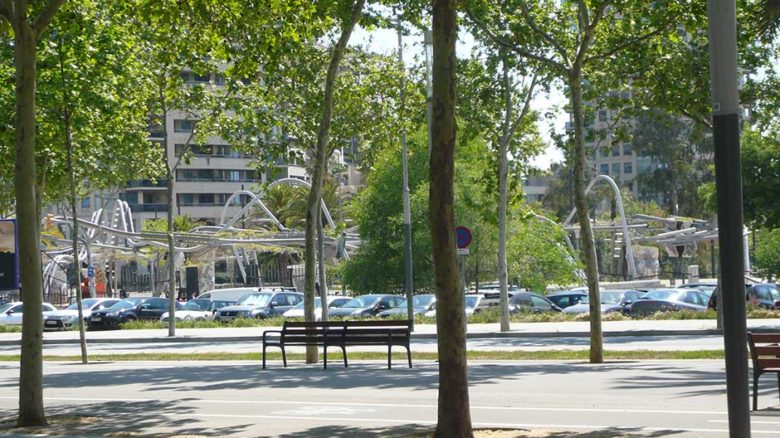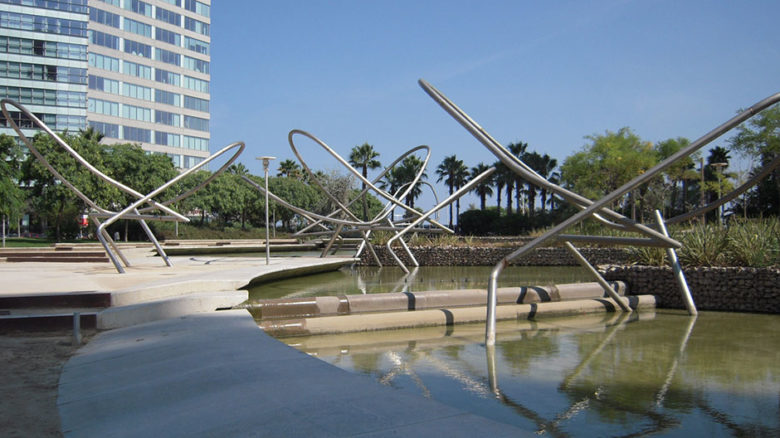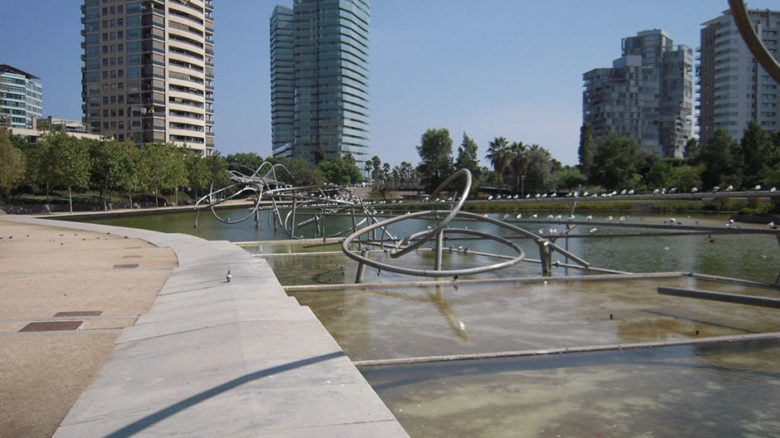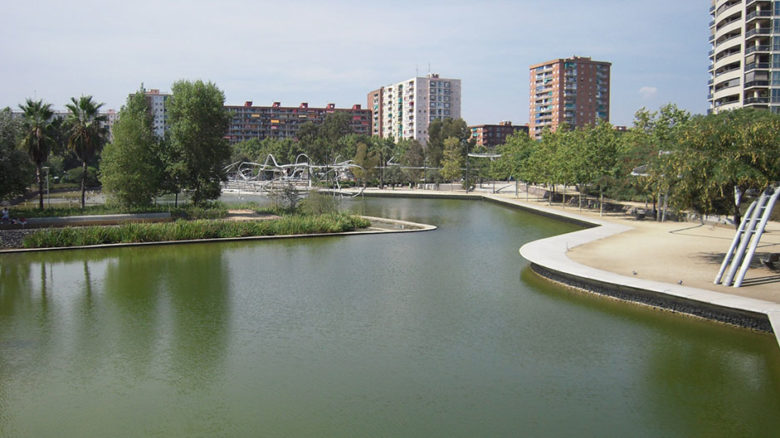 What price green infrastructure?
According to Benjamin Cooke, lecturer in Sustainability and Urban Planning at RMIT University, there is little research on the possible gentrifying effect of greening strategies in Australian cities. There are, however, quantitative studies about the impact of green urban spaces on property values.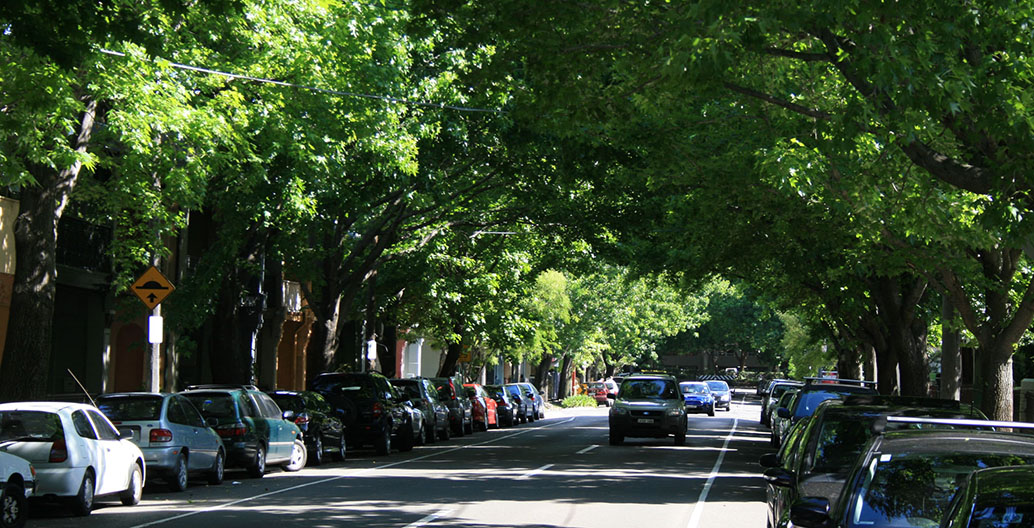 Higher tree coverage equals higher property prices.
Urban greening and social equity
BCNUEJ's research into 99 cities in North America and Europe with urban renewal strategies based on a green branding discourse has shown that while these cities have experienced economic growth, they also tend towards being less affordable. While green gentrification does not necessarily affect all cities, only those cities that coupled social equity policies with their urban greening programs were successful in avoiding community displacement due to property speculation. In other cases, low-income residents, or even the middle class, were driven out. So what can we learn from these research findings, to avoid green gentrification?
Four things we can do to design green space for all citizens
Build more green spaces throughout
Establish a network of green and blue spaces throughout the city so each citizen has access to high quality public green spaces.
The French city of Nantes has successfully achieved a non-hierarchical mix of various types of smaller and larger parks and public spaces. The city went through a trajectory of de-industrialisation at the end of the 1980s, with the conversion of the former shipyards at the centre of the urban reconstruction and economic recovery. Unused land was transformed into new civic infrastructure with an enormous quantity of small and large-scale green projects, a green living and working space with a strong focus on the creative industries. Overall the city doubled the amount of green spaces.
Barcelona is currently implementing a similar strategy to provide a network of green spaces with its Superblocks, with the ultimate goal to free up to 60 percent of the traffic area for public space. BCNUEJ cooperates with the city council to raise awareness of social inequity and gentrification with residents and stakeholders, and to take steps to improve community inclusion in the decision-making process and maintain accessible housing in the areas affected.
Less flagships, more diverse and locally-drawn character
Design for those who will use a park, not just for those who will be paying the cheques.
When designers consider developers and city authorities as their clients, rather than the actual user, we often see "flagship" parks as a result. Many parks are designed in a contemporary, designer-specific style that fails to emphasise the local character of the neighbourhood. To foster a connection between the community and green spaces and landscapes, designers have to understand the residents' needs and base green spaces and infrastructure on their various needs, preferences, and identities. Green infrastructure is not simply a technical and quantitative exercise. It needs to consider emotive and experiential qualities.
As seen with New York's High Line, if a park is not designed according to the community's requirements, they will not use it – but others will:
"When we opened, we realised the local community wasn't coming to the park, and the three main reasons were: they felt it wasn't built for them, they didn't see people like them there, and they didn't like the programming,"  – Friends of the High Line Co-Founder Robert Hammond.
Community engagement and co-creation 
Engaging methodologies and democratic processes are needed to involve the community and co-create green spaces.
This can include tactical urbanism, social media strategies, workshops and community activities. It is critical to have an ongoing conversation, not only with residents, but also other stakeholders and municipal actors from different sectors, for the development of environmentally and socially sustainable green spaces. We need to create dynamic spaces that residents can make their own and that are adaptable to the changing needs of the community.
The City of Melbourne's Urban Forest Strategy is an example for the use of communication and citizen engagement tools, and a holistic and multi-disciplinary approach that allows people to build a relationship with nature in the city.
Look at the bigger picture
Urban greening strategies need to be linked to government policies, housing regulations and zoning laws.
In Nantes, development was driven by the city, not the developers, through the application of land-use control and inclusionary zoning regulations. A public-private partnership was set up to direct the development and regulate uses, including the provision of social and mixed housing. Financing schemes for rent and mortgages were set up for low and middle class residents.
In Barcelona, the proportion of public and social housing compared to the overall housing stock is much lower than in Nantes. But the city is pushing for a social housing quota of 30 percent for every new development. Stronger public policies and green and social governance will be required in countries such as Australia, France and Spain, to respond to the risk of social inequity when making our cities more liveable and sustainable.
Landscape architects and urban designers have the capacity to promote the inclusions of these types of mechanisms through their project work, with clients and stakeholders, local governments and advocacy through professional associations.
Green infrastructure and public space is never apolitical. Designers are in the middle of it and should not shy away from taking a position.
–
Sigrid Ehrmann is a freelance landscape architect, environmental planner and writer, based in Barcelona.