Common knowledge: culture embedded in the design process
Cultural wellness is at the heart of a new community centre in Rubibi/Broome. Liyan-ngan Nyirrwa Cultural Wellbeing Centre, commissioned by traditional owners the Yawuru people, is a collaboration between community, public artists and landscape designers.
[The Liyan-ngan Nyirrwa (Cultural Wellbeing Centre) won the 2020 AILA WA Award of Excellence for Health and Education Landscape, 2020 AILA WA Regional Achievement in Landscape Architecture and 2020 AILA WA Medal.]
In remote and rural regions, the role of landscape architect as community collaborator is one that comes with a unique set of opportunities and challenges. Landscape architect and public-art facilitator Vanessa Margetts, of MudMap Studio, located in the Kimberley town of Broome, acts in precisely this dual role.
Hers is one of the most remote design studios in Australia; the closest cities are Perth, a 2240-kilometre drive south, or Darwin, a 1870-kilometre drive north, across the border. Through her practice, Margetts has developed a collaborative process and working model that is unique to the physical and cultural context within which she operates.
While business-as-usual engagement methods invite community members to contribute in a volunteer capacity, the MudMap Studio model is flexible and embeds community input into each project. "Local knowledge is essential – and it's helpful if we have the flexibility to acknowledge this within project structures," says Margetts. Here, the role of community is elevated, with contributors rightfully recognised as experts on their place. "The community members I work alongside and learn from are sometimes artists, sometimes cultural advisors, sometimes Elders – I'm lucky enough to be able to build my team based on the needs of the project, and to respond to gaps in my own knowledge."
A current MudMap Studio project is the Liyan-ngan Nyirrwa Cultural Wellbeing Centre, commissioned by Nyamba Buru Yawuru, a not-for-profit company owned by the Yawuru, the native title holders of Broome and surrounds. It is an example of how a flexible process can integrate community input.
Located in Broome, Liyan-ngan Nyirrwa is a gathering place for the community. The centre has been designed around the idea of mabu liyan (good feeling), which encompasses the notions of healthy mind, healthy Country and healthy community. In a 2013 report for the Inquiry into the Development of Northern Australia, Yawuru Elder and Senator for Western Australia, Patrick Dodson, described liyan as "about relationships, family, community and what gives meaning to people's lives. Yawuru people's connection to Country and the joy of celebrations of our culture and society is fundamental to having good liyan."
Margetts was engaged as landscape architect for Liyanngan Nyirrwa, and to facilitate public art for the centre, in 2014. The project team included typical consultants: architects Laird Tran Studio, alongside engineers and a construction team. To integrate community and cultural knowledge, the team was expanded to include key local contributors, including cultural advisor Bart Pigram and Yawuru artists Martha Lee, Damien Lawford, Suzie Gilbert, Savannah Cox, Arnold 'Pudding' Smith, Terricita Corpos, Lorraine Hunter and Michael Torres. The Liyan-ngan Nyirrwa project began as a series of community workshops to create a vision, program and concept plan for the centre, and continued into art development, detailed design and construction phases over subsequent years.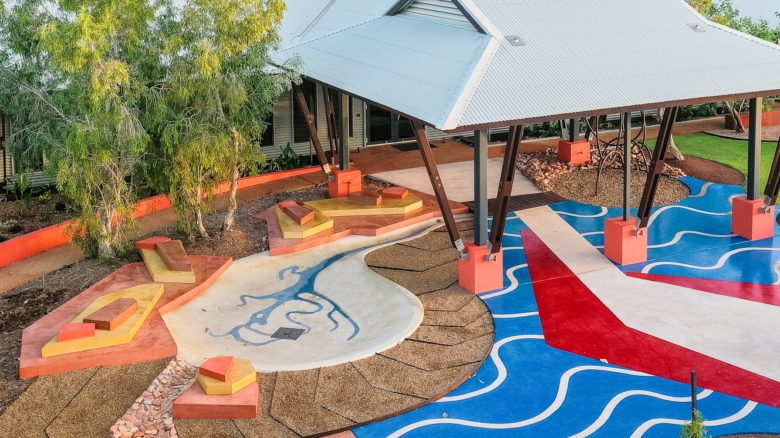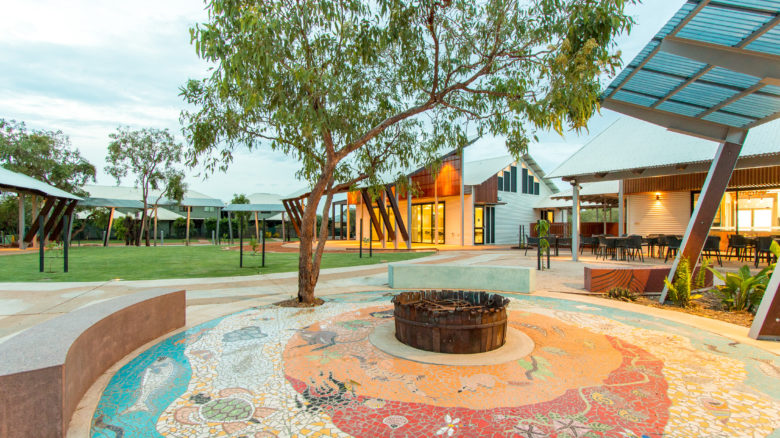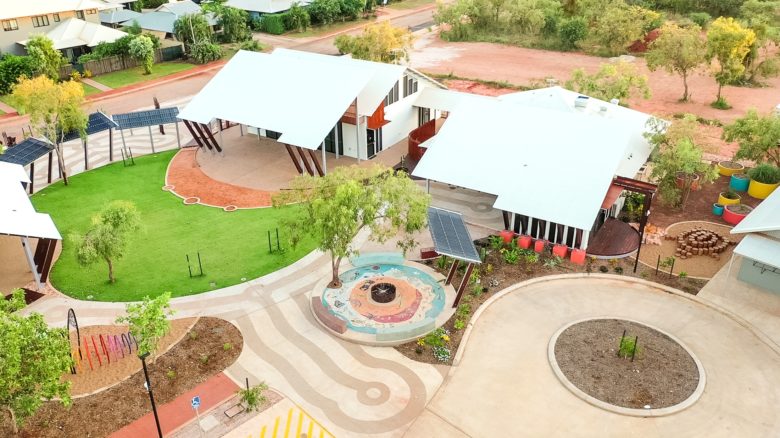 One design idea explored during the concept phase was the development of a nurlu (dancing) space for the centre. "There was a lot of discussion among the group around what a contemporary nurlu area should look like," says Margetts.
"Through design workshops, we arrived at a nurlu area that is a large, multifunctional outdoor space – a grassed area bordered by gum trees. The dancing area is marked by red sand, with the performance space defined by fire-pits that will provide light to the performers. In developing this area, we really considered the question: how can a contemporary space accommodate traditional practices?
"I became fascinated with trying to understand how to depict a traditional concept within a contemporary context and with the extent to which a modern landscape can tell very old stories. These ideas were front and centre during the initial design phases for Liyan-ngan Nyirrwa."
After the concept plan had been developed, Pigram and Margetts facilitated weekly art workshops over a period of six months. At the same time, construction drawings began.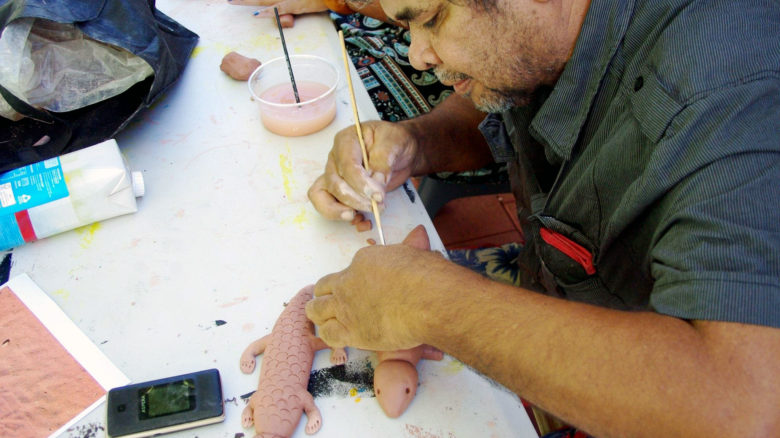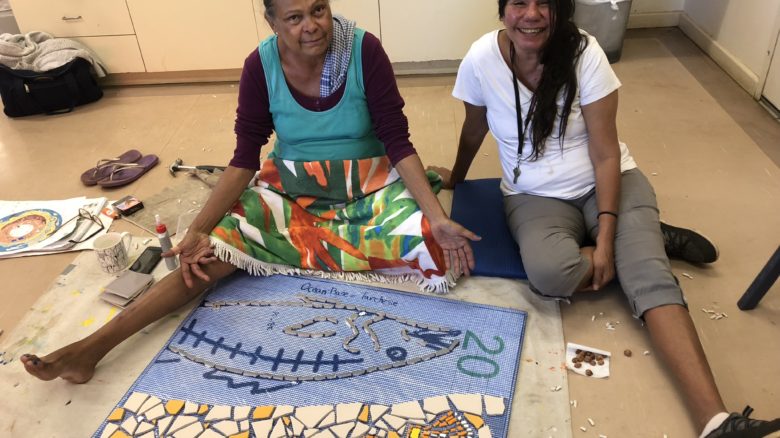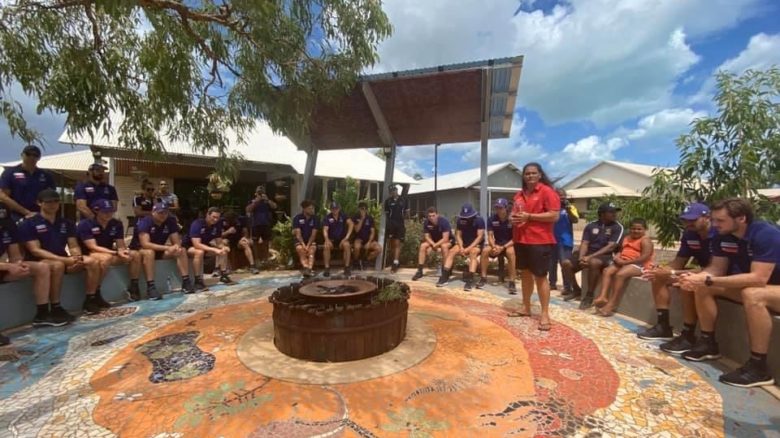 "Early discussions with the Yawuru artists were about the concept of mabu liyan – and how this could be expressed through art at Liyan-ngan Nyirrwa," explains Margetts. "Over the weeks and months, the artists shared stories that were appropriate to the place, and together we workshopped how these stories could be communicated." Through this process, the role of the designer as facilitator within the collaborative process came to the forefront.
One artwork developed for the centre is Pigram and Arnold 'Pudding' Smith's work, Apical Ancestors. The work consists of carved, traditional timber shields, cast in bronze, to be situated at the entrance of the main building on the Liyan-ngan Nyirrwa site. It is one of many works that will represent stories of people and Country at this site.
It's interesting to reflect on the outcomes offered to the community by an inclusive process such as this one – especially in a remote and regional context such as Broome. Though the project is still in progress, the process for Liyan-ngan Nyirrwa has already offered outcomes beyond the built. "Including locals on the project team means that money, and skills, stay in town," says Margetts. "This is essential in regional locations. Each major project offers an opportunity to build capacity, for the long term, right here in Broome." Community collaborators have also noted the significance of working side-by-side with built-environment consultants. Bart Pigram says, "We should feel lucky that we have designers like Vanessa willing to bridge the gap between development and Aboriginal cultural survival."
The MudMap Studio approach has allowed a cultural exchange within the design process, with the knowledge of the locals as valued as that of the landscape architect, the architect and the engineer. In such a working model, the role of the 'designer as singular expert' has been disrupted. In elevating local community contributors to the status of project team members, MudMap Studio has provided an example of a working method that is truly collaborative, respectful and that produces tangible, successful results.
–
This article first appeared in Future West, a biannual publication that addresses the need for a conscientious debate about architecture, planning, culture, and society across Western Australia and beyond. It looks towards the future of urbanism, taking Perth and Western Australia as its reference point.
Rosie Halsmith is co-director of To & Fro Studio and Lecturer in Landscape Architecture at the School of Design, University of Western Australia.