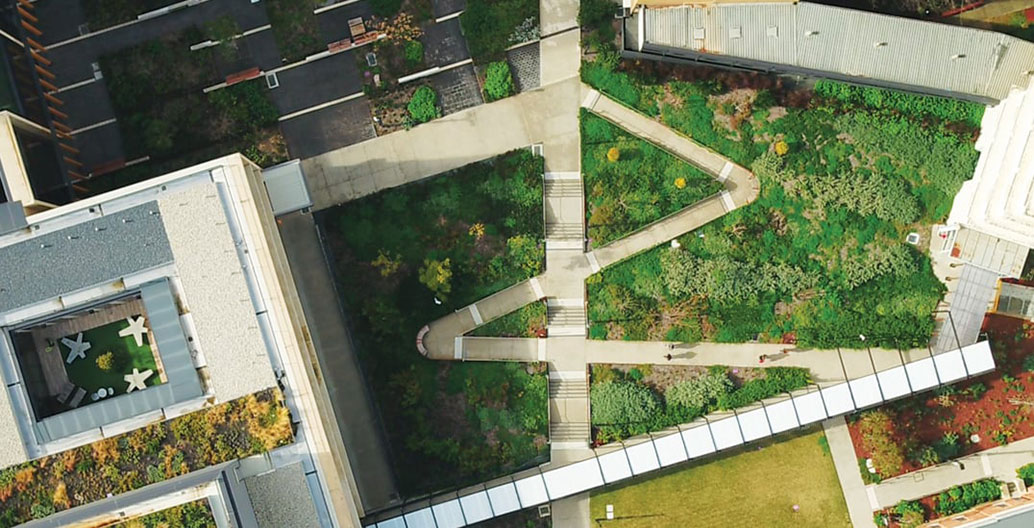 Nature heals: the return of therapeutic landscapes
Exposure to nature was once key to helping patients recover from illness. However, with the rise of pharmacology, hospitals became ever more sealed artificial environments. Now that is all changing. A new generation of hospitals are rediscovering the therapeutic role of nature.
For much of the 20th century, hospital design focused relentlessly on reducing infection risks and increasing efficiency. This was a reflection of society's infatuation with science and measurable outcomes. Yet the resulting sterile, lab-like spaces were often devoid of natural light and air. They paid little regard to the emotional or psychological needs of patients. Nature and gardens, which had been integral to healing for centuries, were designed out. Far from helping to heal, many of the resulting spaces were found to have adverse effects on health.
Recent decades, however, have seen a return to a more holistic understanding of sickness and health, and the role of nature in patient recovery. With the rise of biophilic design, humans are once again understood to have a fundamental need to meaningfully connect with nature. As the biggest hospital redevelopment in Victoria's history, Bendigo Hospital is a major step in this direction, rethinking how the built environment affects patient wellbeing.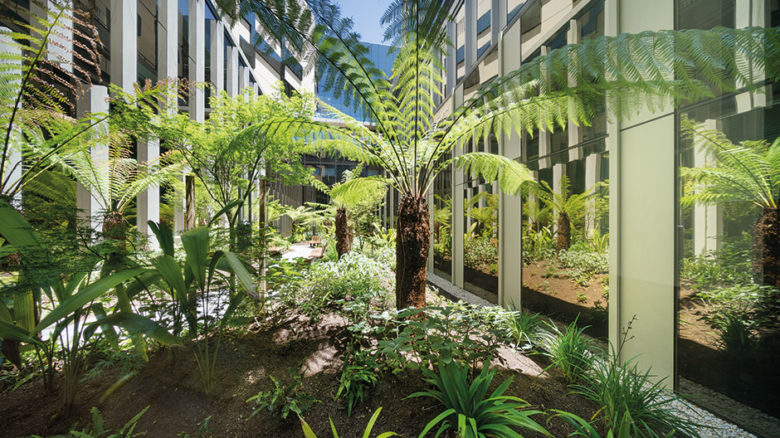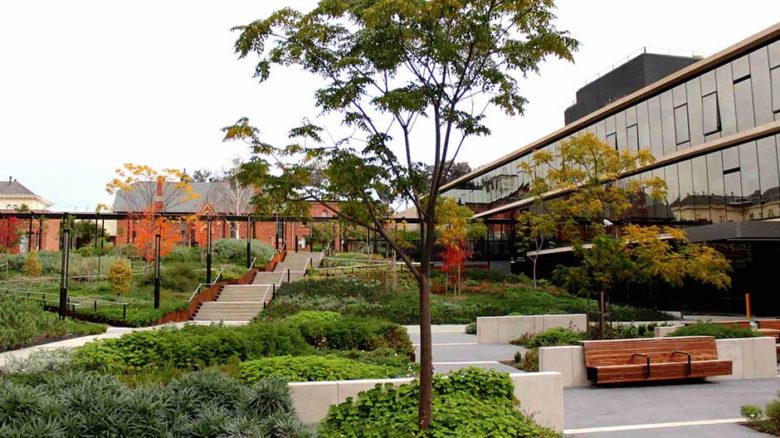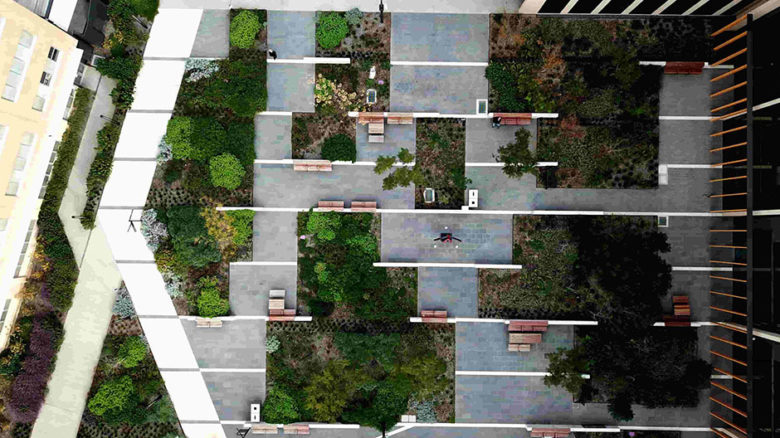 The architectural design of the hospital was delivered by Bates Smart and Silver Thomas Hanley, with Oculus responsible for the urban design and landscape architectural design. The latter is a major feature of the project, including a tree-lined internal "street", water features in a garden for spiritual care, and nearly 50 balconies and courtyards, with 20 of those designed for use by mental health patients.
Claire Martin, associate director at Oculus, says that a major part of the project brief required extensive access to external spaces. "Because it's 13 hectares over two precincts, a lot of the design was about considering different regimes of care," says Martin. "So you have a higher intensity of planting in one area, then a calming lawn area in another place like the heritage quad. It's about trying to make typologically distinct spaces that provide different experiences. The variety also helps to descale the building."
Biophilic design and healing landscapes
Martin says that after reading the brief, the team decided "connection and kindness" would be their guiding principles. "We tried to get those two things into the project wherever we could, from health and social perspectives. Understanding the role of choice in reducing stress was really important, and it was from there that we started looking at biophilic design."
Martin notes that biophilic design is often thought of as "greening", but in fact it is more subtle and complex than that. They were looking at a set of principles developed by Stephen Kellert, which essentially connects the design of the built environment with our shared human affinity with nature.
As Martin notes, there is something universally calming about observing nature, and natural processes. "Looking at nature or experiencing nature at first hand makes us feel good – with its colours, the changes in season, textures and fragrances," says Martin. "Nature helps to 'ground' us, which is important when people are dealing with the anxiety of illness."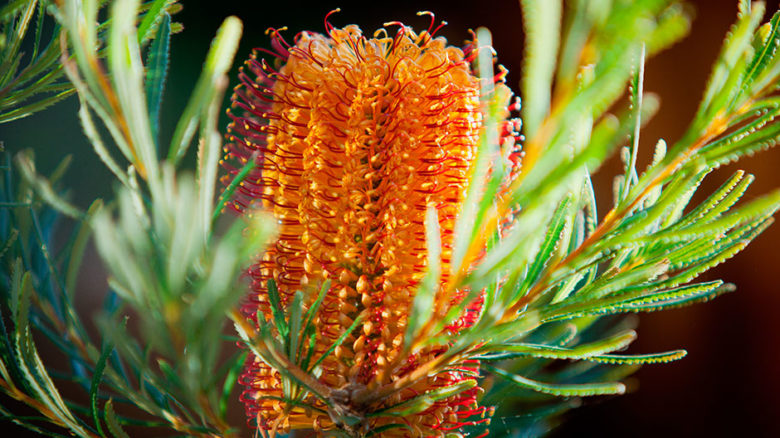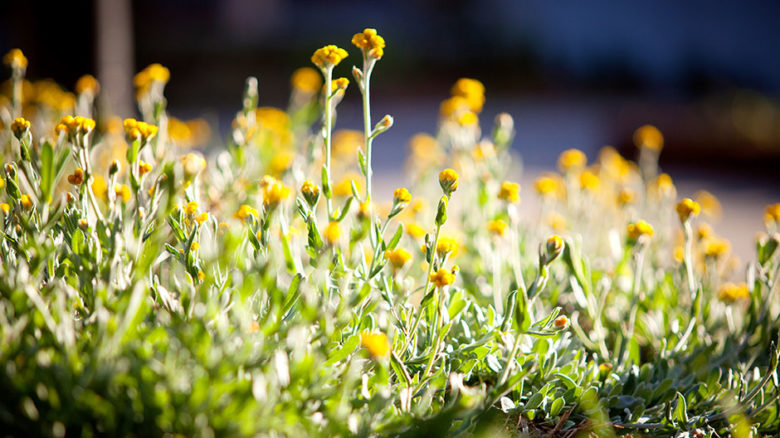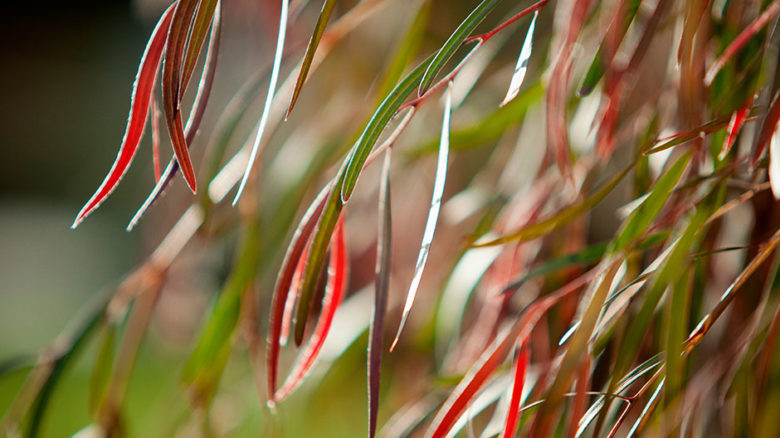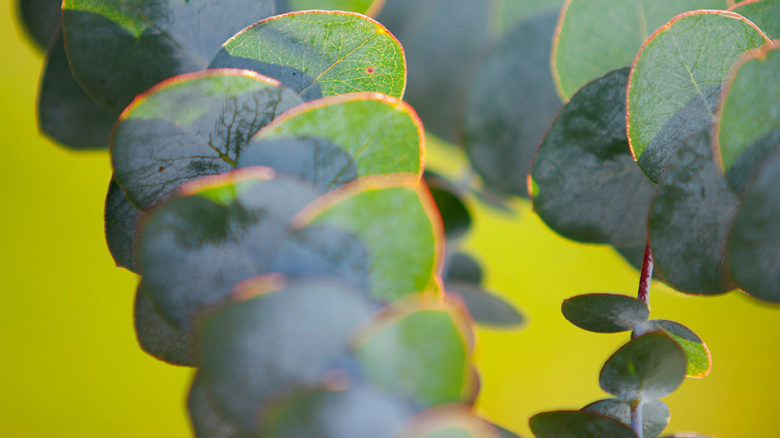 For the hospital, the quality of the borrowed, or secondary, experiences of nature were very important. "The views were considered just as carefully as the direct experiences people might have outside," says Martin. This makes sense in a setting where people often have restrictions on where they can go. "There's strong evidence to show that being around open spaces, or having pot plants, or even images of nature, can reduce stress levels. So we took full advantage of that, and have abstracted references to nature and plants throughout the hospital."
The gardens have also been used to give patients and staff a connection to place. This too can significantly improve wellbeing. "By having reference to local geomorphology, broader landscapes systems and plants from the Loddon Mallee region, we can connect people to place in a really meaningful way," says Martin.
Each garden has been designed for a specific purpose. For example there are two internal courtyards for cancer patients, which have a higher density of planting. "So if you're sitting there for hours having chemotherapy, you can still look onto greenery," says Martin.
Gardens in the mental health unit had strict guidelines about what could and could not be used, and there was also a focus on providing horticultural therapy. "These gardens, which are more connected to the program of the hospital, are different again from the more civic gestures in the gardens that are available to the general public, who may not be visiting the hospital at all."
Connecting with heritage and histories was also extremely important. "We worked with the Dja Dja Wurrung Aboriginal Clans Corporation to create the courtyard in the Aboriginal Services Unit for example," explains Martin, "and we already have anecdotal evidence from Elders that the garden itself is making people feel welcomed into the hospital area."
Government adopts biophilic and patient-centred design principles
Two years since the hospital opened, Martin says the anecdotal evidence strongly suggests that the design, and the greenery in particular, is having a positive effect on patients and staff. "When patients were being discharged from the new mental health unit, the staff said they started getting thank you letters," says Martin. "Staff themselves have certainly been saying good things, and there have also been letters written into the local paper." Martin also stresses that although investment in landscape and biophilic design is positive, adequate funding must be allocated for ongoing maintenance.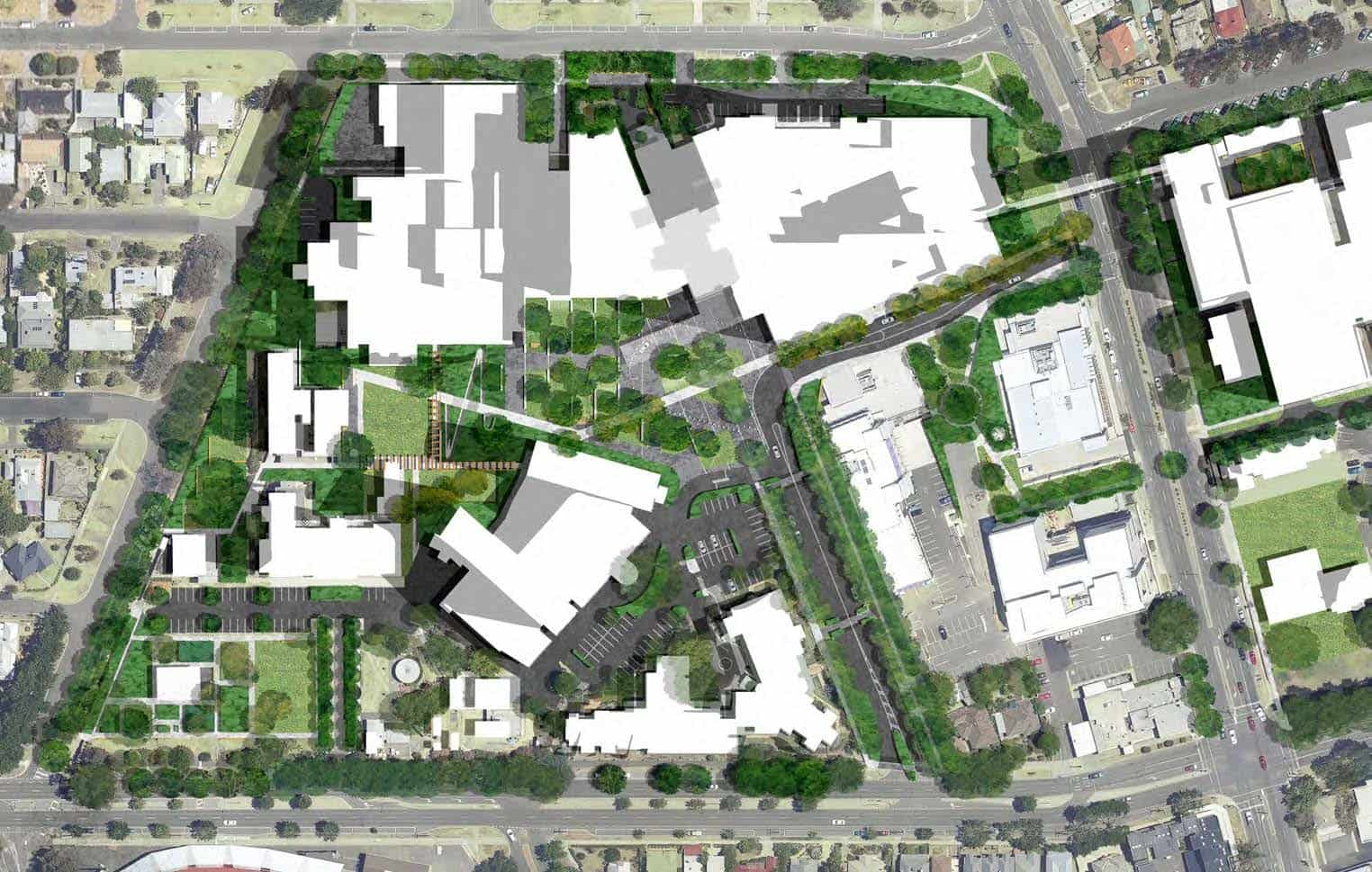 There is great diversity of garden types and sizes throughout the 13 hectare Hospital site. Image: OCULUS
So why is biophilic design becoming more common? Martin believes that two related factors are, our growing understanding of how cognition works, and ironically, research into our online behaviour. "As researchers have become better at understanding cognition and mapping of the brain, it's allowed us to evidence things that we already intuitively knew". At the same time, as information is becoming more digitally mediated the tactility of our environment is becoming more important. Together these factors are helping us to inform the way that we build our physical environments.
Martin believes that a lot of the motivation behind these changes relates to a grassroots change in our attitudes to nature – look at the rise of backyard gardeners, beekeepers and the popularity of indoor plants. In more formal settings like the Bendigo Hospital, Martin believes that private practice is a main driver behind the demand for biophilic design. "It's a combination of things, but the commercial incentives like rating tools are essentially commercialising a lot of these intuitive design benefits. In some ways private developers can be ahead of government initiatives, because they can be more adaptable."
Stefano Scalzo, Director of Planning and Development at the Victorian Health and Human Services Building Authority, believes that the rise in evidence-based design is primarily responsible for designers pushing for the increased use of landscape in projects.
"In the past, I've observed that designers have struggled to describe design decisions and in an area where the client culture is particularly scientific, like health, I believe that has resulted in hospital design discourse being bereft of design," he says. "But evidence-based design has changed this, by giving practitioners a vocabulary for talking about the importance of landscape that resonates with the predominant paradigm of the Government health client."
According to Scalzo, as landscape features more heavily in successful projects like Bendigo,Lady Cilantro and Westmeade, the use of patient-centred design and biophilic principles is becoming business as usual in health. "The government is seeing these design aspects working in practice, so if an expert designer has included features like landscape or biophilic principles, there is very little reason for the government client to challenge the expert's decision."
–
Cat McGauran is a writer and the assistant editor at Assemble Papers. Her background is in law, journalism and housing advocacy.