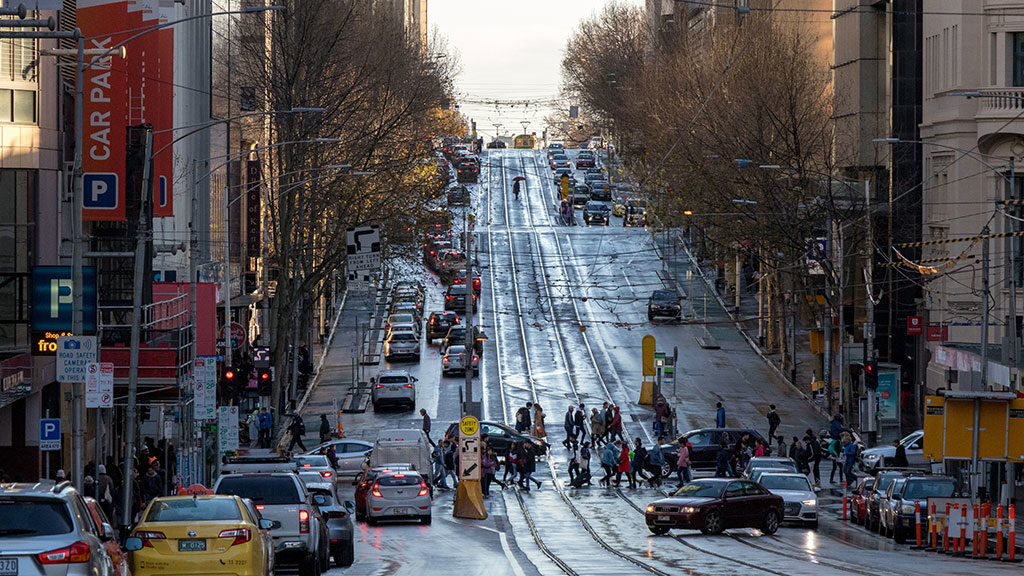 Melbourne, it's time to go big on a car-free recovery
The City of Melbourne's offer of free car parking fundamentally misunderstands what makes the city work, says transport planner Vaughn Allan.
In response to the devastation COVID-19 has wrought on the CBD economy, the City of Melbourne is proposing to relax on-street parking restrictions and slash prices for on- and off-street parking. This might help lure visitors back into the CBD, by car, but it fundamentally misunderstands the CBD's challenges and misses an opportunity to capitalise on its strengths. Trying to compete with the likes of Chadstone or Fountain Gate on parking is a race the City of Melbourne will never win, and nor should it want to.
In recent years, the City of Melbourne has held the torch on progressive transport policy, using an evidence-based approach to develop and then begin implementing its recent Transport Strategy. The strategy made a clear argument as to why prioritising car access to the CBD isn't in the interests of businesses or residents. Instead, it provided a robust set of measures designed to encourage more walking, cycling and public transport. Not only are these modes much more space efficient than the car-based alternatives, they also help the city address the climate emergency and create the people-focused, vibrant and creative place that Melburnians and visitors have come to love.
In response to COVID-19, cities around the world have chosen to replace car parking with outdoor dining, wider foot paths and bike lanes. Making car parking cheaper is a 1960s solution, ill-suited to the aspirations of the City of Melbourne. The COVID-19 recovery is the perfect time to accelerate the shift to a sustainable, liveable Melbourne.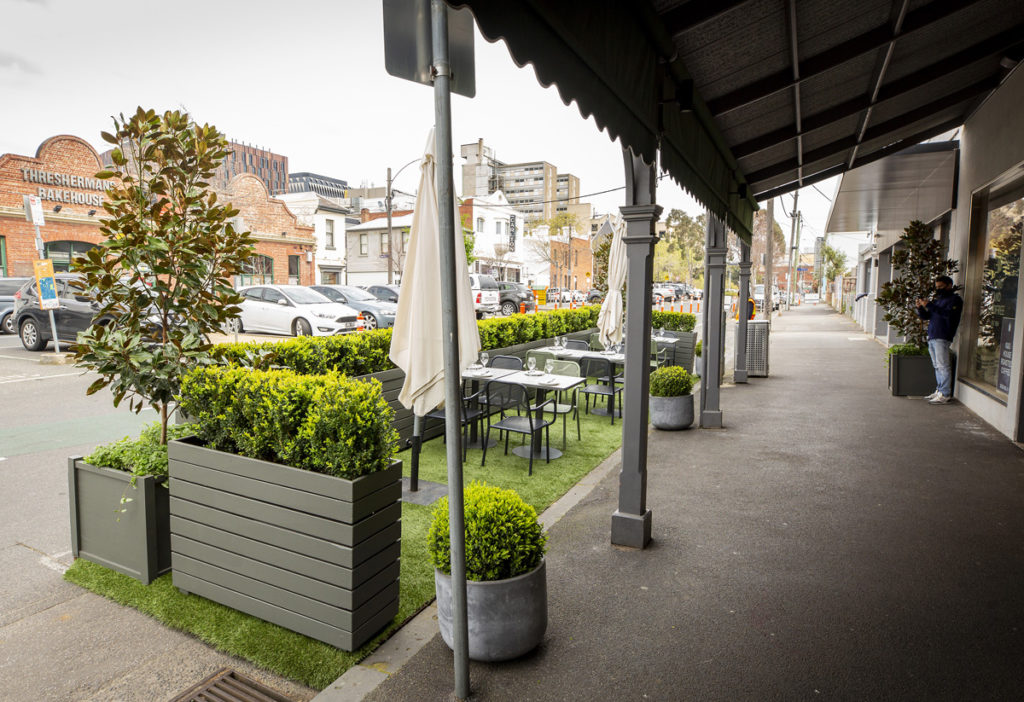 In the time Before COVID (BC), the Melbourne CBD had the lowest level of car use in Victoria. In the last Census, only 42,000 (21 percent) of workers travelled to the CBD by car, while a whopping 138,000 (close to 70 percent) arrived by public transport. Even if the parking proposal is a resounding success, leading to car use and parking at pre-COVID levels, is this outcome in the best interests of the city? Since lockdown started, the roads have not gotten wider nor has there been an increase in the number of parking spaces. It simply cannot accommodate more cars than it was at its pre-lockdown peak. This is the geometric problem a car-lead recovery will face.
Secondly, the principles behind paid parking are steeped in economic laws of supply and demand. The idea is that paid parking is a tool for managing demand for parking. The higher the price, the lower demand. The trick is finding the sweet spot to ensure a few parking spots are always available. Now that demand has fallen through the floor, the logical move is to lower the price to bring demand back up. But while the majority of CBD workers continue to work from home, and many visitors are wary of busy areas, the price of parking may no longer be the key factor moderating demand.
It is a commonly held belief that access to free and convenient parking is the primary factor determining where people visit and shop. Attempting to out-compete large format shopping centres for car parking availability and price, which is impossible, overlooks the reasons why people actually visit the city. It's not the availability of car parking that draws us to the CBD—we come in spite of it. We visit the city because it offers an interesting and exciting mix of events and activities that we can't get elsewhere. To this end, it's not Chadstone that the CBD is competing against, but local suburbs that Melburnians have grown to love during lock-down. These areas have made their own local strips more exciting by taking over on-street parking to provide outdoor dining space and closing streets to cars to open them up to people. People don't visit a place because it has great parking, but rather because it is a great place.
The proposal for a car-led recovery stands in stark contrast to the many great initiatives the City of Melbourne has implemented. They have led with a rapid roll-out of safe bike infrastructure, outdoor dining space, and beautiful flower installations. Councils like Maribyrnong, Yarra, Stonnington, Port Phillip, Wyndham, and others are doing the same great things as Melbourne to lure people back. And people are visiting these areas despite the difficulty of finding a carpark.
With COVID-19 restrictions, the question isn't whether parking is cheap enough to lure people back, but if they have enough space to safely enjoy the city once they get there. The current set of circumstances should be the catalyst for Sally Capp and her new team to go bigger and bolder on making the CBD a vibrant, liveable and sustainable place. Closing entire streets to cars and opening them up to people is the lesson from other world cities.
It is more outdoor dining, wider footpaths, art installations, and fantastic events that will revive the city and help struggling businesses, not cheaper parking. It's time to go big on a car-free recovery and a return to a vibrant and exciting Melbourne.
---
Vaughn Allan is a Senior Transport Analyst at the Institute for Sensible Transport. He has a Bachelor (Honours) in Urban and Regional Planning from RMIT. He is interested in the complex ways transport policy is developed and is passionate about making Australian cities great places to live.
The Institute for Sensible Transport is a research and consultancy firm that specialises in transport innovation and sustainable mobility. We have been helping government clients for over a decade in everything from energy risk planning to city-wide bike share programs.