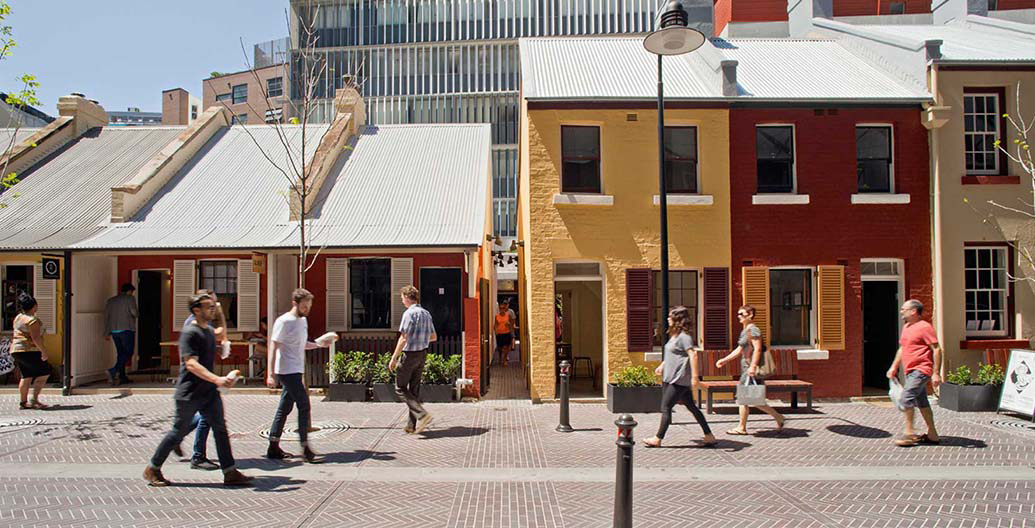 Street performer
Sydney has a new off-Broadway cultural venue. It's not strictly speaking a theatre, but it's about the theatre of street life.
Not many streets in Sydney have their own creative director, but Kensington Street in Chippendale is exceptional. Once a back lane of the Carlton United Brewery site, today it's a hub for the Chippendale Creative Precinct (CCP) — a nuanced ecosystem of galleries, creative businesses, restaurants and bars and the jostling, fragrant eat street of Spice Alley.
It's built around the brilliant adaptation of heritage warehouses and The Old Clare Hotel and connects Broadway to Regent Street. Curated by Nicky Ginsberg (CP founder), the calendar of events — from the BEAMS Arts Festival, Kensington Street Spring Delights and the Food, Alfresco Art and Design showcase, to Chinese New Year and the Lunar Feast — reflects inner-Sydney's shifting demographic.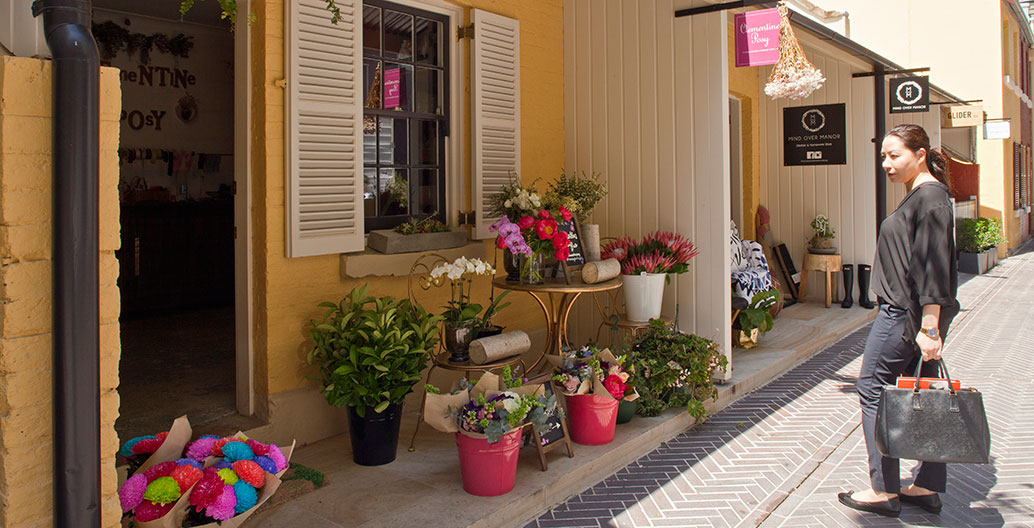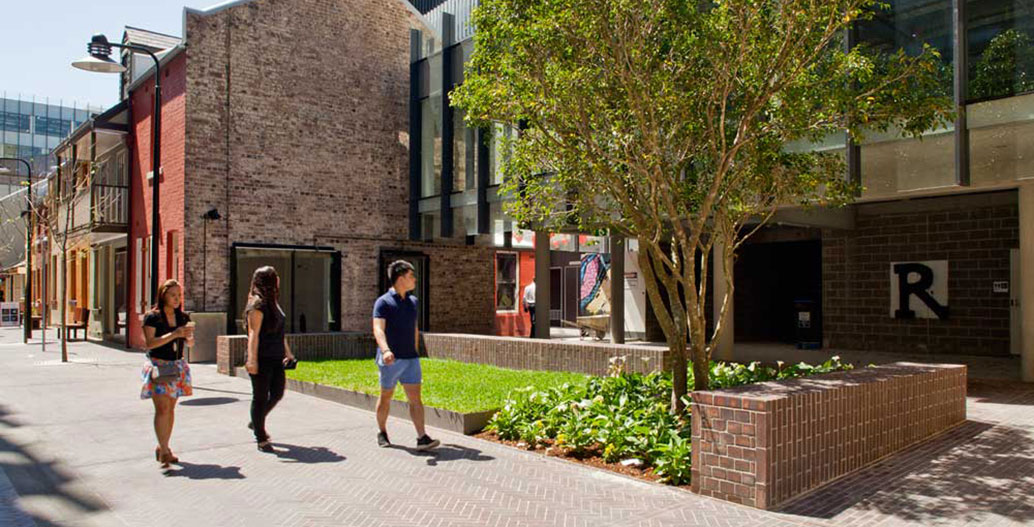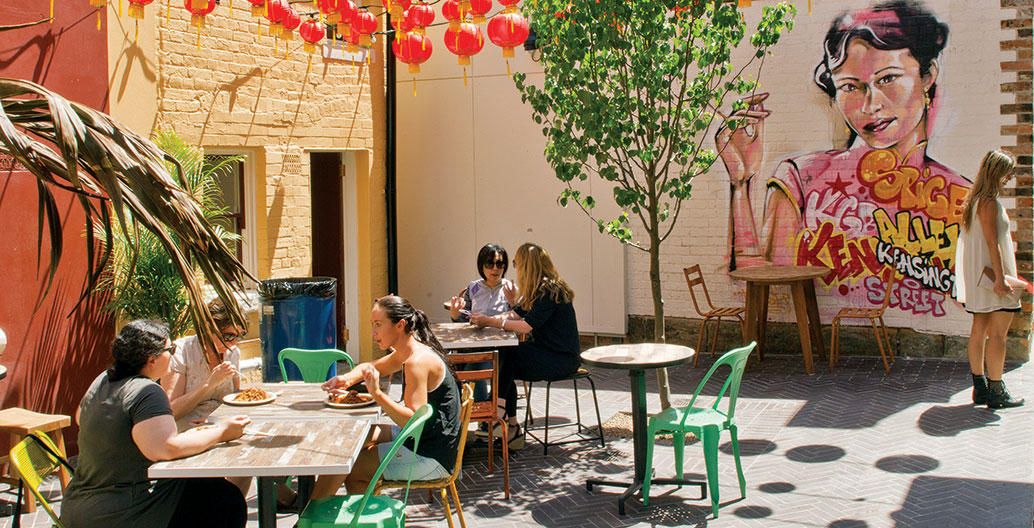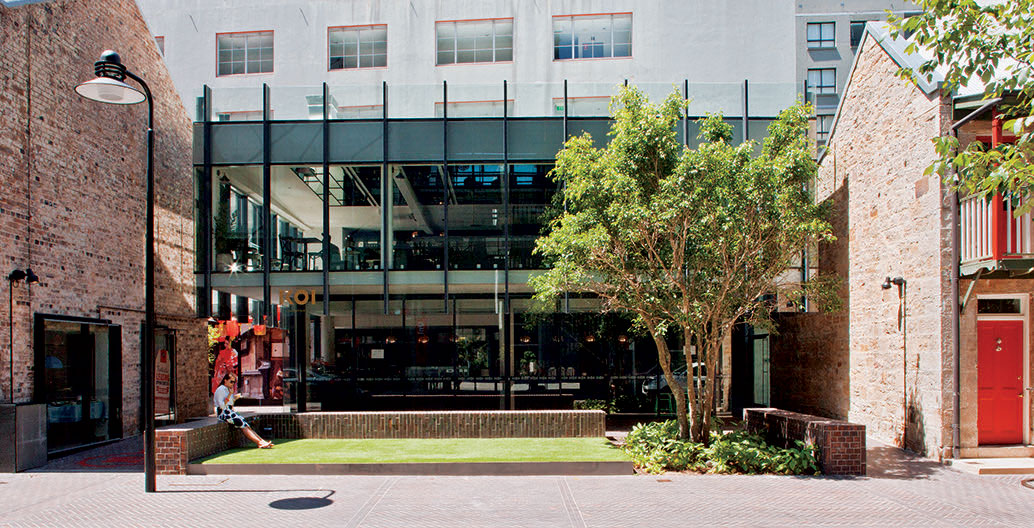 Kensington Street opened to the public in September 2015, and won a string of urban design awards in 2016, including Think Brick's Bruce Mackenzie Award for Landscape. The judges were unanimous in their praise of the brick-paved ground plane — a complex tapestry that's both beautiful and purposeful.
This streetscape is the work of Turf Design Studio and their long-time Danish collaborator Jeppe Aagaard Andersen, in close collaboration with Tonkin Zulaikha Greer Architects (TZG), who adapted The Old Clare Hotel. The heritage warehouses and terraces along this small strip make it an absolutely pivotal piece of Central Park — arguably Sydney's best urban renewal project in decades.
'Our brief was to make a public space that would weave together the new and adapted buildings on the eastern side, the reborn Old Clare Hotel on the west, Spice Alley and its terraces, and to use through-site links to Carlton Street to stitch it all back into the fabric of Chippendale via Central Park', says Turf director Mike Horne. 'Given the street's heritage and scale, we wanted to make a very specific and special laneway experience here — quite distinct from Central Park, which we also designed.'
Horne likes to distill a project down to its single defining element: 'A big idea that we do really well', he says. As Think Brick judge Guy Lake, from architectural firm Bates Smart, explains, 'The big idea here is to take a single material and use it to pull together an eclectic mix of buildings into a singular, well defined precinct. There is also a hierarchy of spaces from laneway to micro-laneway, and the brickwork uses subtle shifts in detailing and pattern to reinforce and define those separate spaces.'
These spaces include the road connecting Broadway to Regent Street, through-site links to Carlton Street and Central Park and the micro-laneways of Spice Alley. While the master plan had designated Kensington Street for pedestrians, Horne pushed for a shared zone to keep it an authentic working street. And his design deliberately compresses the carriageway. 'Friction (proximity) is vital in shared-street environments. The more you separate drivers from pedestrians, the faster the cars go, there's a lot of research on that', he says.
Motorists on Kensington Street face a sequence of physical and visual restraints, designed to slow drivers and constrain parking: a central granite dish drain (instead of kerb drainage), a loose avenue of trees with tall tree guards, and steel bollards as mandated by Roads and Maritime Services (RMS). Even the patterns of the paving are designed to keep drivers and pedestrians alert.
Having selected the ore-intensive Bowral Blue bricks for their steely, repellant sheen, Horne's team rotated the herringbone pattern 90 degrees to increase visual tension, 'that keeps people engaged'. Other visual cues are woven through the paving like borders in a rug. The old trachyte kerb has been re-laid to its original line, edged with a single row of bricks as a palimpsest. Expansion joints are marked with bricks in a double-stack bond row and most notably, the through-site links to Central Park are demarcated in a stretcher bond pattern that cuts through the herringbone like a crossing. Another Think Brick judge, architect Clare Cousins, noted how the small scale of the pavers allowed this variety of techniques to render so cohesively.
The tapestry of paving bleeds in and around the courtyards of cafes and restaurants on the strip. Street furnishing is kept to a minimum of working elements: steel bollards, lighting and alloy tree guards from City of Sydney's furniture palette and hardwood benches by Turf Design. A loose planting of deciduous ash trees softens the streetscape, signaling seasonal change and allows low winter sun into surrounding buildings.
Horne is a resident of Central Park and observes the street daily from his coffee stop at Kensington Street Social, the hotel's ground-floor bar and bistro. He says its success stems from the initial vision of developers (Frasers Property with Sekisui House Australia and Greencliff's Dr Stanley Quek), and the calibre of TZG's warehouse adaptions and taut new infill buildings – not just as architectural objects, but as catalysts for street life. In adapting The Old Clare Hotel (for Singapore's Unlisted Collection), TZG joined the corner pub with the former Carlton United administration block, and opened a through-site link to Carlton Street and Central Park at the juncture.
'It's lovely that the TZG could stretch the public domain through the hotel, which is actually private property… Making public domain is all about making connections, and the trick is to make that as interesting an experience as possible. We were all collaborating to touch lightly but decisively in forging something new from the old here.'
According to the critics, they got it right. Kensington Street not only won the Think Brick Award, but also a Landscape Architecture Award from AILA, and the 2016 Good Design Award for 'Best Overall' and 'Urban Design and Public Spaces' in Architectural Design, at which Stanley Quek is proud, but not surprised: 'Since opening a little over a year ago, Kensington Street is a hive of activity, buzzing from early morning until late at night with people of all ages and backgrounds exploring the street's dining and cultural offerings.'
This article was originally written for the second issue of Folio by Brickworks, due out mid October.