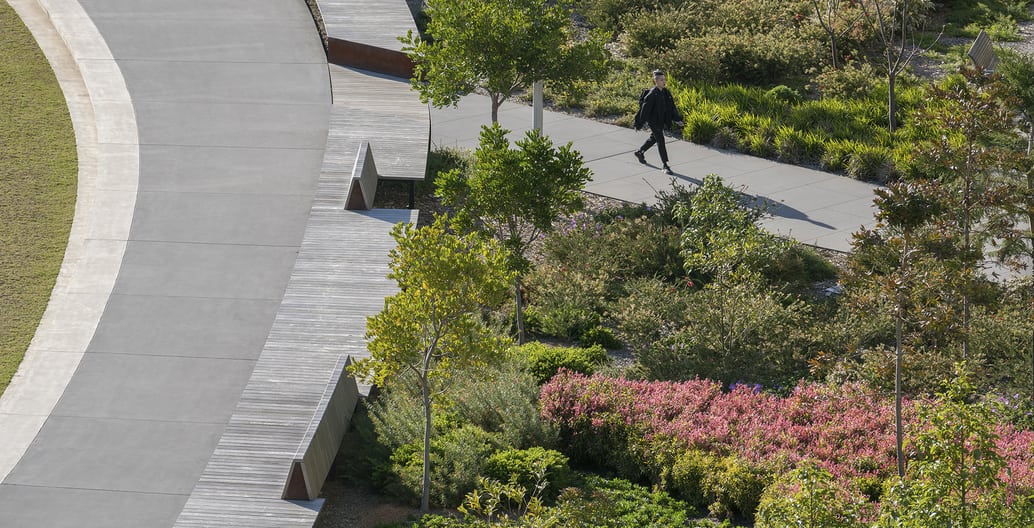 These five campus designs are changing the way students value university
The university campus is evolving, along with its relationship to the culture and economy of the city around it. The Victorian chapter of the Australian Institute of Landscape Architects (AILA) has recognised the ambitions of five campus designs from four universities in this year's awards.
The higher education sector is big business globally, and Australia has benefited from both the good reputation of its education providers, as well as it's friendly and safe cities, despite well-advertised problems a decade ago. University campuses compete to provide striking buildings that physically realise their aspirations for innovation and excellence. But external spaces, circulation, plazas, gardens and even car parks are powerful symbols and attractors. In something of a return to primitive ideals of education, outdoor learning and recreation environments are increasingly valued as places for personal development and where students might learn to 'safely participate in activities… [and] respect and value diverse environments'. This is as true of higher education as it is of other stages of study.
The word 'campus' literally means 'field' and the arrangement of buildings and open space that make up modern educational institutions play an important part in the life and culture – and marketing – of a university. Whether clearly bounded in one location or dispersed over many, urban or suburban, external spaces are an expression of institutional identity. Their quality, maintenance and user-friendly functionality attract students, researchers and donors. This year's AILA Victorian State Award winners included five campus projects from four universities across the categories of Civic Landscape, Parks and Open Space, and Urban Design.
The new campus as a public place of civil engagement
The campus has a long history in the development of cities as well as the growth of education, whether public or private, secular or religious. From a Greek ideal of healthy minds in healthy bodies, the ancient gymnasium – an open ground surrounded by porticoed structure – developed into a place of intellectual endeavour. It influenced the medieval European cloister, where religious orders pursued learning through pious reflection, recitation and the copying of texts. The cloister, in turn, provided a model for the secular 'quad', which continues to influence university architecture. However, the larger notion of a campus also draws on military discipline and the organisation and training of an army on the field. The evolution of Rome's Campus Martius, or Field of Mars, has similarities with the much later evolution of the university campus: from a defined site for the use of a particular community, to a busy urban centre of activities and entertainments marked by distinctive structures and inclusive urban design.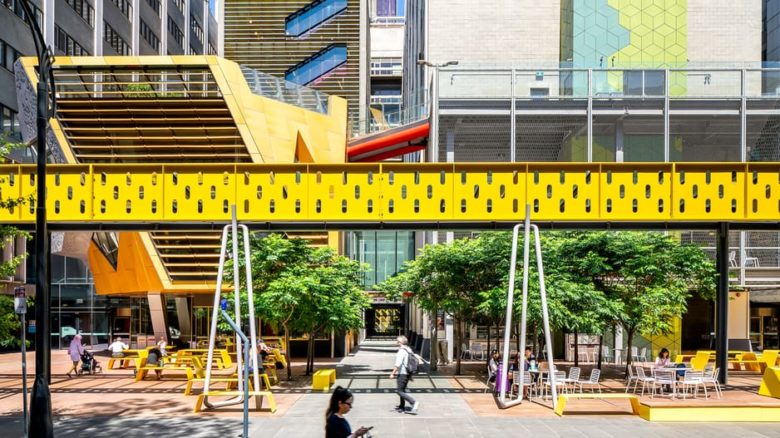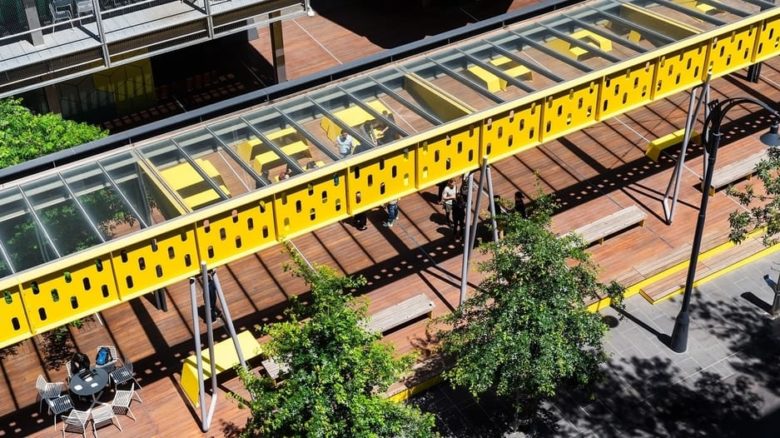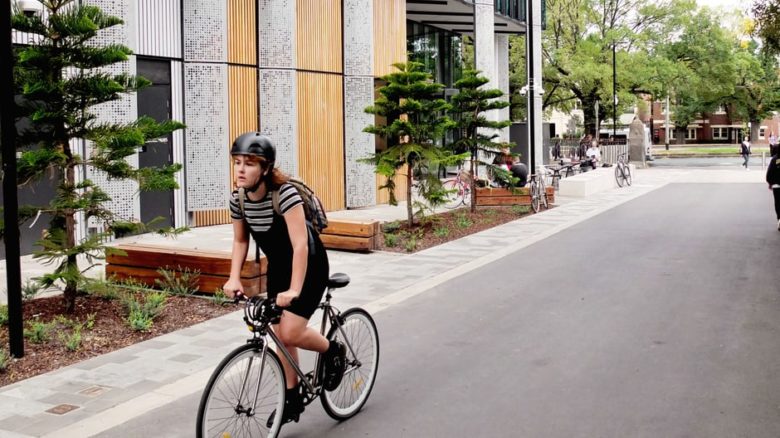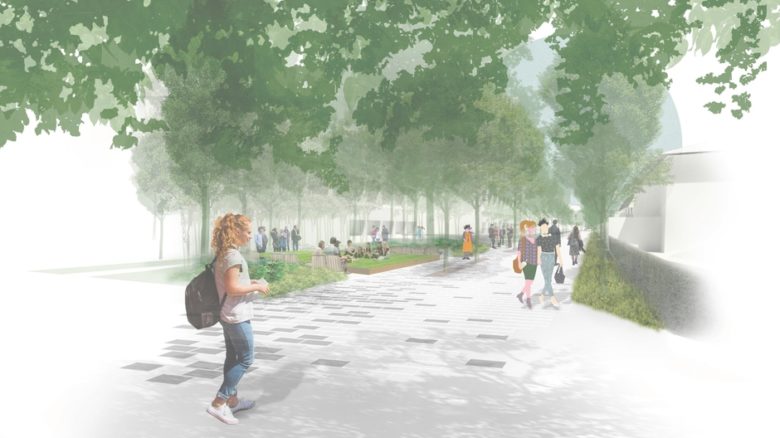 While there may be concerns over the increasing costs and accessibility of higher education for all, universities value their relationship with their city, its industries and communities, including local and foreign visitors. The 'publicness' of campus space and integration or even infiltration of the city into the campus, and campus into the city, is the happy aim of many urban campuses. RMIT's city campus has been guided over many years to invest in new building works and significant renovations. In procuring innovative architecture and distributing itself throughout the city of Melbourne, RMIT University contributes to what Emeritus Professor Leon van Schaik has observed in Design City Melbourne as 'a story of wonderful spaces'.
RMIT's New Academic Street is part of a coordinated multi-award-winning effort to make its urban campus more permeable and connected to the city – if not more like a city – as well as serve its students and academics better. Landscape architects Taylor Cullity Lethlean (TCL) worked in collaboration with a consortia of architects led by architects Lyons. As the AILA jury noted, 'student life is the primary focus', with the expectation of contemporary clients being met with 'new opportunities for events, social gatherings, food and beverage'.
A more modest project by Hassell saw the University of Melbourne's Tin Alley re-imagined as an active green spine. Tin Alley is a busy east-west thoroughfare through the northern part of a contained sandstone university campus founded on high ground just north of the central city in 1853. The alley provides necessary access to numerous vehicles. In an effort to reprioritise pedestrian and cycle traffic, the first part of works delivered at the western end on Royal Parade selects paving, seats and tree-planting that make it a far more attractive circulation route and even a place to linger. It links neatly to the entry of the new Life Sciences Precinct Bio Sciences building, also by Hassell.
Density and multi-functionality in a stickier campus
The external spaces of a campus play multiple, overlapping roles, from circulation of pedestrians, cyclists and cars, to teaching, learning and research, to recreation. These are all expected to perform safely, efficiently, and provide general amenity, ideally also with ecological benefit. This assumes that many people are present and active on campus, including the growing numbers of students. This assumption has been challenged in recent years by technology that allows students to participate in their education remotely. To an extent, any campus works must consider both how to attract students and also how to keep them there.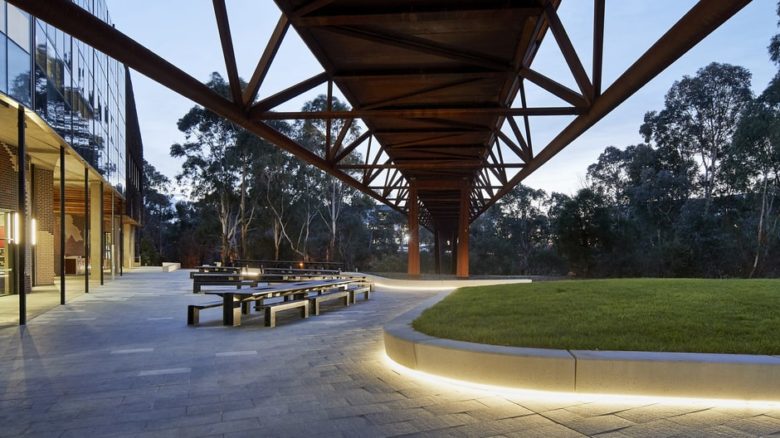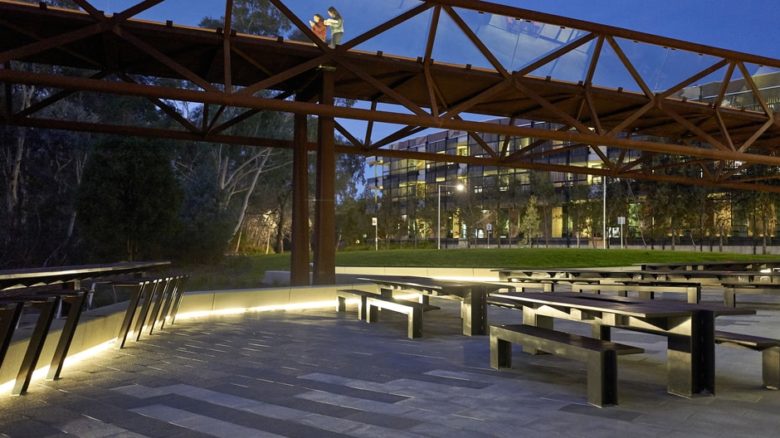 Perhaps counter-intuitively, GHD Woodhead's Building HD Courtyard at Deakin University uses 'minimal elements – tables, benches, seating walls, lighting and quality paving', as the AILA jury describes, to encourage a wide range of uses. The dramatic span of a pedestrian bridge provides shade and views to a space large enough to hold major events, but with embedded data and electrical points to attract sole students or groups to 'plug-in and stay'. The jury noted twice the 'civic' nature of this 'previously undertutilised space', pointing perhaps to anticipated interaction with a wider public context. But while potentially attracting the general public, the civic-ness here – as with RMIT's New Academic Street – is also part of a 'sticky campus' approach. This means keeping students on campus in between or despite classes, by providing digital facilities such as superior wi-fi and an environment that feels inviting, secure, comfortable and flexible. The more a space does, the stickier it will be!
The 'bush campus' reconsidered
Bush campuses or learning spaces are often rural annexes to urban campuses, established for particular training in ecology, environmental sciences or agriculture, or for the exposure of students to natural environments. The links between particular remnant or revegetated ecologies and indigenous peoples are also increasingly appreciated as a source of further respect and mutual learning. Most recently, Australian universities including Curtin University and Macquarie University are pursuing on-Country 'bush' study in collaboration with Noongar and Ngukurr elders respectively, recognising the value of traditional knowledge.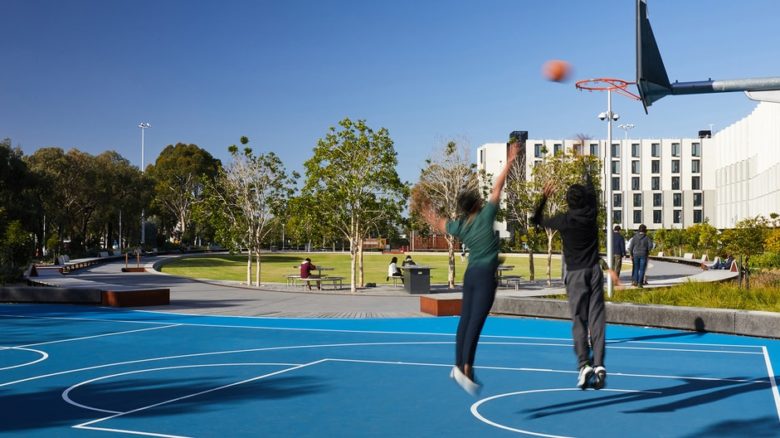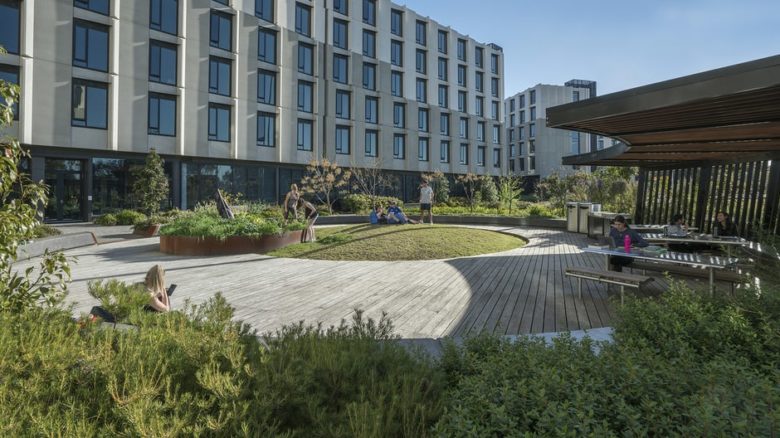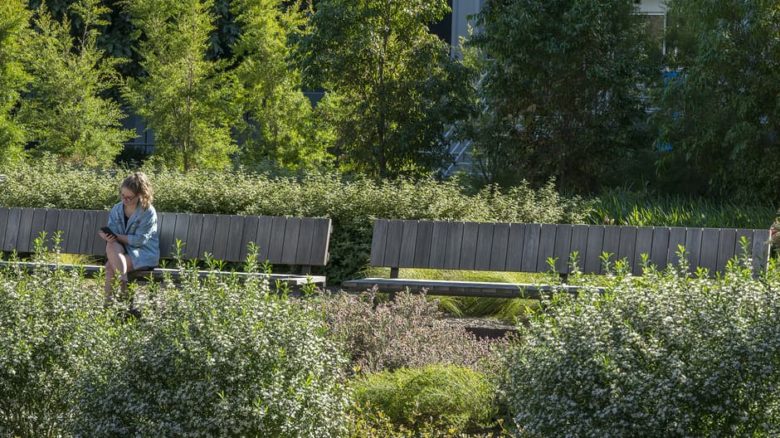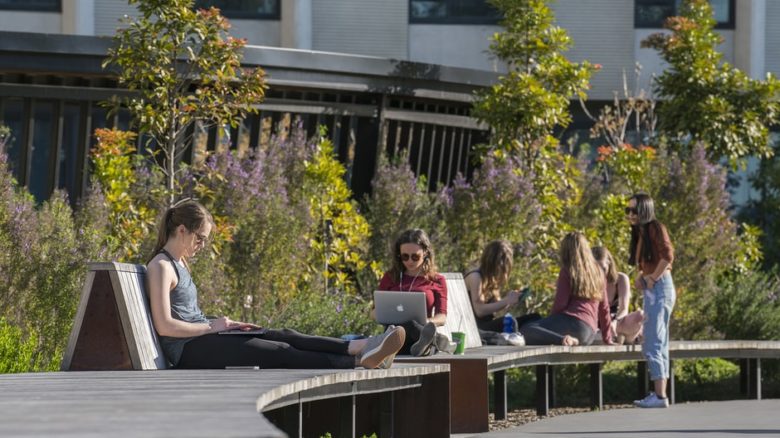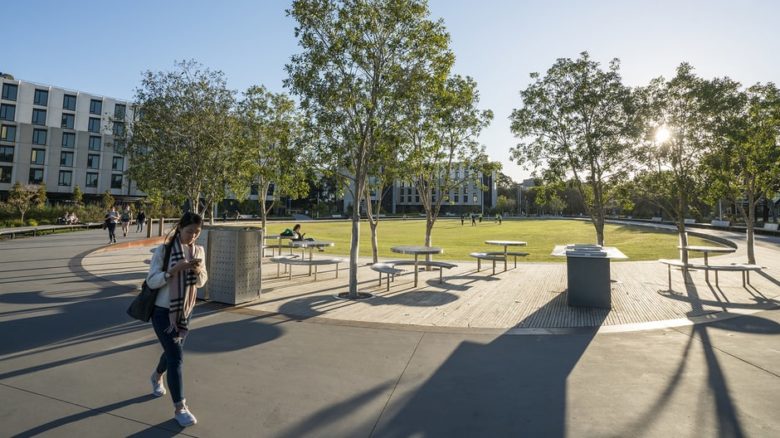 Arguably, institutional appreciation of indigenous landscapes and ecologies began with native planting from the 1960s, following the establishment of the Society for Growing Australian Plants (SGAP) in 1957. Early campus gardens reflecting its objectives of 'preservation by cultivation' include the Ellis Stones garden at the University of Melbourne. The founding of Monash University in outer-suburban Clayton in 1958 presented an opportunity to radically rethink campus vegetation. Thanks to Professor AJ 'Jock' Marshall who was Foundation Chair of Zoology and Comparative Physiology and a keen naturalist, Monash pursued a commitment to native species that remains part of their sustainability development policy and has been responsible for some notable campus landscapes.
Monash University is Australia's largest. With the first intake of students it became the first university established in the state for over 100 years and, although traditionally located on a defined site, it lay 20 kilometres south-east of Melbourne and had been designed to accommodate the car. Both TCL's Eastern Precinct Landscape and Rush Wright Associates' (RWA) Western Precinct Landscape received awards for tackling aspects of this mixed legacy of car-dependence and native ecology. TCL's Awards of Excellence built on the strong tradition of native planting, with the AILA jury 'thoroughly impressed with the development of rich, multi layered, Australian temperate forest planting'. The Eastern Precinct Landscape also contains accommodation so that public spaces needed to consider a resident community.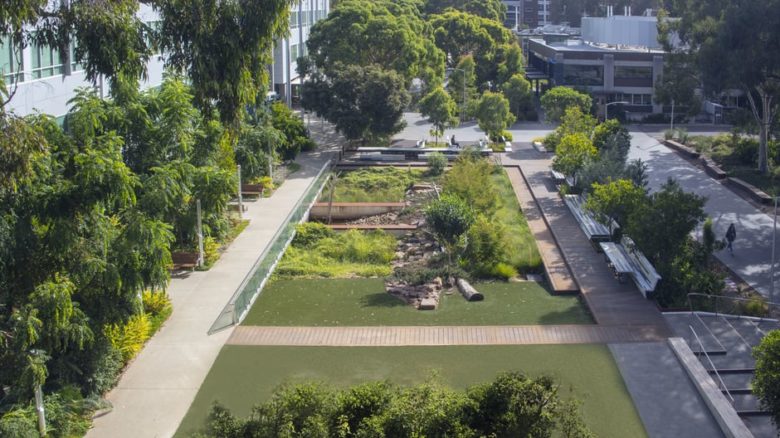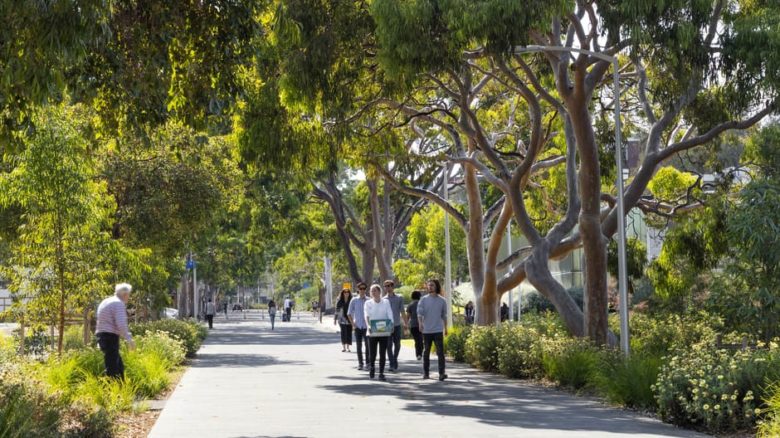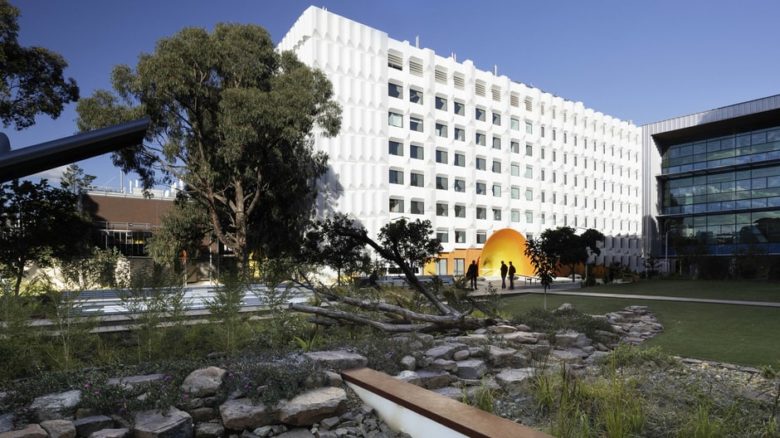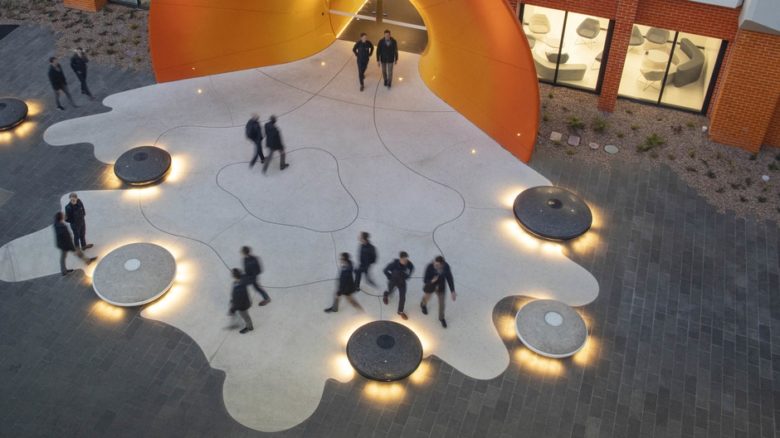 The Monash University Western Precinct Landscape by Rush Wright Associates was a two-stage development focused on water and a key pedestrian experience. The focus on water came at the peak of the Millennium Drought. Stage one was adjacent to the CRC for Water Sensitive Cities within the Science Technology Research and Innovation Precinct (STRIP). It embedded water research in the form of an artificial wetland and swale, into a contemporary 'living laboratory'. The same approach to learning landscapes can be seen in RWA's award-winning Earth Sciences Garden also at the Clayton campus. The stage two pedestrian improvements meet the dramatic new sculpted entrance by Kosloff Architecture, artist Callum Morton and Monash Art Projects. The continuation of Innovation Walk has integrated art, architecture and landscape, creating, the jury noted, 'a distinct landscape space, with curved edges relating the design to [Morton's] The Spill'.
As RWA observes of their Monash University Western Precinct projects, 'landscape architecture can, in itself, be a "thing of knowledge"'. The wealth of innovative campus landscape designs and redesigns continues and reinvents valuable traditions. The winning educational space projects of this year's Victorian AILA awards range from modest thoroughfares to reimagined civic spines to whole precinct redevelopments. Educators and students alike appreciate the stimulus and comfort of quality outdoor environments, while investment is also expected to pay off in one of the fastest growing industry sectors in the country. But the pursuit of ambitious, exploratory education landscapes is also a mission that reflects a human hunger for beautiful and accessible shared spaces for reflection, engagement, debate and fun.
_
AILA Victoria Landscape Architecture Awards winners 2019:
The 'Landscape Architecture Award of Excellence', AILA's highest honour for projects judged to be the most significant for the advancement of landscape architecture in Victoria, were presented to 8 projects illustrated below. 'Landscape Architecture Awards' were presented to 19 projects. In total, 27 awards were announced through 13 categories.
View the full list of award-winning landscape architecture projects below and read citations from this year's Victorian Landscape Architecture Awards HERE.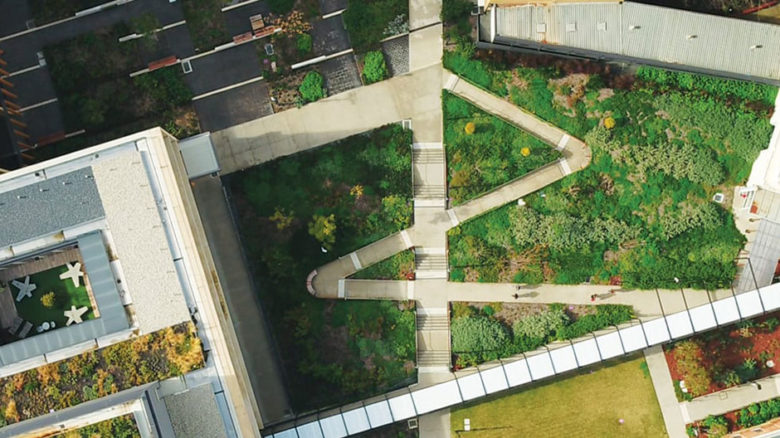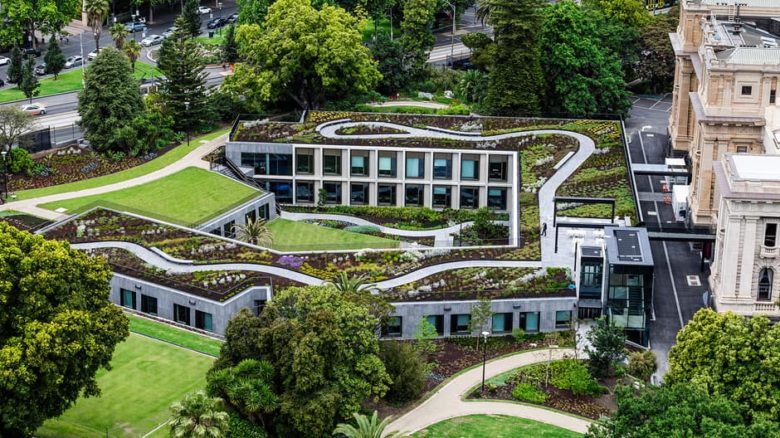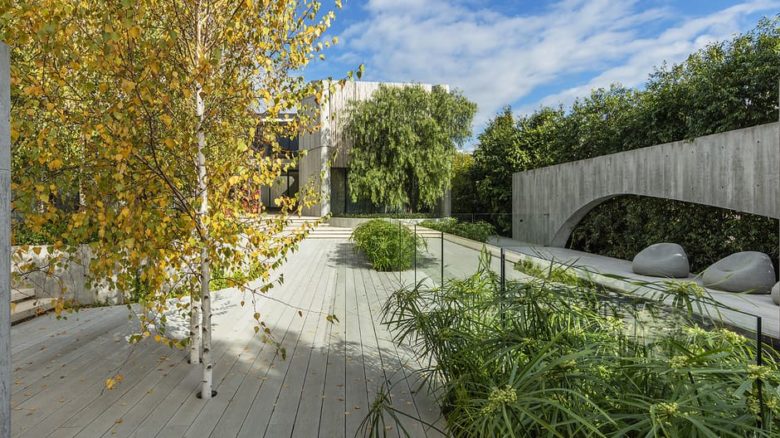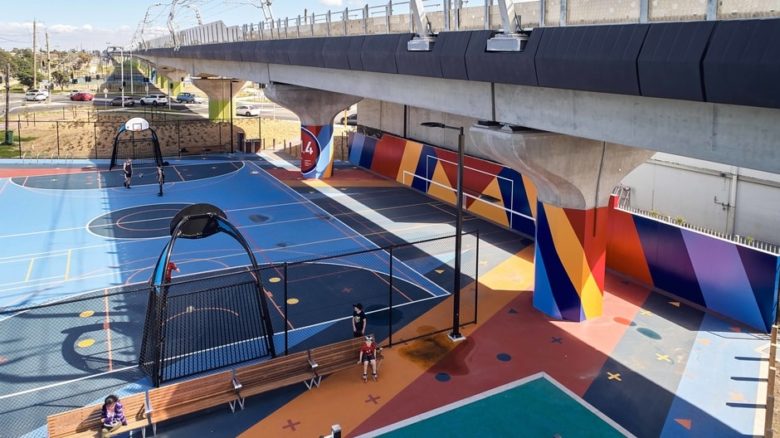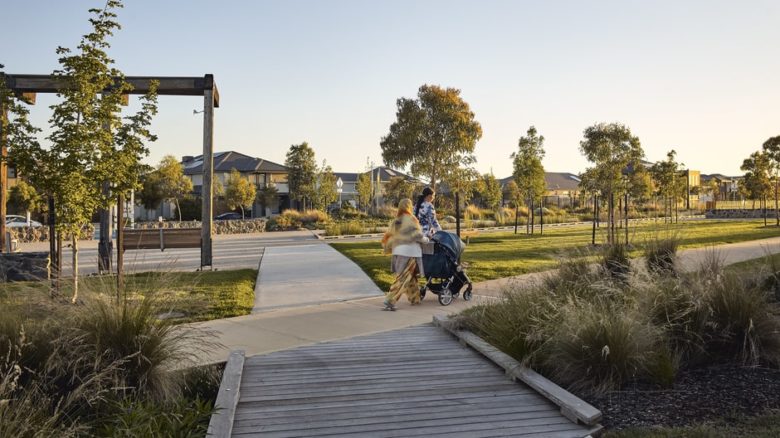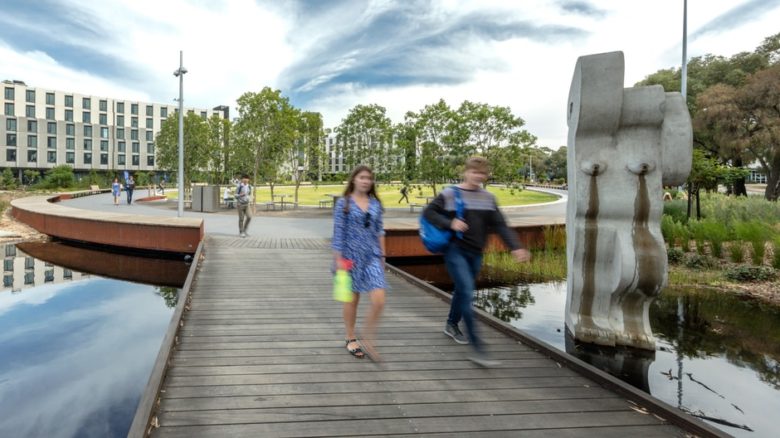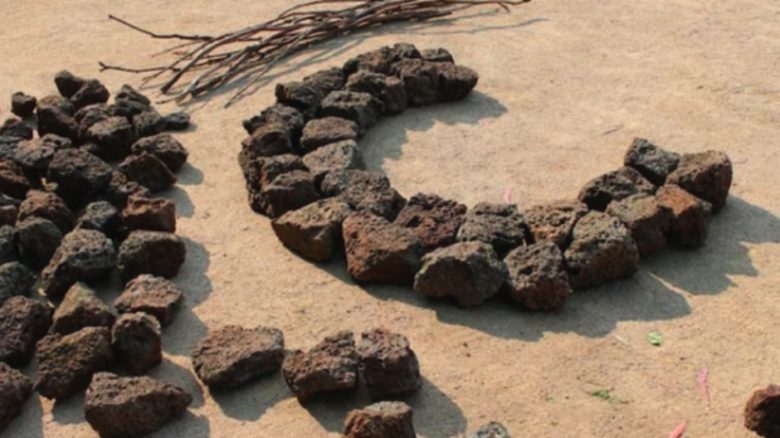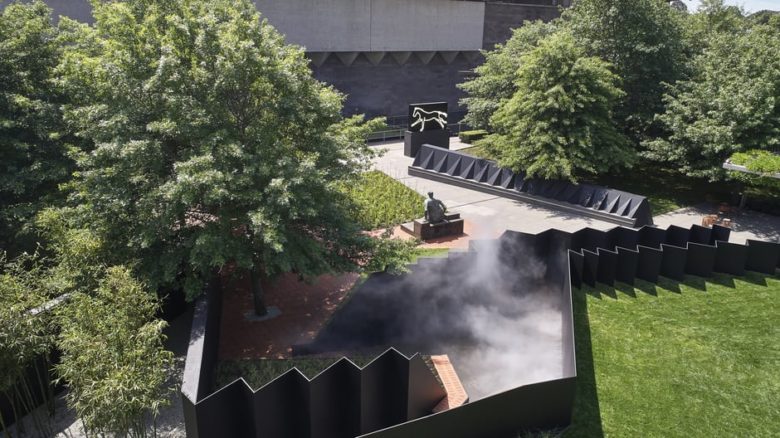 Civic Landscape sponsored by Brickworks:
Award of Excellence
Bendigo Hospital Project by OCULUS Landscape Architecture + Urban Design
Landscape Architecture Award
Malop Street Green Spine by Outlines
RMIT New Academic Street by Taylor Cullity Lethlean
Deakin University: Building HD Courtyard by GHDWoodhead
Community Contribution sponsored by the Built Environment Channel:
Landscape Architecture Award
Goulburn Valley Health Therapeutic Courtyard by Spiire
Cultural Heritage:
Award of Excellence
Parliament of Victoria – Member's Annex Landscapes by Taylor Cullity Lethlean
Landscape Architecture Award
Mount Buffalo Chalet Gardens Conservation Management Plan by Inspiring Place
Gardens sponsored by Lawn Solutions Australia:
Award of Excellence
Twig House by Taylor Cullity Lethlean
Landscape Architecture Award
Bendigo Botanic Gardens – Garden for the Future by Taylor Cullity Lethlean
Infrastructure sponsored by ACO:
Award of Excellence 
Caulfield to Dandenong Level Crossing Removal Project by ASPECT Studios
Land Management:
Award of Excellence
Greening the Pipeline- MOS Pilot Park by GHDWoodhead
Landscape Planning sponsored by Glascott Landscape and Civil:
Landscape Architecture Award
Woowookarung Regional Park Plan by Site Office
Streets for People Feasibility Study by Hansen Partnership
Moonee Ponds Creek Opportunities Plan by McGregor Coxall
Parks & Open Space sponsored by Street Furniture Australia:
Award of Excellence
Monash University Eastern Precinct Landscape by Taylor Cullity Lethlean
Landscape Architecture Award
Lewis Park by McGregor Coxall
Caulfield to Dandenong Level Crossing Removal – Linear Parks and Djerring Trail by ASPECT Studios
Play Spaces sponsored by LARK Industries:
Landscape Architecture Award
Bridge Road Regional Playspace by ASPECT Studios
George Pentland Botanic Gardens playspace by Leaf Design Studio
Research, Policy & Communications:
Award of Excellence
ReCasting Terra Nullius Blindness by Deakin University
Landscape Architecture Award
Spiire Inclusive Cities Research Project by Spiire
Small Projects sponsored by Metro Trees:
Award of Excellence
Doubleground by Openwork and Muir Architecture
Landscape Architecture Award
Turner Street Vertical Garden by Simon Ellis Landscape Architects
Tourism sponsored by City of Melbourne:
Landscape Architecture Award
Jackalope Hotel by Taylor Cullity Lethlean
Pt Leo Estate Sculpture Park by HASSELL
Urban Design sponsored by WE-EF Lighting Australia/NZ:
Landscape Architecture Award
The Tin Alley Masterplan by HASSELL
Monash University Western Precinct Landscape by Rush Wright Associates