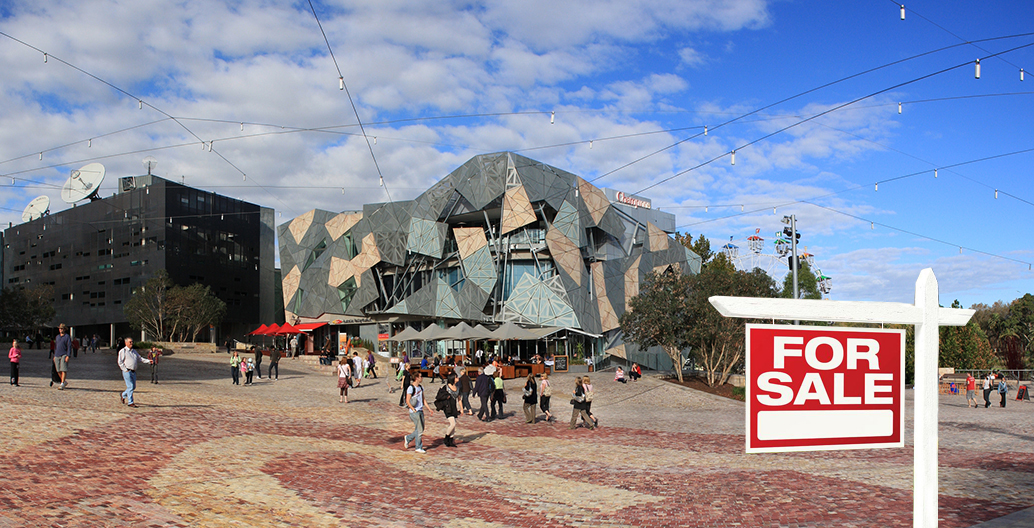 Fed Square for sale
If recent reports are true, Apple is moving close to a deal with state government to set up a megastore in Melbourne's Federation Square. The government, it seems, doesn't understand the difference between a town square and a shopping mall.
By Fed Square's own account Federation Square is an enormous popular success. In 2015 it was named 'the sixth Best Public Square of the world, in a list of top ten international icons'. Since opening in 2002, its visitor numbers have steadily risen, now seeing more 10 million visitors a year. That's a couple of million more than the Sydney Opera House. It should be no wonder that the world's largest and richest tech company would like to get a piece of that action.
Neither state government nor Federation Square Management will confirm the recent Fairfax and News Ltd reports. However, while the Minister for Tourism and Major Events told Foreground that the subject was little more than "speculation in the press" and Federation Square Management said it is "unable to comment on these reports", the fact that neither has denied the claims, speaks volumes.
Why this matters goes to the heart of what makes a city something more than an aggregation of real estate. Federation Square is not just a brand or logo. It is Melbourne's town square – arguably the city's first truly public ceremonial space and undoubtedly the first square that Melbourne's residents and visitors alike have truly embraced.
If cities are an expression of a society and its values, then city squares are a unique condenser of those values. That's why when you look at Red Square, Trafalgar Square or Times Square, each can be read as a portrait of Russia, England or America. It is not by accident that Egypt's 2011 revolution was born in a square, which has been known variously as Liberation Square, Martyr Square and Tahrir Square. Across continents, cultures and political regimes, squares are where the public comes together, to celebrate, protest and unite.
Robert Hoddle knew this back in the 1830s, when he laid out the street patterns of Melbourne. He did a pretty good job, providing for wide avenues that allowed for generous tree planting and a clear legible structure for the new colonial town to grow into. Yet, while he set aside land for general government purposes, he did not reserve land for public gatherings. This was not an oversight. He was forbidden to provide public squares in new towns, by a jittery colonial government that was barely in control of its citizens, on the grounds that squares "encouraged the spirit of democracy".
Thankfully times have changed. That spirit of democracy is now alive and well at Federation Square, as it hosts farmers' markets and music festivals, protests about ABC cuts and cooking tips from George Calombaris, victory laps of sports legends and fireworks at new year. Bikie outlaws, Tibetan monks and marriage equality advocates don't protest on Collins Street, or even outside Parliament. They come to Federation Square, because nowhere is the expression of democratic freedom more powerful than in the town square.
Melbourne's CBD has over 600 hectares of land where you can set up shop, open a business, sell your goods. It's what everyone else does, from K-Mart to Louis Vuitton. The city is not full.
Federation Square is full. It was designed by Lab Architecture to carefully balance a series of large cultural institutions, supported by a ring of small eateries, and a big open space in the middle. This is why, for Apple to open a megastore, someone else will need to be kicked out, and the bulldozers will need to move in.
Smoke signals currently point to Yarra Building, on the southern boundary of the square. This is not good news for the Koorie Heritage Trust, which moved in five months ago. For 12 years the Koorie Heritage Trust languished on the edges of the city on King Street, neighbour to strip bars and cheap backpacker digs. It survived arson attacks, graffiti and minimal drop-in visitors. When finally given a new home in Federation Square, chief executive Tom Mosby was rightly relieved and proud. This wasn't just a change of address. As he said at the time, "This is about us being right in the centre and prominent, and that we're part of 21st century society." The doors opened to a performance piece, fittingly titled The Aborigine is Present.
Unfortunately, if the government turns Federation Square into Apple Plaza, it might be time for the Koorie Heritage Trust to pack its bags again, to make way for the one brand for which Collins Street is not good enough.
Perhaps Apple has whispered sweet nothings to government, about how their megastores around the world are the new churches of a smart economy. But foisting a big glass shop window in the middle of Melbourne's prized public heart, speaks less of architectural iconography, than of the symbolism of entitled, multinational experts in tax avoidance, who know that anything can be bought, for the right price.