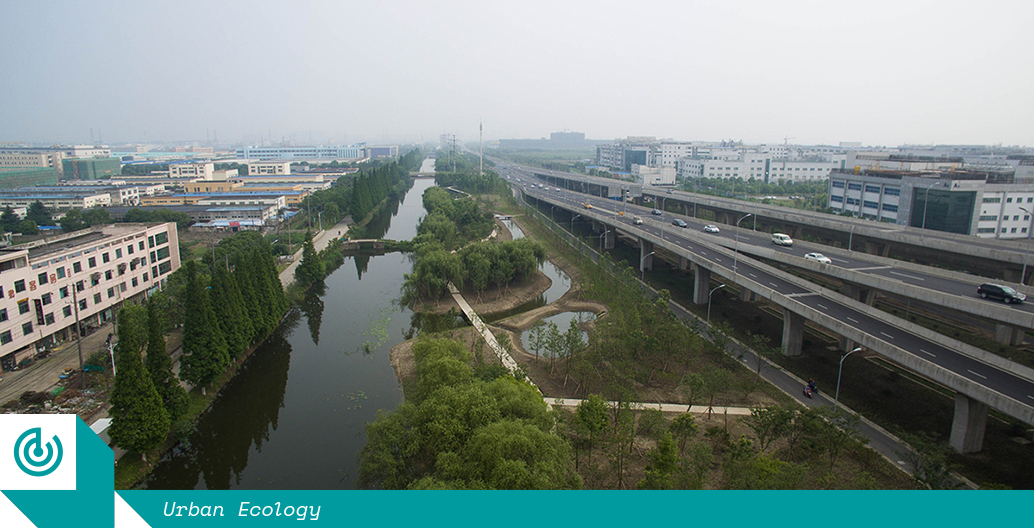 The big soak: China's sponge city program
China has 19 percent of the world's population, yet only six percent of its total fresh water, making the supply of clean water to its 1.4 billion people a growing daily challenge. In response, the Chinese government has declared that water is of the highest priority to China's built infrastructure.
The rapid, large-scale urbanisation of China over the past quarter century has had a major impact on the water systems it depends on for survival. The ancient Chinese landscape has been transformed into an almost endless city, often draped indiscriminately across catchments, wetlands, water ways and other natural areas. As a result, the country's 662 cities have recently been affected by severe water crises, as periodic flooding and drought have become widespread.
2013 was a particularly bad year. More than 230 cities were affected by heavy flooding, triggering widespread concern across China. With climate change threatening to exacerbate these problems and bring even more extreme weather, the Chinese government has embarked on an ambitious "sponge city" initiative: a program for addressing large scale water management issues. The new program has emerged from political discussions in Beijing that have engaged environmental and landscape architectural professions, with the potential to result in positive change in the nation's urban policy.
The theory behind this sponge city initiative is simple enough: design urban landscapes as active systems that soak up excess rain to improve waterway health and mitigate flooding. When a storm event has concluded, stored water can then be "squeezed" out of the system for reuse. With a focus on permeable green infrastructure replacing impervious grey engineering, a sponge city retains water for reuse within its own boundaries. The recycled water can be used to sustainably recharge depleted aquifers, offset potable water demand, supply industry and for irrigation of urban farmland.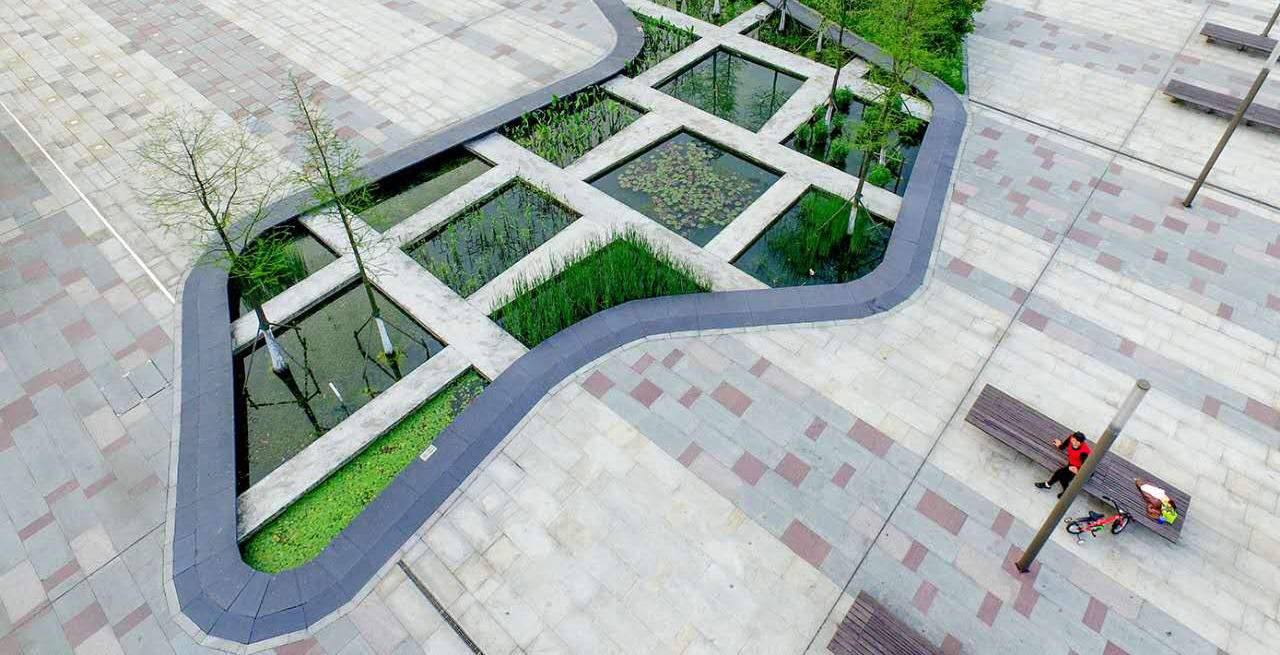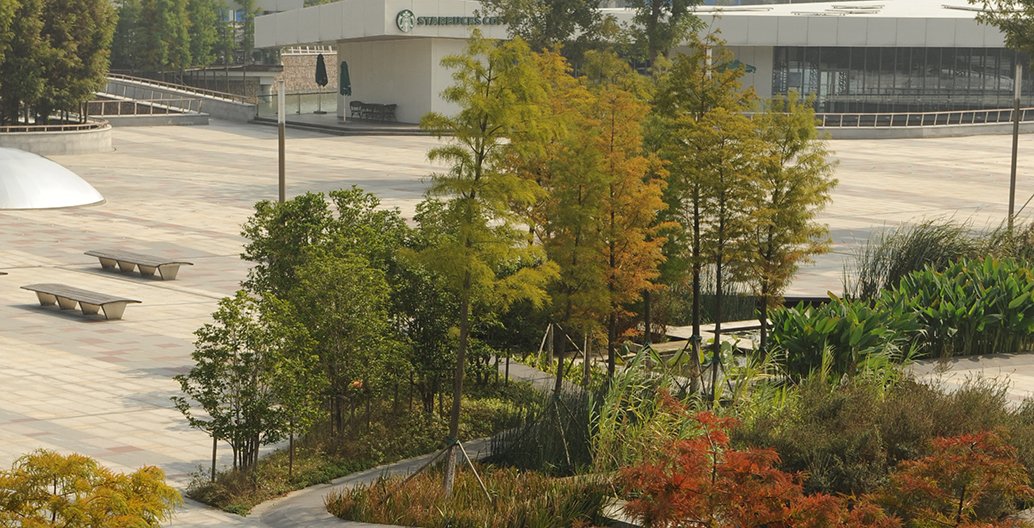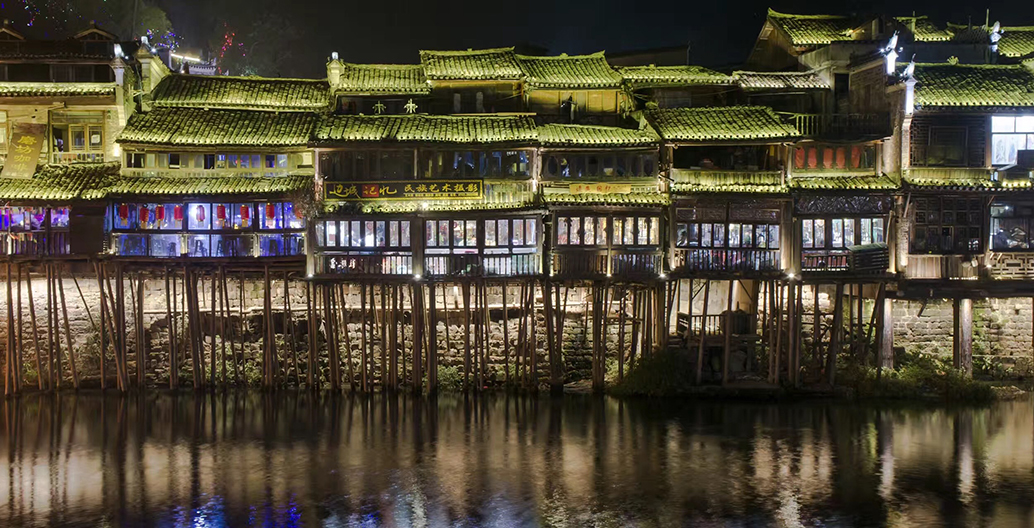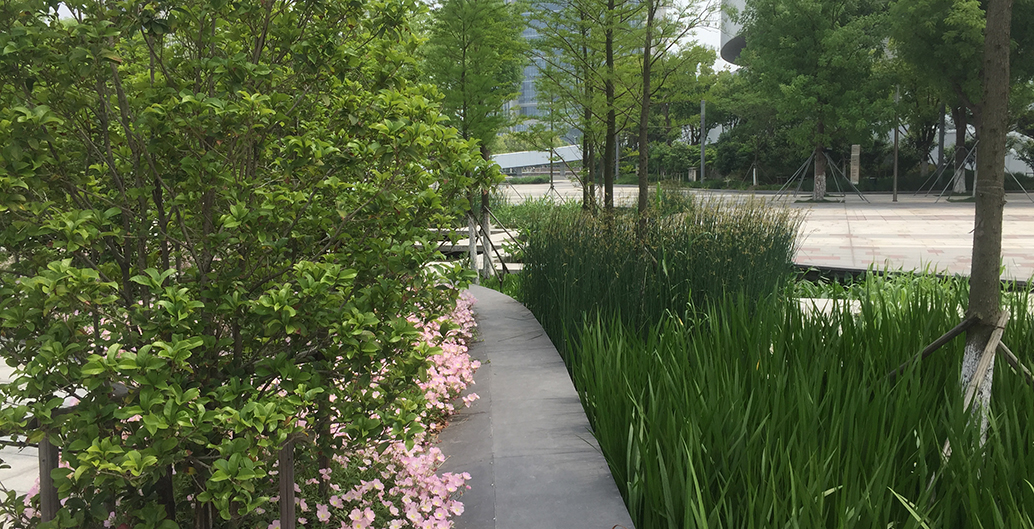 This idea has its origins in similar international water management programs such as Australia's Water Sensitive Urban Design programs (WSUD), the United States' Low Impact Development (LID) and the United Kingdom's Sustainable Drainage Systems (SuDS). Together, these programs have been designed to improve urban ecosystem functions, increase resiliency to climate change and reduce carbon intensity.
Following this example, the Chinese government has called for the redesign and retrofitting of existing urban areas to incorporate best practice WSUD and for new development to incorporate the latest landscape design thinking in green grids and water technologies.
What distinguishes China's sponge city strategy from its international counterparts, however, is the scale of the challenge. The environmental problems of China have become a national focus for citizens, with air and water pollution attracting widespread social media coverage on platforms such as Wechat. According to The Guardian a recent Chinese government report has found "More than 80% of China's underground water drawn from relatively shallow wells used by farms, factories and mostly rural households is unsafe for drinking because of pollution".
China's problems don't end underground. According to Greenpeace, there are now millions of Chinese people living in cities with air pollution that exceeds emergency levels for a third of the year, while some regions have encountered year-long periods with almost no days of good-quality air. Fine particulate matter from industrial smog has been shown to cause lung cancer and respiratory disease. Rainfall is therefore often unsafe to drink due to dissolved emissions from air pollution and other forms of contamination from industrial waste flows, urban runoff and sewerage system overflows.
In summary, widespread water pollution is damaging human health and negatively impacting ongoing economic growth and prosperity. Estimations of the likely cost of environmental repair run into the trillions of yuan.
For these reasons, the 13th Five-Year Plan (2016–20) of the Chinese government has escalated water conservation to the highest priority of the nation's built infrastructure. Water resource management, aquatic ecology remediation and environmental protections for water are all outlined as a national focus. To complement the plan, the Ministry of Housing and Urban Rural Development (MOHURD) alongside the Ministries of Finance and Water jointly released the "Construction Guideline for Sponge City" at the end of 2014.
Over the next three years, the government will allocate cities and local governments funds for sponge city construction. High targets have been set, such that by 2020 more than 20 percent of urbanised areas will meet national sponge city objectives and requirements.
Recent success stories include one small Chinese city that has become the posterchild for the Sponge City movement, thanks to significant ongoing guidance from the Monash University CRC for Water Sensitive Cities (CRCWSC). Kunshan, near Shanghai, has more than 1.6 million residents and has recently been awarded the title of National Ecological Garden City.
The landscape of Kunshan is a typical polder typology, consisting of low-lying land enclosed by dikes. It has no connection to other groundwater sources, except through diverted rivers or engineered canals. Due to the influence of the CRC, the city has introduced an incentive scheme to foster implementation of water sensitive practices in private sector development. The scheme offers developers gross floor area bonuses if green roofs, WSUD and vegetated cover are included, in line with Kunshan local sponge city policies. This has led to the implementation of a number of innovative projects.
During Australia Week in China 2016, I accompanied Chinese government officials to review two other pilot sponge cities, Xiamen (Fujian Province) and Jiaxing (Zhejiang Province). These projects demonstrate that China is taking the program very seriously and considers improvements to urban flooding and pollution as imperatives to increased prosperity.
Encouraged by such sponge city initiatives, as well as a growing awareness of wetland preservation, the Asian Development Bank and the Port of Tianjin together embarked on an international design competition to design a wetland bird sanctuary on a degraded land-fill site in the Lingang area of Tianjin near Beijing.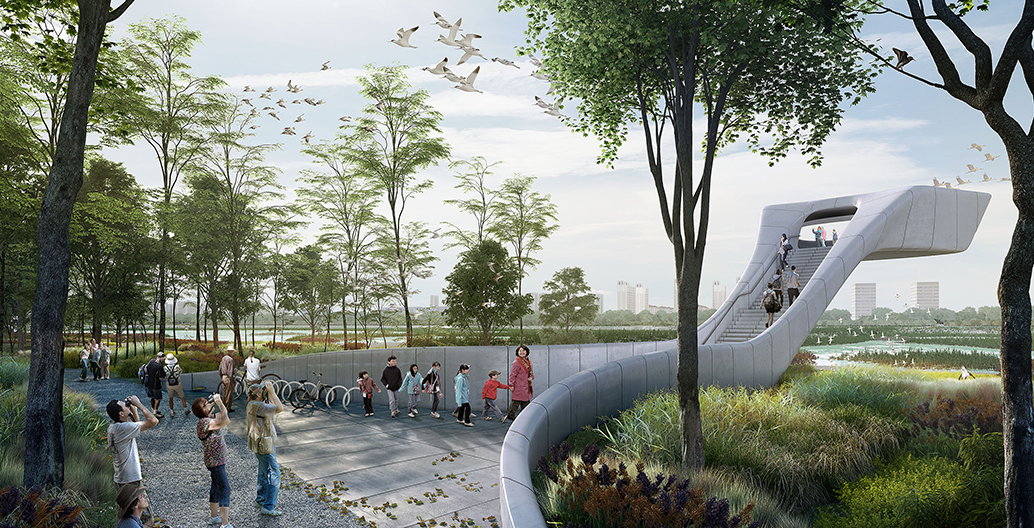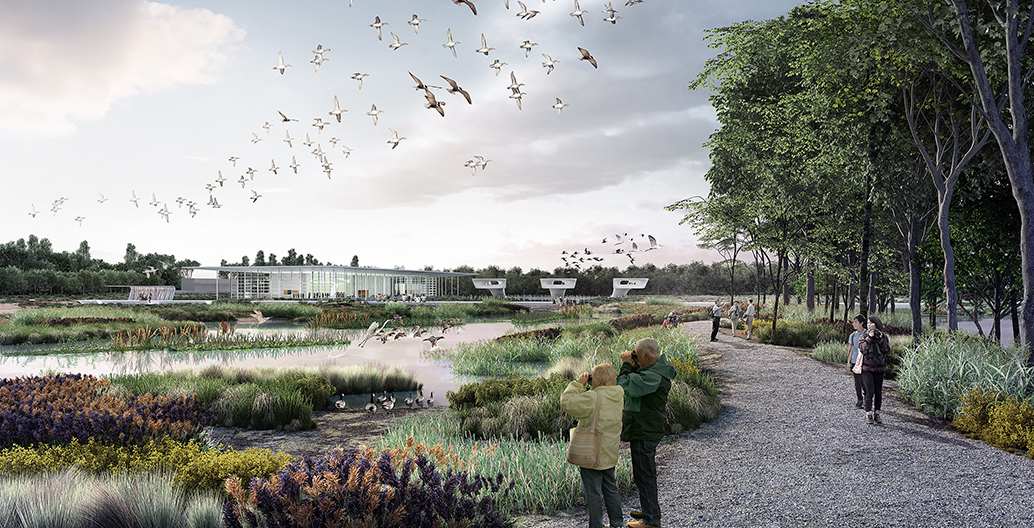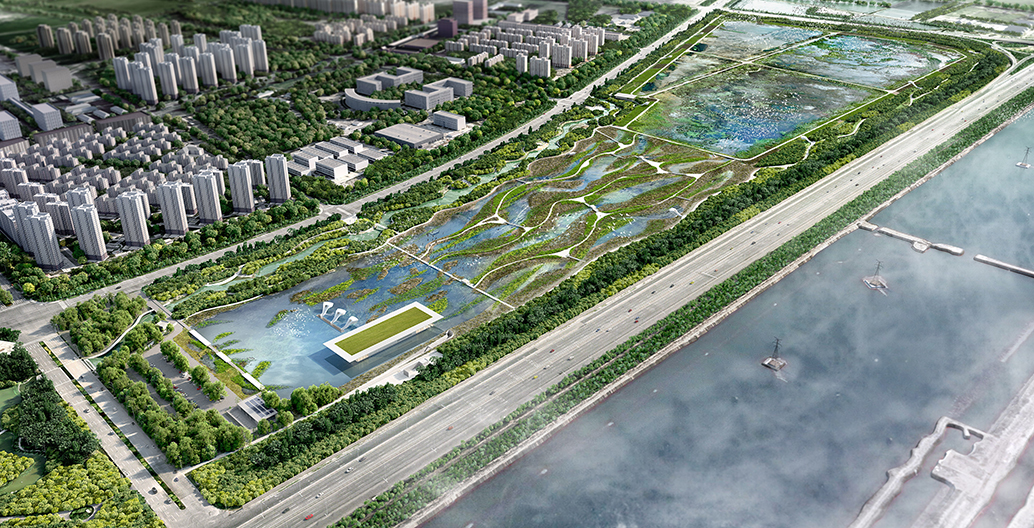 Our landscape architecture practice was awarded first prize with a design proposing not only the world's first migratory "Bird Airport", but also a wide range of water, ecosystem, cultural and education outcomes. The project is underpinned by our cloudburst design principles, which are designed to mitigate water scarcity, flooding and stormwater pollution. Through the use of Integrated geospatial data, 3D terrain modelling and 3D hydraulic analysis, we create science-based land-use capability mapping to support masterplanning services. Importantly, the project aims to increase critical wetland bird habitat on the shores of China's Yellow Sea.
Each year, tens of millions of birds fly along one of eight global north-south "fly ways". Of these, 50 million birds make that return migratory journey along the East Asian-Australian Flyway (EAAF), seeking food and shelter. Yet the EAAF is now the world's most threatened fly way, due to the loss of bird foraging habitat to coastal urbanisation. One in five globally threatened waterbirds, including the Black-Tailed Godwit, fly the EAAF, but they are suffering rapid declines in population.
The masterplan recognises the importance of the site both to China, Australia and the earth's ecosystems, by proposing a 60-hectare wetland park and bird sanctuary. With some birds flying non-stop for more than 11,000km and up to 10 days without food or water, the airport will be a crucial refuelling and breeding stop on the EAAF.
Part of a green necklace of new parkland for the city of Tianjin, the Bird Airport will deliver green infrastructure, including constructed wetlands, parkland and urban forest. Renewable energy will be used to move recycled waste water and harvested rain water through the wetlands. Public facilities include wetland trails, a lake loop walk, cycle circuit and forest walk, making up a seven-kilometre recreational nature trail network.
The project will amplify China's growing role as a hot spot for international migratory bird research and function as a pilot project in the national sponge city program. The project includes an education and research centre, called the Water Pavilion, and will cater for an anticipated 500,000 annual visitors. The centre will be digitally connected to cameras in 14 bird hides for monitoring bird life, while the wetlands will be fringed by a 20-hectare forest, to protect the birds from the intrusion of nearby urban development. The project is expected to begin construction in late 2017 and be completed by 2018.
While sponge city developments such as this, alongside Monash University's CRC at Kunshan and other emerging initiatives, represent the beginning of a new way of thinking, their effectiveness may be hampered by the government's tight control of mapping and city survey data. Accurate modelling of flooding and storm water is patchy, often making project design work reliant on estimations rather than evidence-based approaches. The government has set some ambitious targets, but these targets require a change in attitude towards open data for consultants to utilise. The government also must increase the severity of punishment for enterprises that pollute. If increased transparency of information can be achieved, alongside a greater policing of those who abuse China's precious water resources, there may yet be hope for one fifth of the world's population.
Adrian McGregor is the founding principal of landscape architecture practice McGregor Coxall and has over 26 years international experience working, teaching and writing about urban design, landscape architecture and the environment.