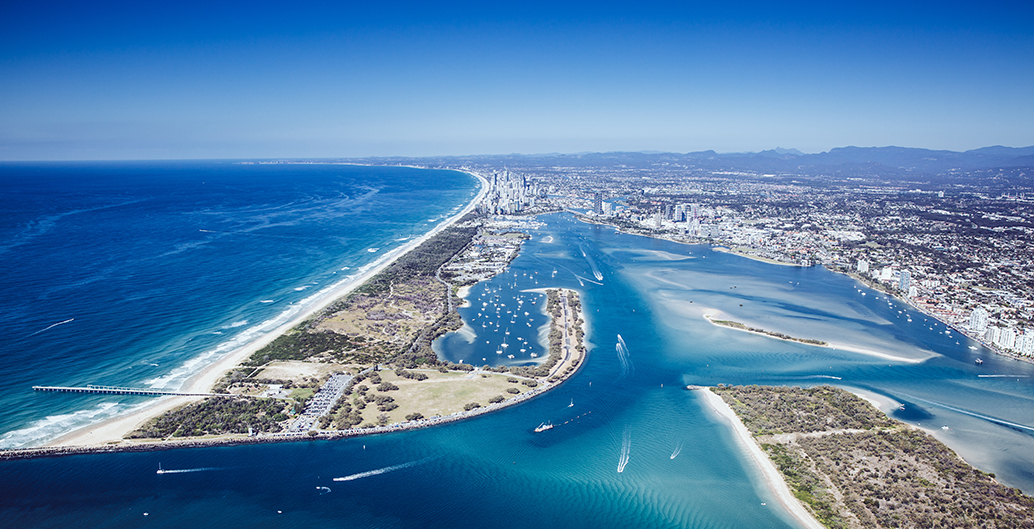 A landscape on the edge: one of the last undeveloped dunescapes on the Gold Coast is under threat
While the Gold Coast is renowned for its rapacious appetite for growth, tensions are mounting over proposals to develop what some see as a rare remnant landscape from simpler times in the city's past.
The Gold Coast is an Australian city on the cusp of dramatic change. While set to grow to over a million people within the next two-decades, it is already being transformed by the 2018 Commonwealth Games, which are regarded as a once in a lifetime city-building opportunity. New venues are under construction and new infrastructure has been commissioned. But away from the limelight of 'the games', a seaside space has become a site of considerable controversy.
Known as 'The Spit', the site is found just north of Main Beach, and is home to Sea World, the Sheraton Mirage and Palazzo Versace. It is a long finger of sand, dividing ocean from estuary. Some see it is a scrubby paddock, ripe for development; others regard it as a verdant oasis in a sea of skyscrapers. The Spit's liminal quality arouses both grand visions for sumptuous development and more modest claims for preservation.
The Spit has largely escaped the Gold Coast's rapacious appetite for land development due it its location and character. The city's shoreline has long been known as a dynamic environment. Rough seas generated by east coast lows and tropical cyclones can severely erode the coastline. In 1967, houses in Mermaid Beach and Palm Beach were lost to raging seas. In earlier events coastal dunes were breached, creating North and South Stradbroke Islands. A township on The Spit called Moondarewa was even abandoned in the 1930s due to coastal instability.
In the mid-to-late 1980s, as part of coastal stabilisation works, a permanent entrance to the Gold Coast Broadwater was constructed. This 'seaway' now separates The Spit from South Stradbroke Island. In the intervening years, The Spit has attracted surfers, fisher people, recreational divers and picnickers and is also home to a fishing cooperative. Just after sunrise trawlers disgorge prawns, Moreton Bay bugs and fresh fish for the avid seafood connoisseur. For some, The Spit is anachronistic – a remnant of a different city, in a time of fibro holiday shacks and a more relaxed pace of life. For many, this quality is endearing.
What is the long-term vision for The Spit?
Over the past decade, developers and entrepreneurs have advocated a variety of ambitious plans to develop The Spit. Although this is Crown land, long-term leases are available south of Sea World. The city's planning scheme has a three-storey height limit for the precinct, but this is currently being challenged. The Spit has been identified as a location for a cruise ship terminal. A $3 billion casino development has also been proposed for the site, and the Sunland Group has proposed a $600 million Mariners Cove development with twin 44 story towers designed by 'starchitect' Zaha Hadid including a hotel, museum, and apartments.
While it's indisputable that such development would create jobs, how would it affect The Spit's sense of place? Would it be in the long-term interest of the city and its residents? Community opposition to these proposals has been intense. Many people object to the proposed height, bulk and scale of the proposed developments. Some fear traffic congestion. Others worry about the perceived loss of public open space and potential impact on residential amenity. And some don't want to see the quiet character lost. Advocates for development point to the 'run-down' character of The Spit and complain that it has become an eyesore. Community groups such as 'Save Our Spit' point to 'land-grabs'. There is also an Aboriginal group with a native title claim to the area.
Lessons from elsewhere?
Looking to other parts of the world, what lessons can we learn? Would New York be the same without Central Park? In the 1850s when Central Park was constructed, New York had experienced fourfold growth – land was under intense development pressure. The city's population was about the same as the Gold Coast's is now – just over 500,000. Would London be the same without Hyde Park, or Paris without the Bois de Boulogne? Studies tell us that such parklands have many benefits; they foster physical activity, help combat disease, lower urban temperatures, intercept stormwater, promote sociability and stimulate tourism.
Perhaps it is time for Gold Coast City to imagine an alternative vision for The Spit? Might future generations benefit from a different city building legacy? Could The Spit become a world-class oceanfront parkland? Could opera houses and museums replace hotels and casinos? Who knows, the free nature services provided by this  green-space might be worth much more in the longer term.
Jason Byrne is an urban geographer and Associate Professor at Griffith University.