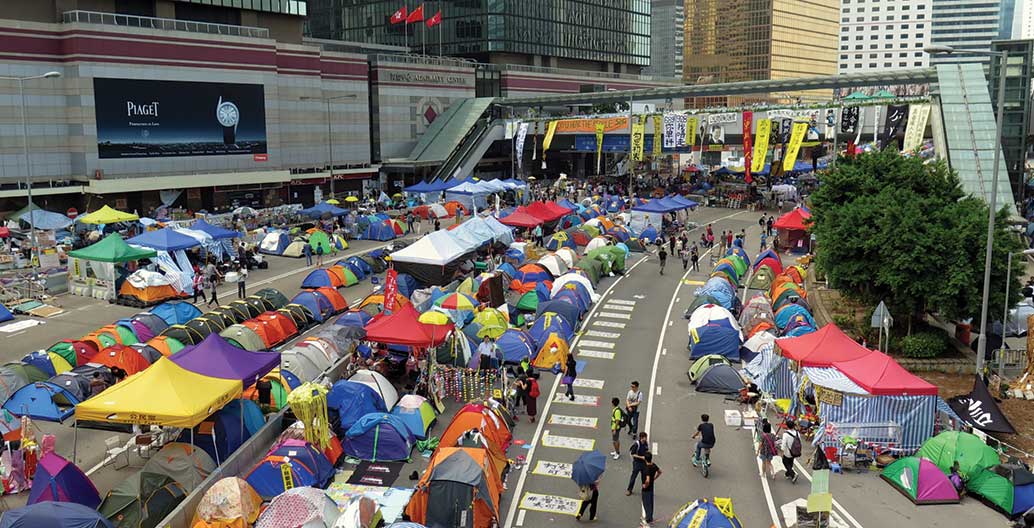 The protest landscapes of Hong Kong's Umbrella Movement
Hong Kong's Umbrella Movement protests have reinvented the city's public landscape through determined subversive occupation.
[This is an excerpt from Kerb 27: Selective Perceptions. Kerb is an annual cross-disciplinary design journal produced through the department of landscape architecture at RMIT University School of Architecture and Urban Design and this extract is reproduced here with its permission. Click here to order your copy]
Hong Kong's Special Administrative Region (SAR) status, and its unique manifestation as a modern city, is no accident. Its unique identity and laws have been borne out of a combination of the history of British and Chinese ownership, its relationship with contemporary China and, more notably, its long history of protest. As the island was returned to Chinese control in 1997, Hong Kong's unique arrangement with the Chinese Communist Party was a result of its population's willingness to stand up for its beliefs. As Chinese control has begun to encroach on the territory, important protests have occurred in response. These protests, significantly the Umbrella Movement, have offered a new way to think of space and its production, on an island so lacking in places to gather.
Hong Kong has less public space than almost any city in the world, only about one-and-a-half metres per resident. Most of this is public roads, though ninety-nine per cent of citizens rely on the Mass Transit Railway (MTR) – arguably the best mass transit in the world – that requires another large portion of public space. The MTR regulates that they can squeeze in up to four passengers per square metre. Of the remaining public space, most is vertically stacked and privately owned. Miles of foot bridges, outdoor escalators and expansive patios connect roads and transit infrastructure with hundreds of shopping malls and corporate campuses. They blur the edges of public and private space, just as their government blurs the lines of public and private leadership. Property is all on extended lease from the state, with values that have surged 242 percent in the past decade. The skyline has become a "who's who" of architects, competing on behalf of global corporations for the tallest spire and most lustrous facade. Since establishment as a SAR of China, Hong Kong Island has become the magnum opus for capitalists shaking loose 155 years of colonial stricture.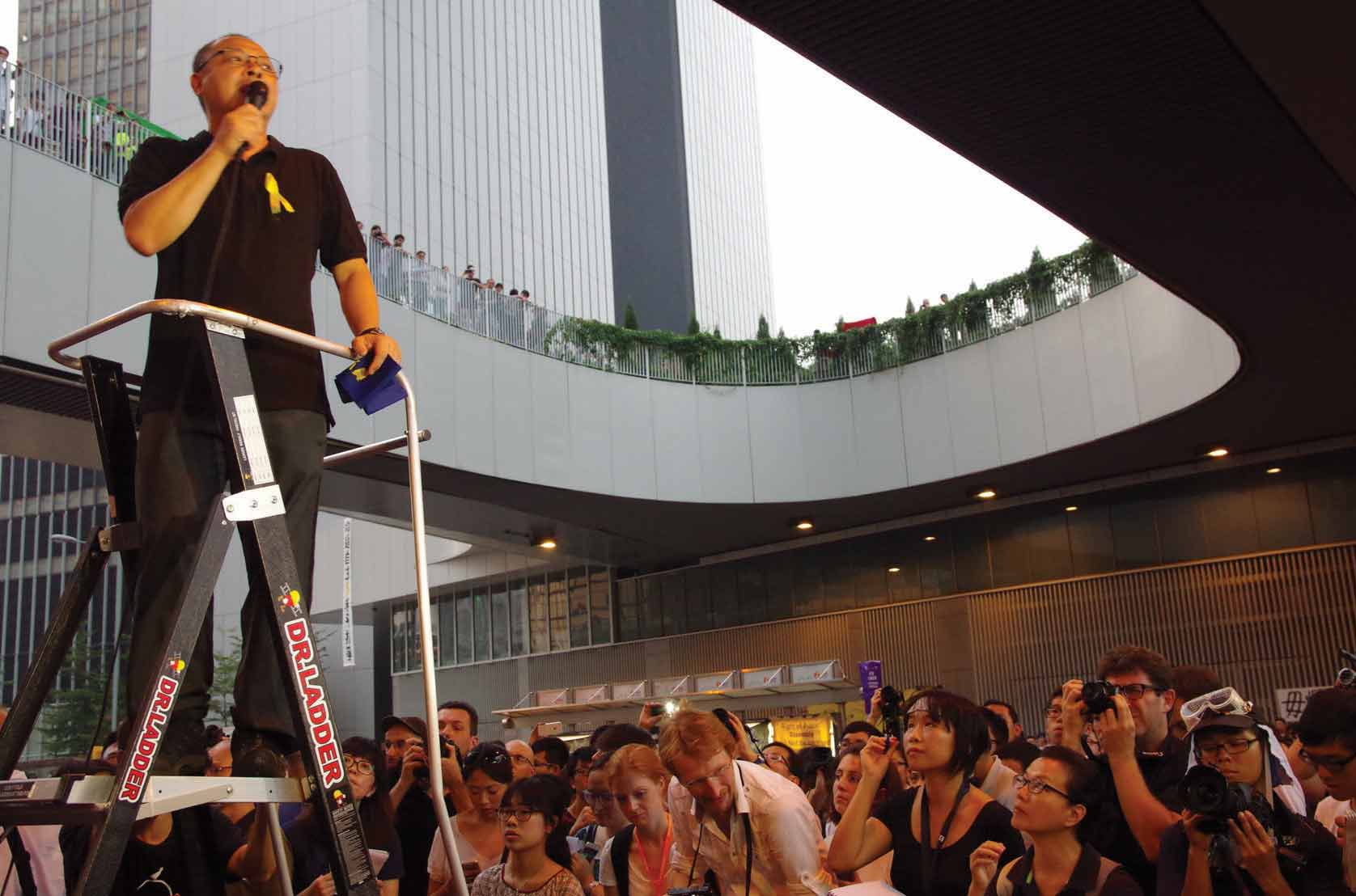 However, the global mechanism that Hong Kong represents competes with a far longer lived tradition of Hongkongers as dissenters. Famously pragmatic protesters, their demands often opened dialogue with Great Britain. Protests had yielded them the precedent of direct election of eighteen public officials. Political autonomy became ingrained in Hongkongers' identity. Even during Beijing's Tiananmen Square protests in 1989, eighteen per cent of all Hongkongers gathered at the Chinese embassy to demonstrate solidarity. In anticipation of the government handover on 1 July 1997, the date became an annual holiday to celebrate this identity and exercise their freedom of speech.
China had claimed it would honour a 'one country, two systems' approach to governing Hong Kong democratically, but anti-subversion laws and restrictions to direct election spurred large protests in 2002, 2007 and 2012. In 2014, restrictions were announced to the nomination of the Chief Executive, and these again met with protests. The student group, Occupy Central with Love and Peace, gathered in Tamar Park, beneath the overarching Central Government Complex in Admiralty. The longer the protesters were ignored, the more their numbers grew.
The state found creative ways to repeatedly push them out of the public green spaces, even staging a pro-China counter- protest. The students were pushed to the edges: footbridges, sidewalks and alleys. When police erected temporary fences, the students used zip ties to reconfigure them as protection. When permanent fences locked them out, the students covered them in yellow ribbons, to represent democracy. Every strategy employed by the state to move or remove them was met by increased numbers and conviction within the occupied spaces.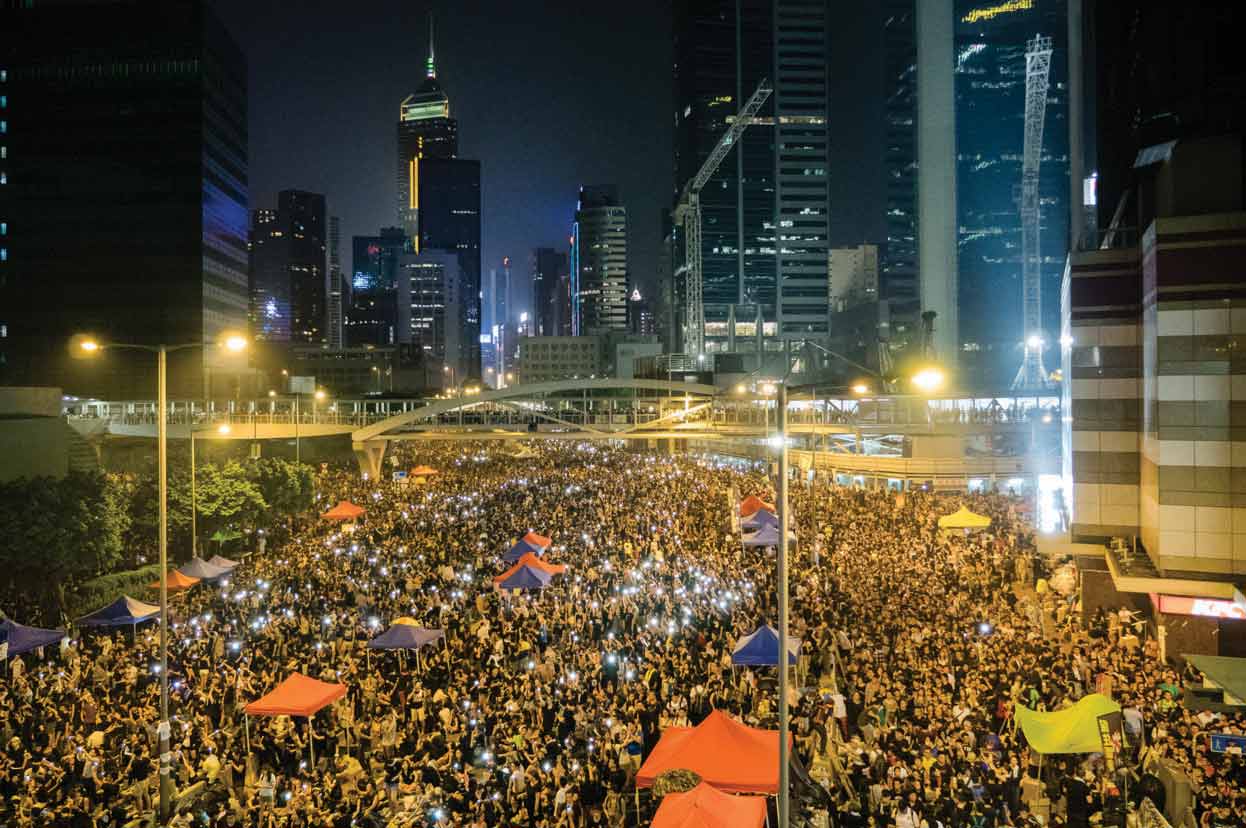 On 22 September 2014, students began to move into the only public space in Admiralty larger than Tamar Park: Harcourt Road. They used the nine-lane highway as foundation for the landscape of their democratic vision. Their transient tent community proved to be the most important urban landscape in China later that night, when police flooded it with eighty-seven canisters of tear gas. Protesters refused to abandon the space, using umbrellas as shields from the fumes and taking turns leaving the area to wash their eyes. Meanwhile, two new occupations shut down primary vehicular arteries in Causeway Bay and Mong Kok. This became known as the Umbrella Movement, a symbol of the common man now used as a shield from oppression.
Like water between rocks, protesters found space between the monuments of capitalism to counter-produce space that provided for their needs: shelter, food, education, art and community. They created personal private spaces and communal public spaces to serve as libraries, classrooms and gardens. Tens of thousands of protesters fortified their tents with wood, duct tape and zip ties and settled in for what would become an eleven- week occupation.
Spatial power was revealed by the tactics of common people working directly upon the city's architecture. The encampments vacated sidewalks and footbridges, encouraging pedestrians to travel around, above and through them. Public balconies became amphitheatres for Movement leaders. Layered footpaths became galleries for Umbrella Art. The expansive windows of neighbouring shopping malls became a showcase for the working class and students to demonstrate their vision of Hong Kong as greater than an economic engine. From the upper floors of the world's most luxurious malls, shoppers watched the protesters cook their food, tend their gardens and create art. These mundane demonstrations of humanity questioned the value of the systems otherwise occupying the space.
Henri Lefebvre, in pondering the 'right to the city' in the 1960s, insisted that only the daily practices within the city could create the vision for it. He described this process of extrapolating the day-to-day as transduction. Activity similar to that of the occupation could already be found in working class neighbourhoods with the most limited public space. In Mong Kok, each residents' approximate two-thirds of a square metre of public space might be an alleyway or staircase, repurposed as a gathering space for meals or a smoke when required. The Umbrella Movement tested the bounds of transduction by bringing these tactics to Hong Kong Island's most sterile environments in Admiralty and Causeway Bay. These same behaviours became subversive in this new territory, directly challenging the functional intentions of the architecture and the systems that made it possible.
Democracy is inherently iconoclastic; its monument is empty space. Wherever this negative space exists, it can be mobilised to counter the reproduction of capital. It is only these local notions, born from the spaces in between, that can challenge the institutions around them. The Umbrella Movement broke beyond the narrow perceptions of the city's inhumane design to assert that it is only humanity that makes a city; and only humanity that can decide its future.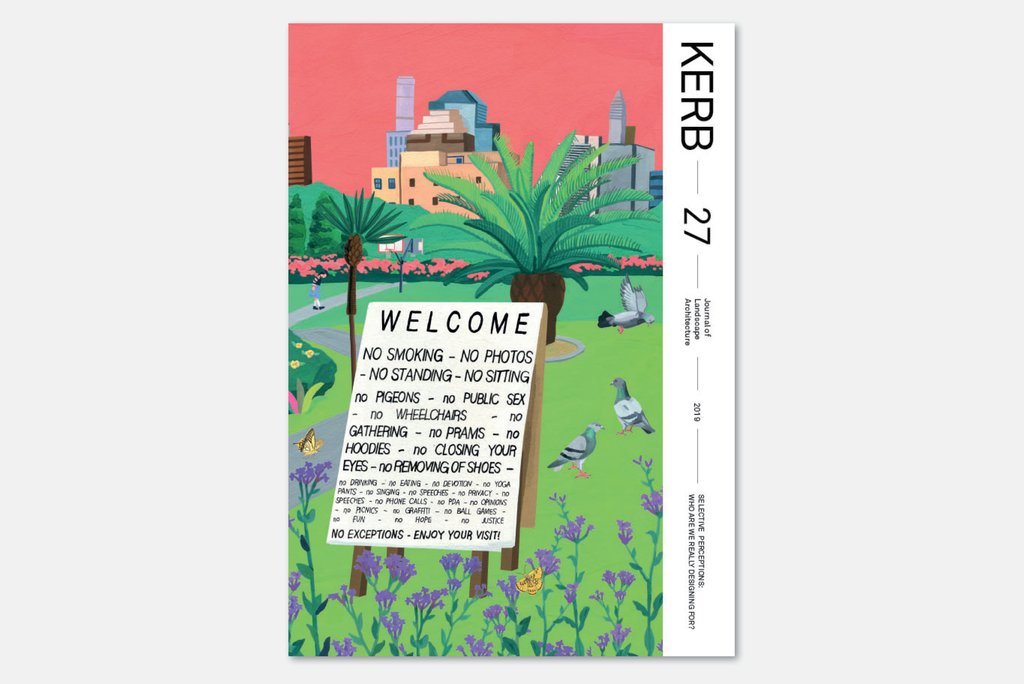 –
Paige Anderson lives in Pittsburgh, Pennsylvania, United States and designs pedestrian and bicycling infrastructure for the City of Pittsburgh's Department of Mobility and Infrastructure. She's also worked at architecture firms and affordable housing non-profits in Seattle, Washington. Her professional dedication to urbanism is balanced with a love of nature, spending her weekends on bike tours and traveling to national parks.