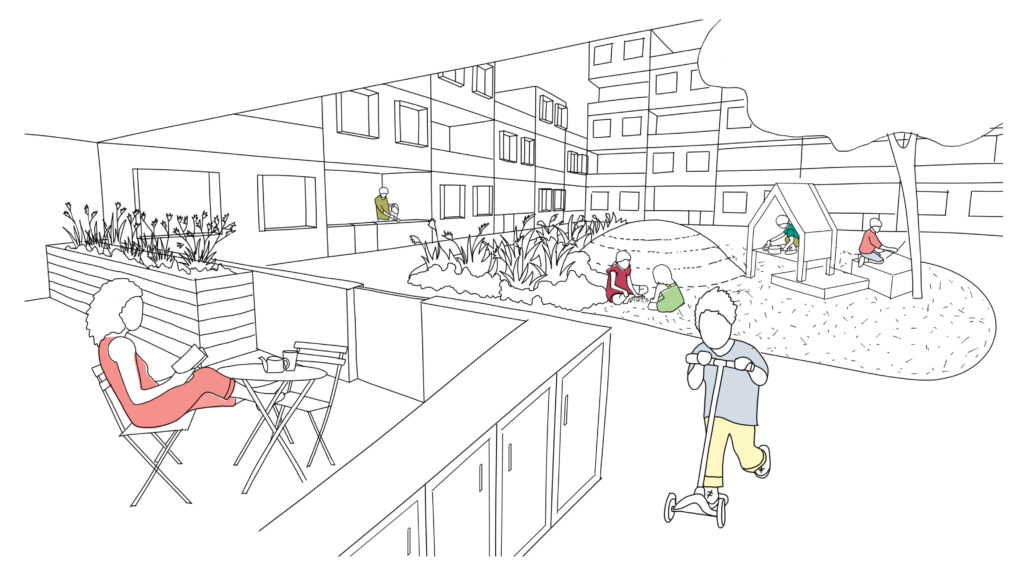 Children are an 'indicator species'; build well for them and we build well for everybody
Child-friendly urban design underpins the success of some of the world's most liveable cities, writes Natalia Krysiak.
In the neighbourhood of False Creek in downtown Vancouver, there's a makeshift cubby house tucked into the corner of a shared residential courtyard. "Kids club" it says, in hand-drawn multicoloured letters, "13 and under". Scattered around the cubby house are some loose buckets and pots, and an array of half-constructed projects made from collected shells and stones — evidence of a portal to a world where the vast imaginations of the local children flourish, a place of unstructured play.
This neighbourhood is one of the many I was lucky enough to visit as part of a Churchill Fellowship exploring child-friendly high-density neighbourhoods. Through this research, I wanted to understand what makes great neighbourhoods for children, and how architects, planners and designers can improve liveability for urban families. The research took me through cities where apartment living is the norm for children, such as Singapore and Hong Kong, as well as cities that are grappling with an increasing number of urban families and outdated planning policies that don't address their needs, such as London and Toronto. This latter problem is also increasingly pressing for Australia's large cities.
In Sydney, an estimated 28% of apartment dwellers are families with children, but while this demographic is increasing in many compact neighbourhoods throughout Australia, there is a persistent belief among some decision-makers that families neither belong in higher density developments, nor want to live there. At best, this discourages more families from choosing to live in compact neighbourhoods, and at worse creates a health and wellbeing disadvantage for those families that do live in them.
Australia could learn a lot from how Vancouver came to prioritise children and their families, by design. In the 1960s, Vancouver's inner city was threatened by a new freeway proposal aimed at revitalising its struggling downtown by creating easier car access for working suburban families. This misguided plan for revitalisation via traffic engineering would have seen Vancouver's established communities and existing urban life destroyed. Mass protests ensued and under mounting public pressure, the city planners radically changed their approach. Instead of trying to attract cars downtown, they looked at ways to attract families with children to live in inner-city neighbourhoods.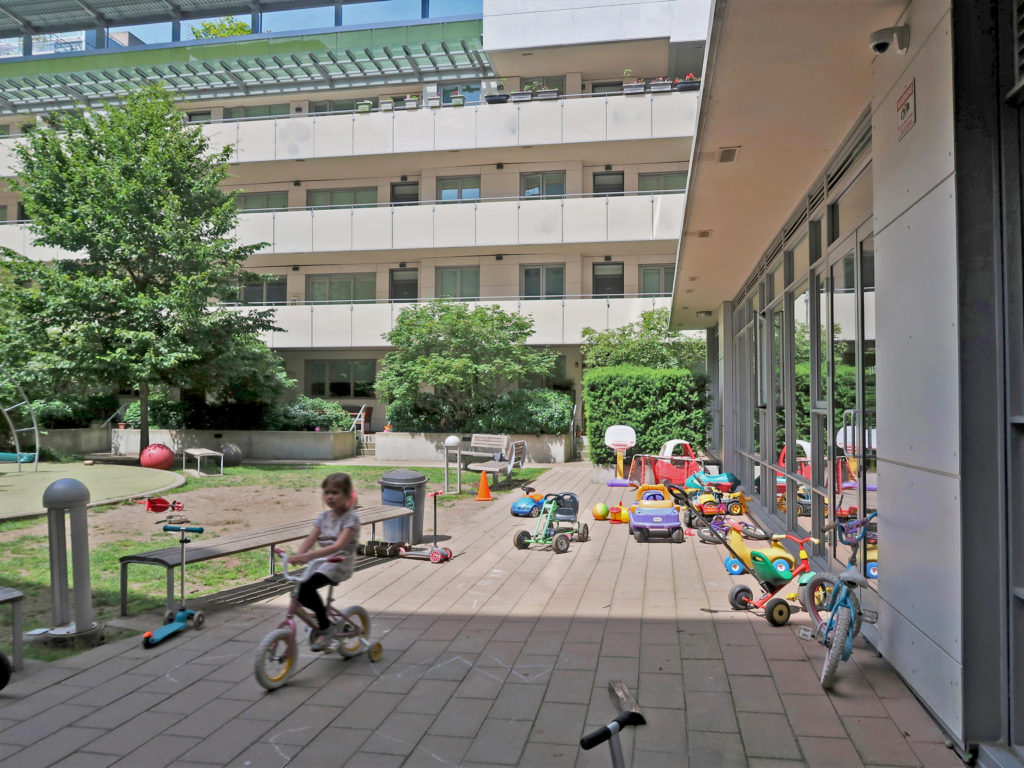 In 1978, the city planners published a set of guidelines called 'Housing Families at High Density', which they later adapted to become the 'High-Density Housing for Families with Children Guidelines.' Vancouver uses these guidelines to this day as planning policy for multi-unit residential developments.
The original guidelines, co-written by Dr Ann McAfee and Andrew Malczewski, outline minimum sizes for communal outdoor play (for various ages of children) and common indoor amenity, and include recommendations that would see family-sized units overlook play areas. Researchers have credited the guidelines with helping to make Vancouver one of the most family friendly cities in North America. Over a third of the city's inner urban households are made up of families with children, and of these families, a third live in high density housing.
By prioritising families with children in the design of high and medium density developments, the city of Vancouver created vibrant, diverse and liveable neighbourhoods such as South False Creek. We are now seeing design guidelines for family friendly, high density neighbourhoods emerge elsewhere, such as 'Planning for Children in New Vertical Communities' from Toronto (2017) or the 'Shaping Neighbourhoods: Play and Informal Recreation' from London (2010) that notably stipulates a minimum provision of 10sqm of open play space per child for new multi-unit residential developments. Supplementary planning guidelines such as the Tower Hamlets 'High Density Living' refer to children 164 times within the document.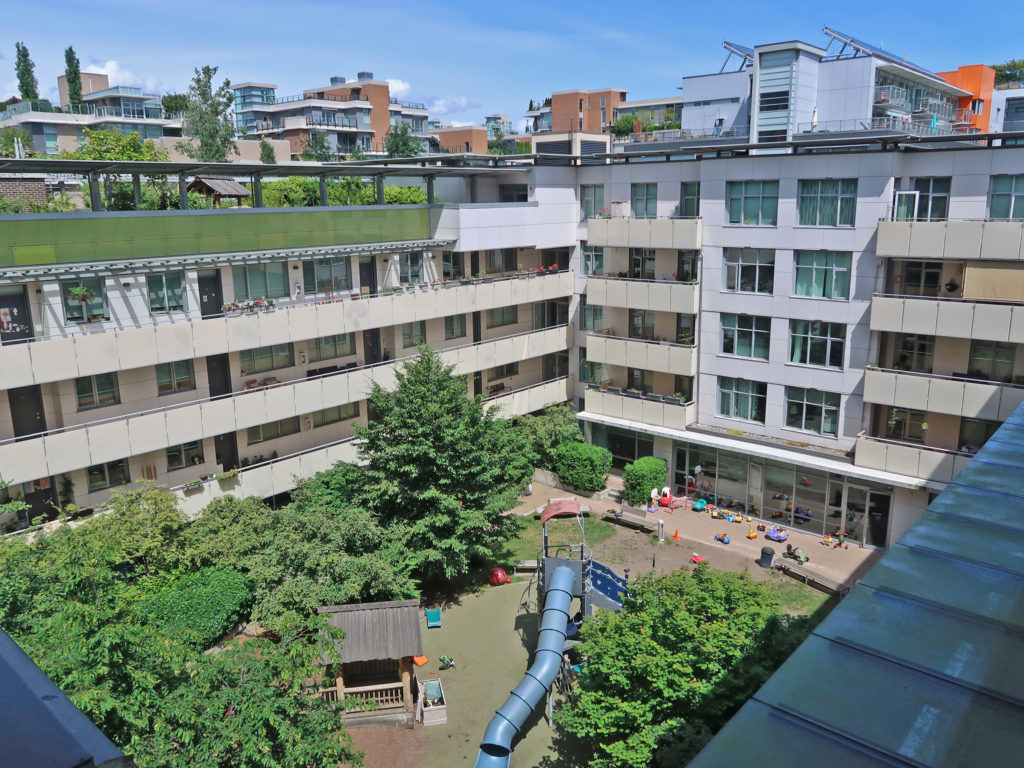 By comparison, Australia's  'NSW Apartment Design Guide' mentions children a sum total of six times, while 'Apartment Design Guidelines for Victoria' includes just one reference. Australia's lack of focus on this vital demographic is clear.
Increasingly, families want to live in compact, vibrant and walkable neighbourhoods that are close to public transport, cultural amenity and high quality open space. If we are serious about encouraging demographic diversity within compact neighbourhoods, and prioritising the health and wellbeing of children, then our design and planning priorities must change. As Enrique Peñalosa, the pioneering urbanist and former mayor of Bogota once said, "children are an indicator species, if we can design successful cities for children we will have a successful city for everyone."
---
Natalia Krysiak's Churchill Fellowship report 'Design Child-Friendly High Density Neighbourhoods' explores a range of case studies from around the world that aim to improve the liveability of urban neighbourhoods for children through a focus on play and active mobility. A digital copy of the publication is available here.